Let's have some fun! The other night I was at one of my kids hockey events and after a few drinks a couple moms started asking me a bunch of questions. They had checked out the blog, and do some following on instagram, but I realized, I loved answering their questions and thought I put it all in one place.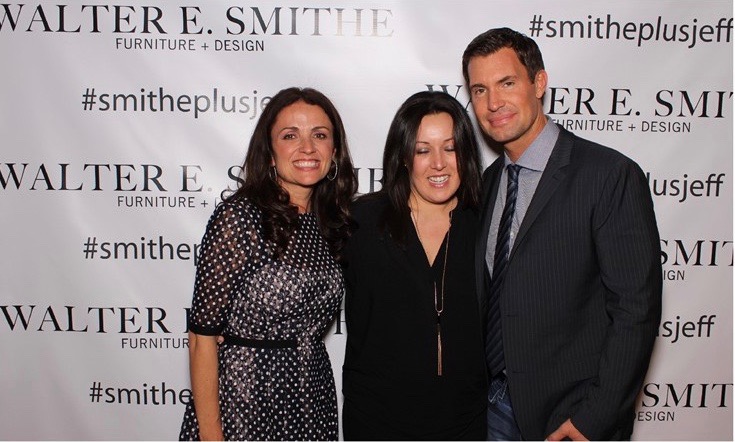 Why do you blog?
Yup, many people (usually after they had a glass of wine) just blurt out the question. Well, I started blogging a few years ago to keep track of projects. My own projects and client projects. I also named it after my nickname, thinking I needed to keep my business and blog separate. But that all changed when I started getting work inquiries from clients who found me on social media and through my blog. So yup, I stopped hiding behind the blog and united the brands. You can read all about that here. After a couple years the blog became more than just a hobby, but a passion. The people I have reached and knowing lets be honest…the fact that I don't have to spend any money are marketing any more and I can just keep up with my blog and social media is a plus. Oh and I get to meet my idols, like Jeff Lewis, I know, I nailed the photo-op.
How do you do it? You work? 3 kids? Blog? 
First and foremost, I have a very supportive husband. He believes in me and if I didn't have him it wouldn't work. Second, my boys are in school full time and my youngest goes part time. I also have help 1 day week when she isn't in school. No shame in that. Third, I wake up early. Like really early sometimes. Last month, 3:00a.m. (one time it was 1:00a.m.) was typical, but that was because I had a lot of projects. I can't stay up past 10:00, and frankly my brain is mush after 6:00p.m. So I wake up early, grab a nice cup of coffee and have the house all quiet and to myself. I love it. Fourth, I don't do what maybe others might do (but I should). In other words, I don't have "me" time. I don't go to work-out classes, like Spin or yoga, I don't play tennis, I don't get my nails down (maybe once in awhile), I don't go for walks or get a massage. Basically, I should be more selfish with my time, but I love what I do so I don't need or want the other things. Lastly, I am O.C.D, list maker, planner obsessed, Type-A women. Beds made, house clean, planner open and ready to go every morning. Otherwise, nothing will get done.
Do you really live like your blog photos show?
This one made me laugh. I know that blogging and social media shows the best. I mean, honestly, I don't always want to see peoples dirty homes. lol. But, yea, if you were to look on the other side of the camera, there might be a backpack on the floor or a toy left unattended, but in general, I do take a lot of pride in my home and you can knock on my door any day at any time and find the beds made, the pillows fluffed and the dishes put away.
Where do you shop?
Anywhere there is a deal and I like it! My blog use to be called Thrifty Keki. Yup, cause I could decorate an entire house with estate sales and thrifty finds. But, I realized it was more vintage than thrifty. I would be willing to pay a price for a Mastercraft brass coffee table from 1950 and have it sit next to a Potterybarn slipcovered sofa and West Elm floor lamp. So, basically, anywhere from estate sales, to online, and all our favorite retailers.
Who takes your photos?
I do and it is a work in progress. I try to photograph daily to practice and get better and better.
What camera do you have?
I broke the blogger trend and did not go with a Canon. I opted for the Nikon D750 and I love it.
Do you prefer Keki or Cecilia?
Keki all the way and you can read all about it here.
What do you do when you aren't working or blogging? If anything?
Like any mom, I am with my kids. I work uber hard not to miss one of their hockey games and I am probably at all of their practices too. I mean, that is my day job, and night job, and main job and I wouldn't change it. Otherwise, my husband and I love to run to the movies and try some good dining. But, you will for sure catch me out on a girls night having drinks at a local venue at least twice a month. And if I am home, at night, yup, I am a Real Housewives fan, yes, I catch my WWHL and not ashamed to admit it.
Oh and don't worry, Jeff Lewis let me take another photo with him. Well, it actually took me 2 more times to get it right. He laughed…at me.