Over the summer I meet Ann Marie, the master mind behind 40 Bags in 40 days or the 40 Trash Bag Challenge. I had followed her blog, White House Black Shutters, but never took on the challenge she created back in 2011. As a home stager I am proud to say I do practice what I preach, well, to an extent. I try to keep the house clutter free, but, if you told me I had to sell the house tomorrow I would be up for 24 hours and still not ready. In other words, I got stuff. Stuff tucked away and hidden in places that would need to be packed up. I don't need type "stuff". Or the I don't use type "stuff." Lastly, the stuff that I don't know where it came from kind of stuff.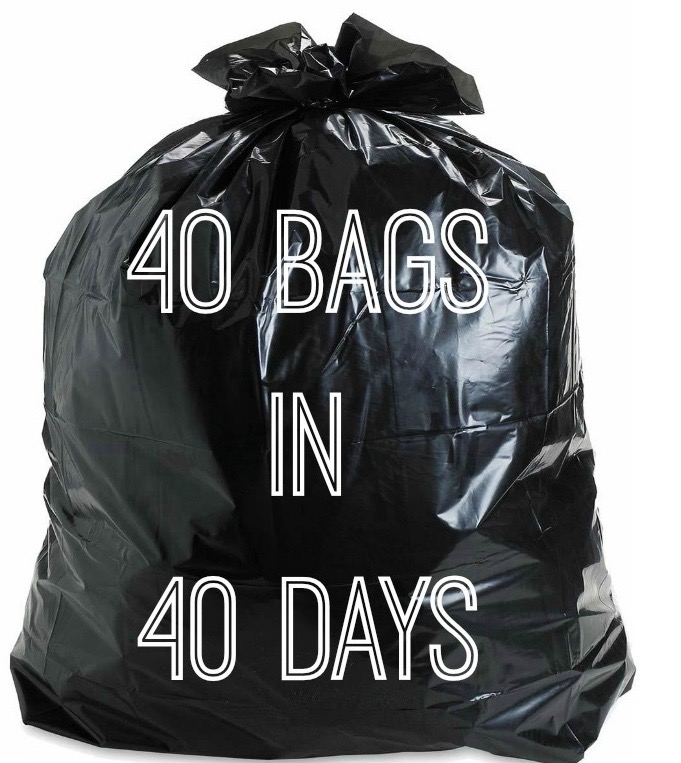 Well, this year I have taken on a couple "challenges" for myself.
Wellness
Business
Family and friends
So I thought, why not take on the house. I wasn't sure where to start or even how to begin. Then, I saw a pop up on my Facebook about the challenge. If you are wondering where the 40 comes from, it has to do with Lent. You are suppose to give up something for Lent. This is not a religious post or plug, if you know me, you know I don't push or talk religion to anyone. It's like going to a party and bringing up Trump. You probably won't get invited back to that party!
Or it's like all those people celebrating Fat Tuesday / Mardi Gras. I am pretty sure a lot of those people throwing beads, have no idea that it is the final celebration of the Christian Feast of the Epiphany. Exactly. Fat Tuesday is about binging before denying yourself something for the 40 days leading up to Easter.
So, Ann Marie created this concept to give up things in your house that fill up a bag every day for 40 days.
Years later she know has over 40,000 followers and I am now one of them!
To keep me motivated there is a Facebook group to help stay on track and focused. There is also a simple spreadsheet to keep you organized so you don't get overwhelmed. I filled mine out already! Teachers pet anyone?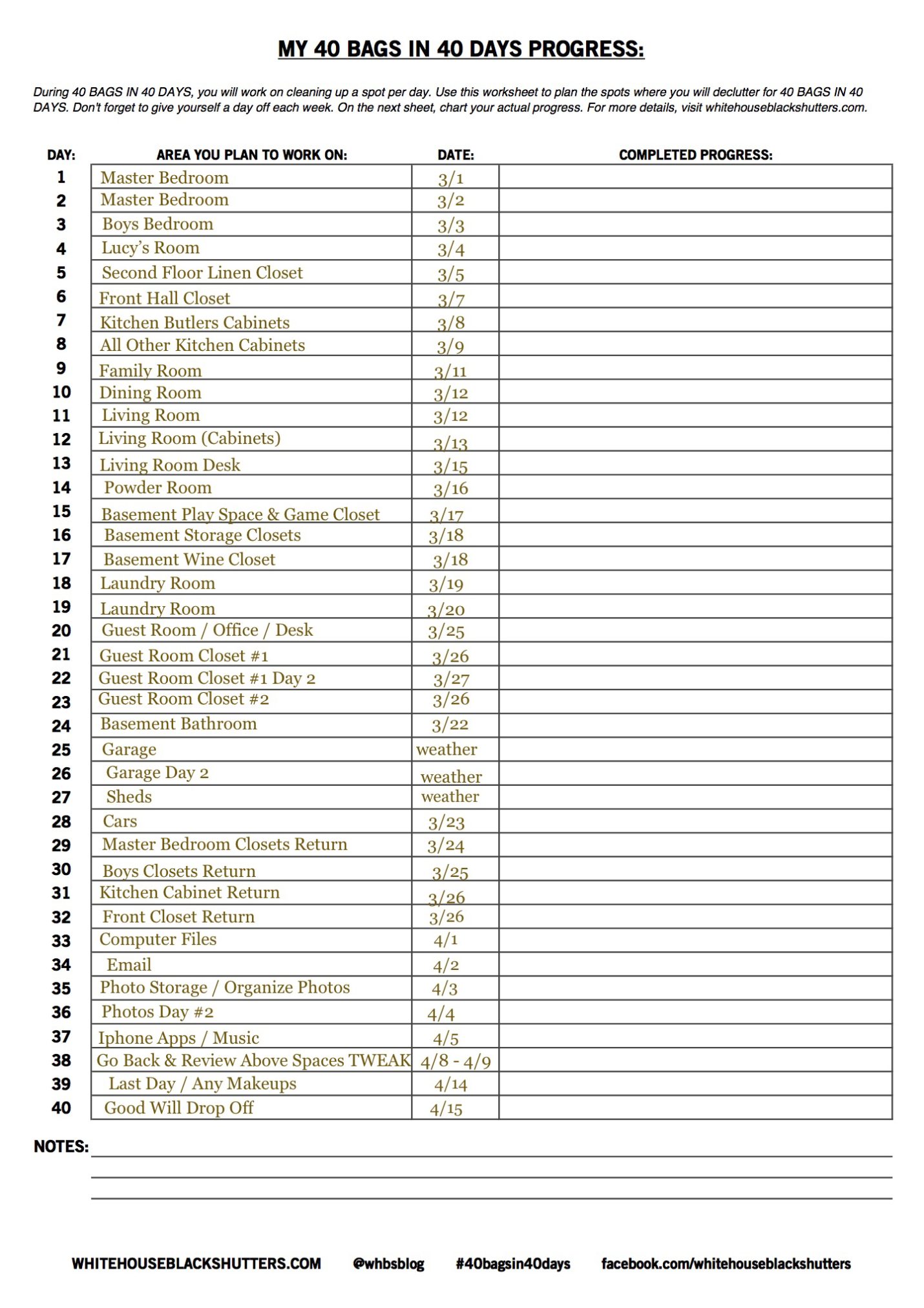 Okay, so here are a couple of my own tips that I thought I share
1. Coordinate with your calendar
You can see I have a couple rooms that took over a couple days. I know they need more than one day, cause I don't plan on spending all my free time in the space. Also, I plan on doing this around bed time, so I don't want to be up all night. I purposely scheduled harder areas for the weekend. Like my husbands office! yikes.
Also, I worked with my planner/calendar and noticed that there were certain days already booked for Stagings/work or kids events and I simply took those days off. Though, knowing me I will probably tackle an area anyway.
2. Leave Days for Non-Tangible Bags
I saved a few days at the end for non-tangible bags, like my computer, email, photos on iphoto/phone etc. Time to spend time organizing my files, my computer folders, and more. I am sure by this point when I have the house in order I will want to naturally organize and de-cluttering my phone and computers. Delete files, organize "folders" and more.
3. Re-visit
I have a couple make-up days at the end. In which I will go back and revisit certain spaces. I live in Chicago, and right now it is cold! In 40 days it might be sunny and warm so the winter clothes will be ready to be packed up for donations. That is why I am starting with the bedrooms and closets, knowing in 40 days they will need to be revisited.
4. Drop-off & For Sale
I plan to spend the last day dropping everything off at my local Good Will store or listing it online. There are a couple great local Facebook Virtual Garage Sales in my area and if it is furniture or larger pieces, I will set those aside for sale on this day.
Okay, so who is with me? Come join the cleanse with the 40 Trash Bags in 40 Days, and lets see where we are on April 15th. I will continue to update on the blog so if you aren't ready just come back and check in.