Finally it is all coming together, not just this mudroom command center, but the entire design aspect of my business. If you follow me over at instagram stories you know I recently locked myself in a hotel room for the weekend.  Locked myself there to regroup and strategize my plan of action. It is with awesome happiness that I have been slowly taking on more and more design clients. What once started as a staging company has evolved into something so much more.
However, home staging is an "in and out" process. Designing a home comes with a whole new level of time and energy and I couldn't say no to any projects. I soon came to realize, I was not able to give my "all" to everyone and worried I was letting clients and myself down. Well, until last weekend, in which new plans, strategies, and systems were implemented, all those concerns are in the trash. So with that, I am happy, oh so happy to report that I am currently riding strong with my all my design clients, and have help so that it can be shared with you all on the blog and social media. So lets start with this mudroom command center makeover. Cause we all know as moms, a functional and realistic command center will truly help us for back to school.
I should add, that I not only updated this clients mudroom, but took on the dining, living, den, and more. So stay tune for all those great reveals too.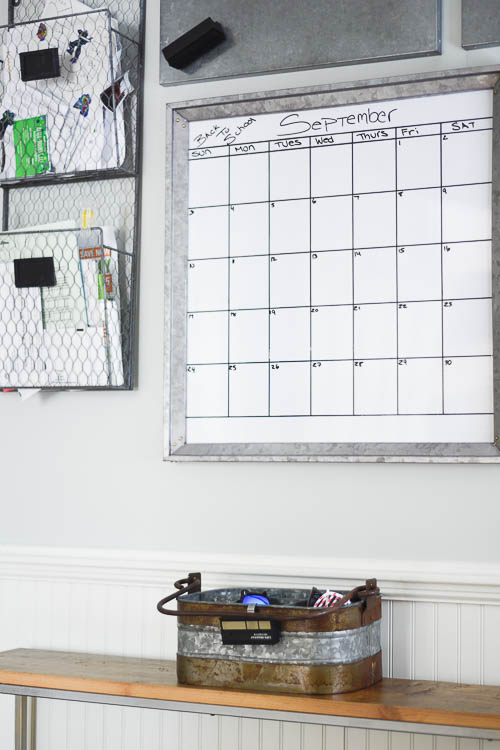 Mudroom Command Center Makeover
1. Paint
Give any mudroom a new look with a fresh coat of paint. I opted to get rid of the mint green walls and picked a fresh clean look with Gray Owl by Benjamin Moore.
2. Quick and Easy Command Center with help from Potterybarn
Potterybarn has tweaked and modified their command centers over the years and I love their Build Your Own Galvanized System,  functional with a timeless look. From magnetic wipe boards to magnetic chalk boards and brass clips. A GORGEOUS mix of adding a pop of chic to an industrial farm house look.
Check out this before space: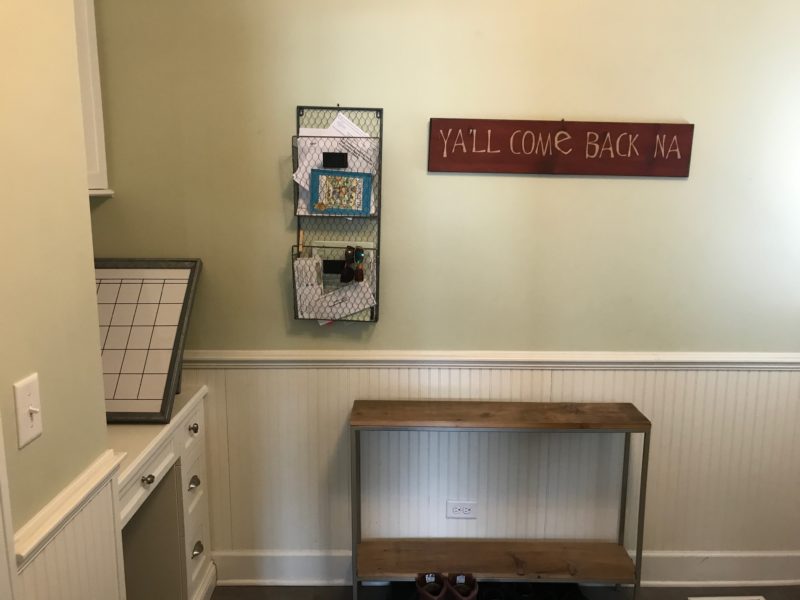 To a new full wall command center perfect for a family of four getting ready to go back to school.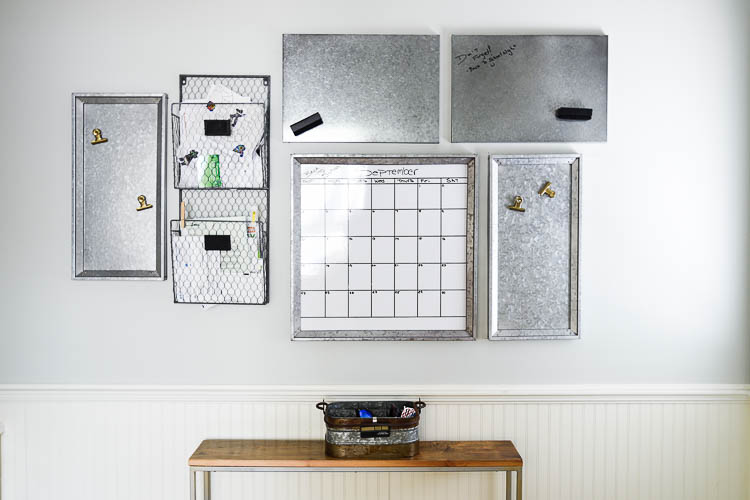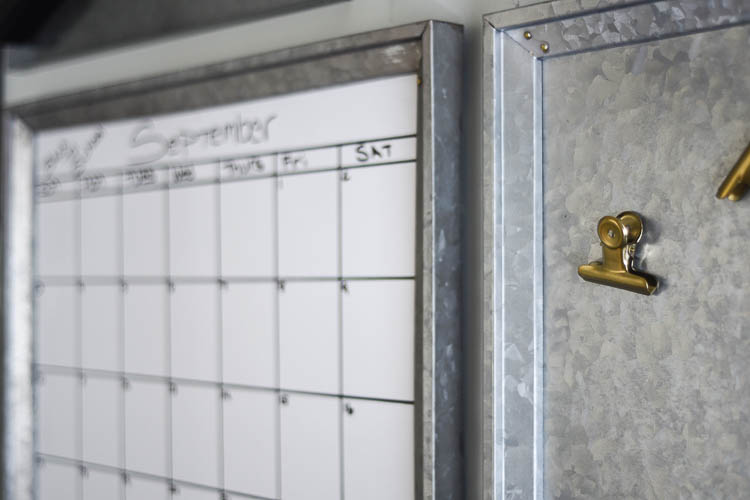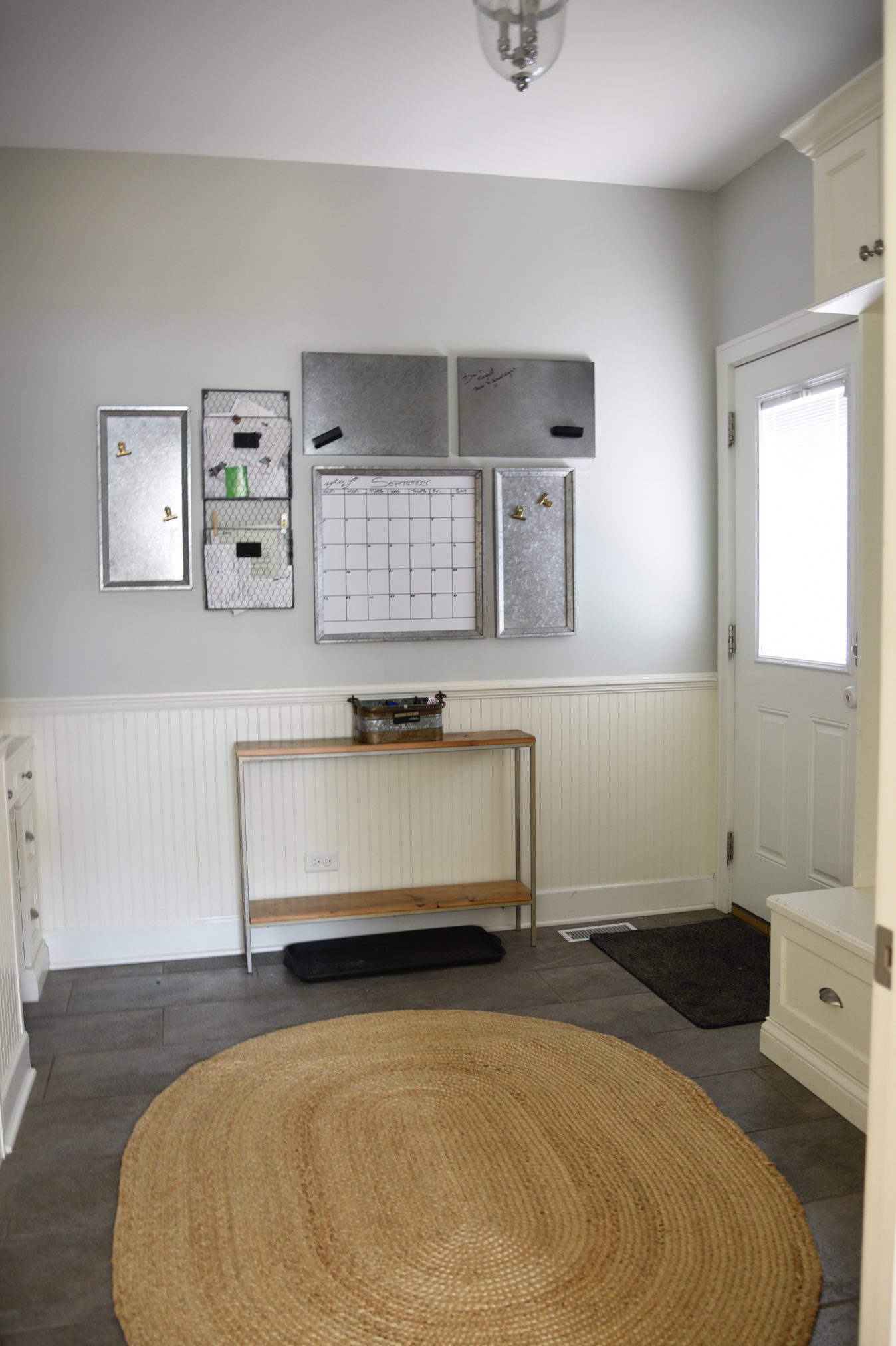 Feel free to pin this for later and create your own galvanized command center too!