I am really excited to begin sharing more of my client projects on the blog, and this week I am starting with how to create a home office that is functional for parents and kids. I have not been able to share many projects in the past year or so because of a lack of time. I just could not find the time to conclude a project and reveal it for my readers, well, don't fret, that has all changed, and if you follow my instagram stories you know when and how it all changed a couple of weeks ago. Anyhoo, I will share client projects, or my own home project reveals, every Wednesday. But, for this week it is a front room/sunroom makeover. My client had this great space in her home that had a great view and natural light. But, it was missing a purpose. She did mention that she wanted a space for her kids to be creative, for her to be able to do some work when needed, and just to create an extra living space for family and friends. Ningun problemo!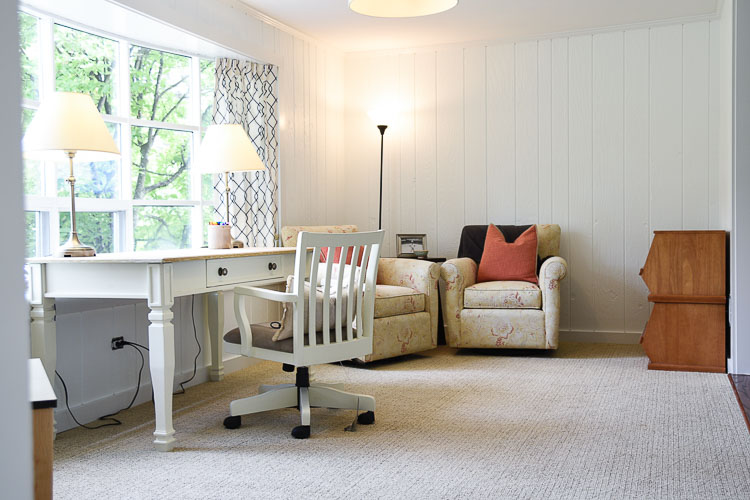 How To Create A Home Office For Parents and Kids
Okay, so I always appreciate a good before picture. Here are the before iPhone shots during our initial consult. Remember, they had recently moved in and were not sure how to use the space.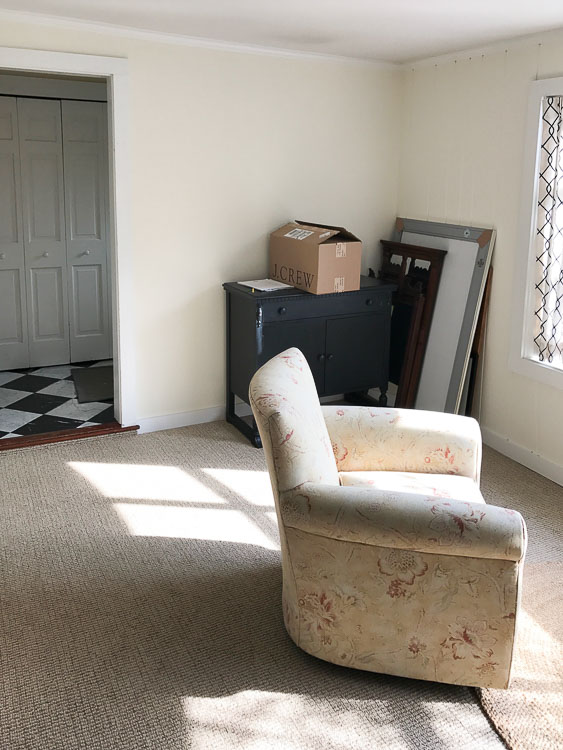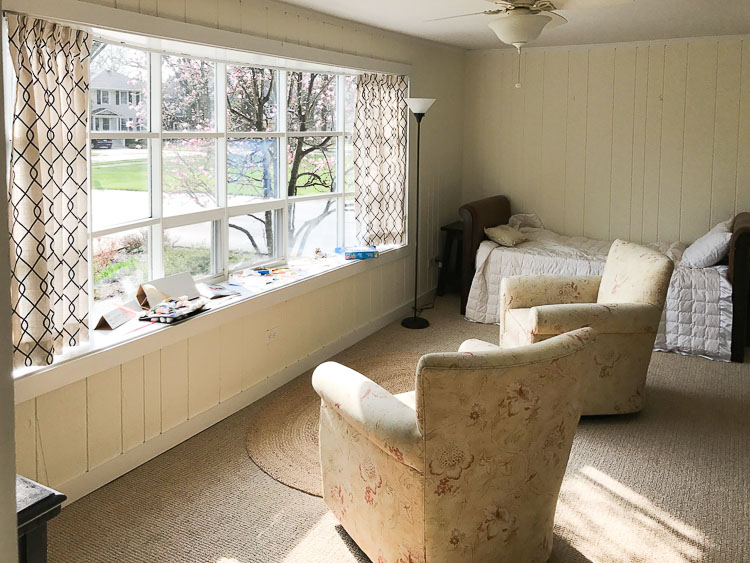 As in any project there are certain steps to follow:
1. Create a Floor Plan
There is no way to design a space without an accurate floor plan. I always take an initial measure, BUT, I never let a client purchase without a second/ sometimes maybe a / third measure. This was the initial floor plan created after I visited the property.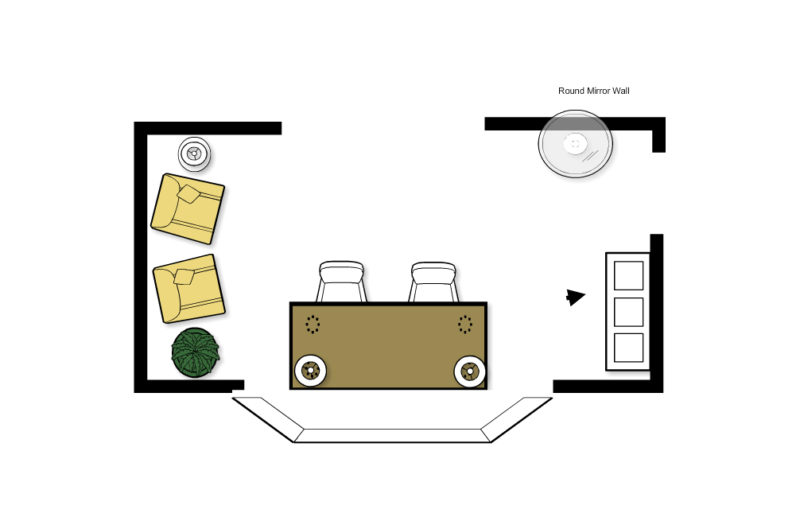 2. Pull Pieces and Create a Design Board
After verifying initial measurements I spend time sourcing pieces. You can already see that by Phase 2 some things changed. This happens because I have had client input on what they want or don't want, or I have decided to change some items.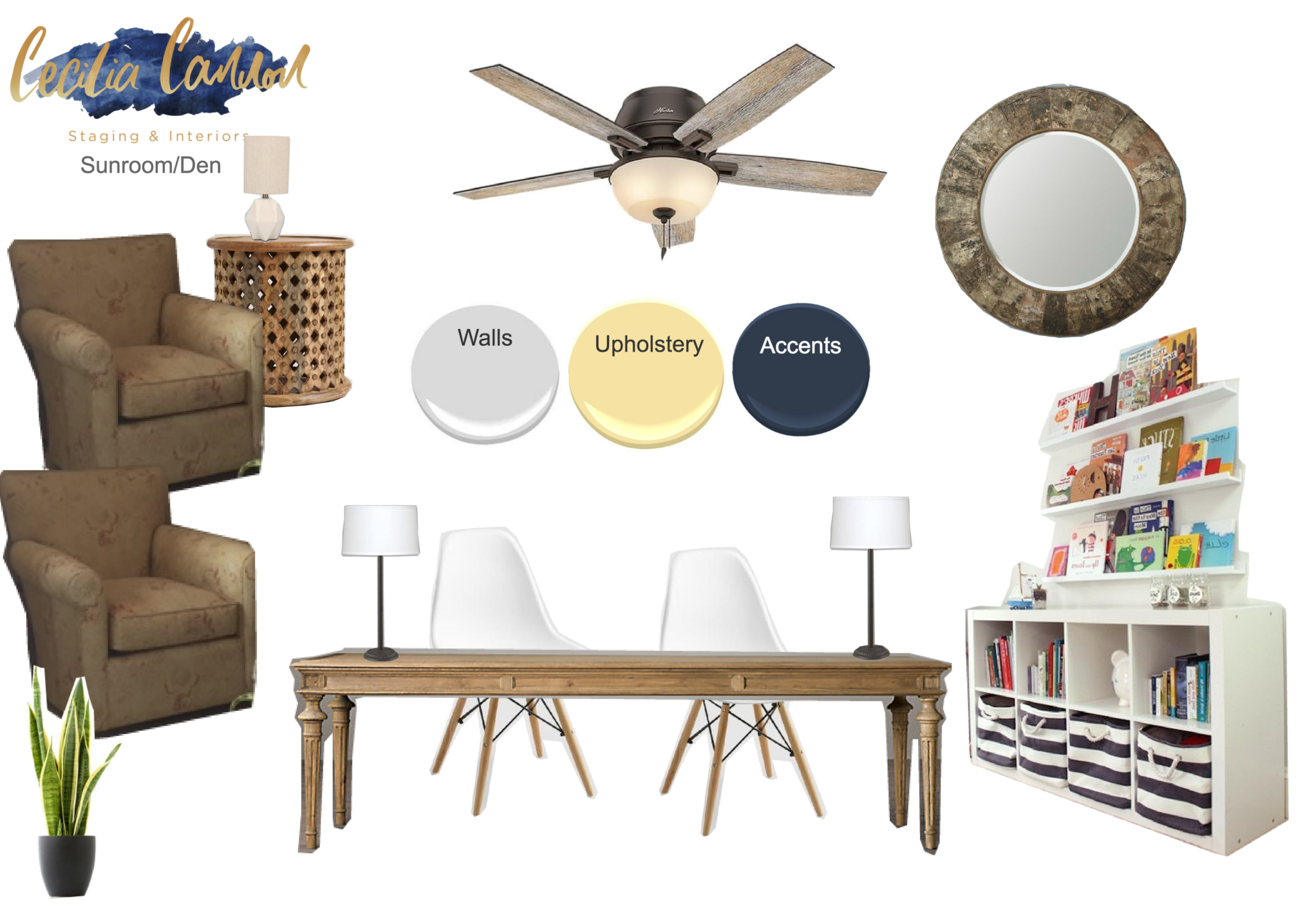 3. Create Your Spec Sheets
Spec sheets are basically a document that has all the items the client likes. Then direct links to those items, pricing, size, specifications (hence spec sheets) and quantity to purchase. In case they want to purchase on their own and not have me continue billing them 😉
Now for the After
Well, as you know, I wanted to create a space that the kids could use to color and play, but, maybe mommy or daddy needed to sit down and catch up on some emails or bills. So, a desk with a view to the "world" was a must. Then, maybe, sometimes, while kid are playing, you don't want to sit at a desk, but relax on a chair and check your Facebook on your phone. So a little cozy nook was a must too, plus, we all know, the kids are going to jump on you lap and ask you to read them a book. Basically, this is the reading nook for all.
Another thing that I loved about this space is that it is by the entrance. And you know me, use the space! We basically created another but more casual living area off the formal living. BUT, I am all about multi-use so imagine, you are hosting a back to school night for 22 other couples (yes, we have done this), and you don't want them all crowded in your kitchen or dining area where the food or drinks might be.
You see that large desk there, when hosting, I would place my "bar cart" here. Forcing my guest to refresh their drinks in the front room. We all know that people end up where the drinks and food are. How nice would it be to see them relaxing and conversing in this space.
Okay, ready to see some after…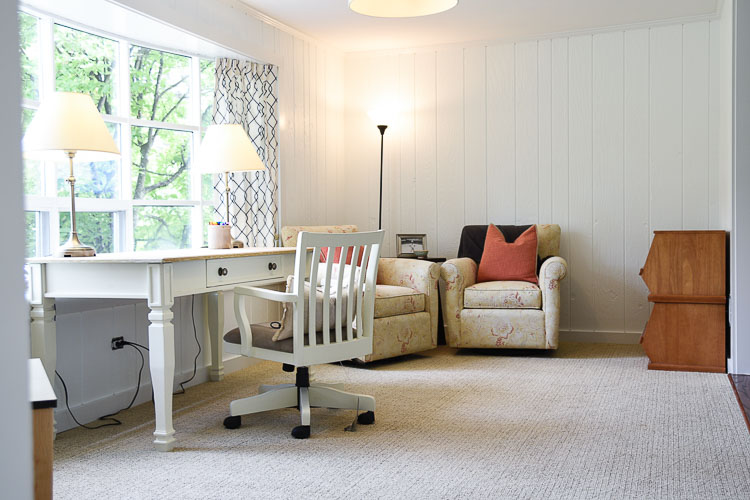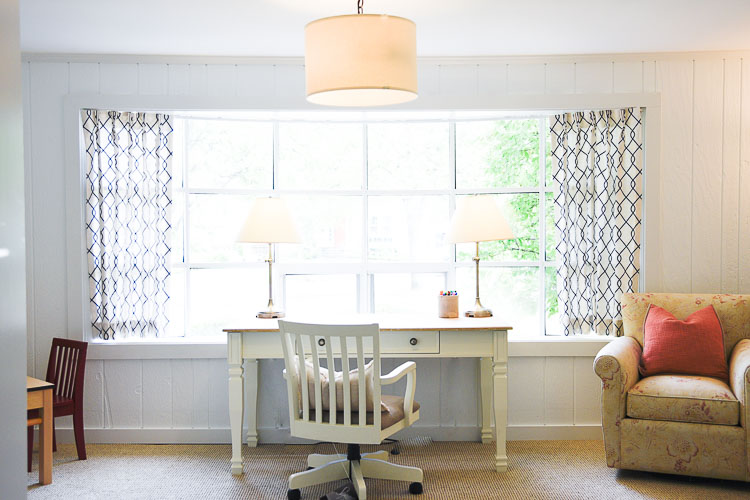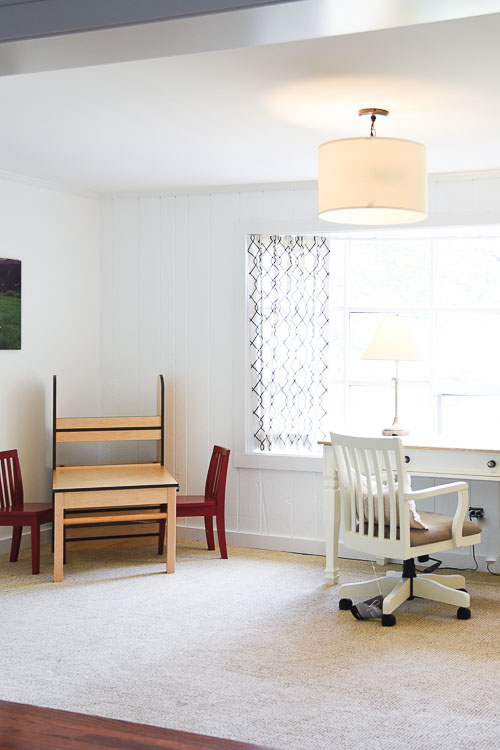 So, if you like something you see, here is what we used.

Wall/Paneling Color: Chantilly Lace by Benjamin Moore   // Ceiling Light Fixture: Linen Drum by Pottery Barn // Table Lamps: Chelsea by Pottery Barn // Desk Chair : Sarvanny by Ashley Furniture // Desk: Sarvanny by Ashley Furniture // Swivel Reading Chairs: Pottery Barn