It has been one month since High Point Market and I am still digesting it all. Last week I shared day one of the designers and showrooms at High point market. Now, lets dive into day two. If you are following me on instagram, you will see how I am still devouring the gorgeous showrooms. I could create an instagram account and posts three photos a day for a year and still not cover all that High Point Market has to offer. In the mean time, lets dive into the nine designers and showrooms at High Point Market and discover who they are.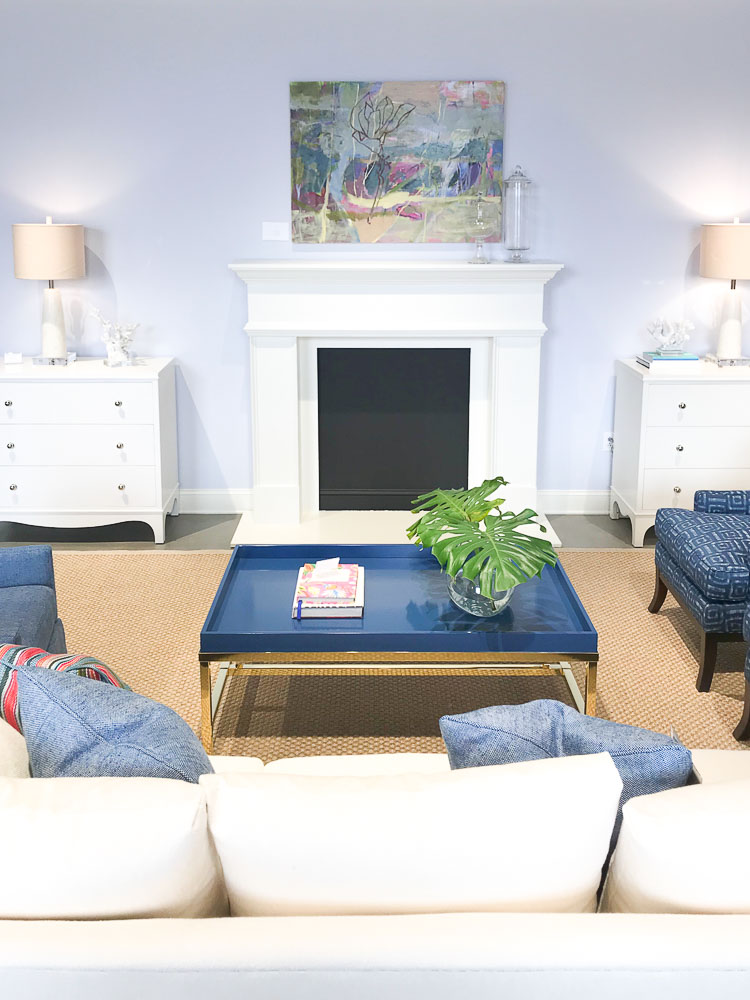 The Designers and Showrooms at High Point Market
Century Furniture is a company I have relied on for years; one of the worlds largest privately owned manufacturers of upper-end residential furniture. Established in 1947, in North Carolina, for their detailed wood working capabilities. Seventy years later, still in Hickory, North Carolina, they continue to meet the design demands of the 21st century. Century Furniture was so captivating that I took over 200 photographs. I KNOW, I need to do a blog post just on their pieces.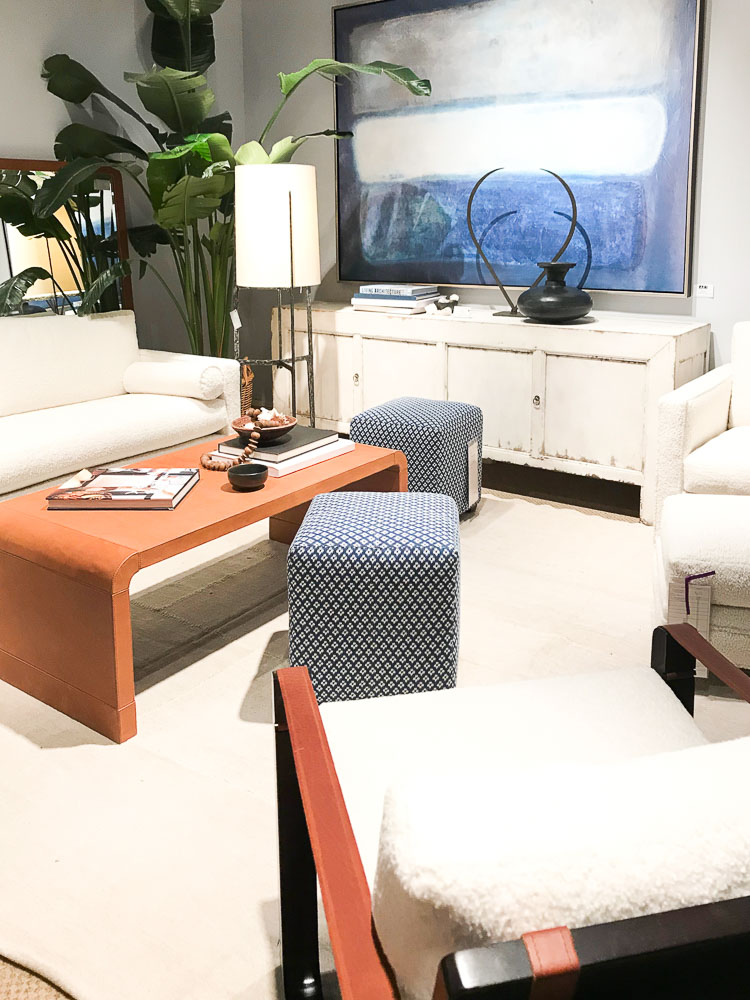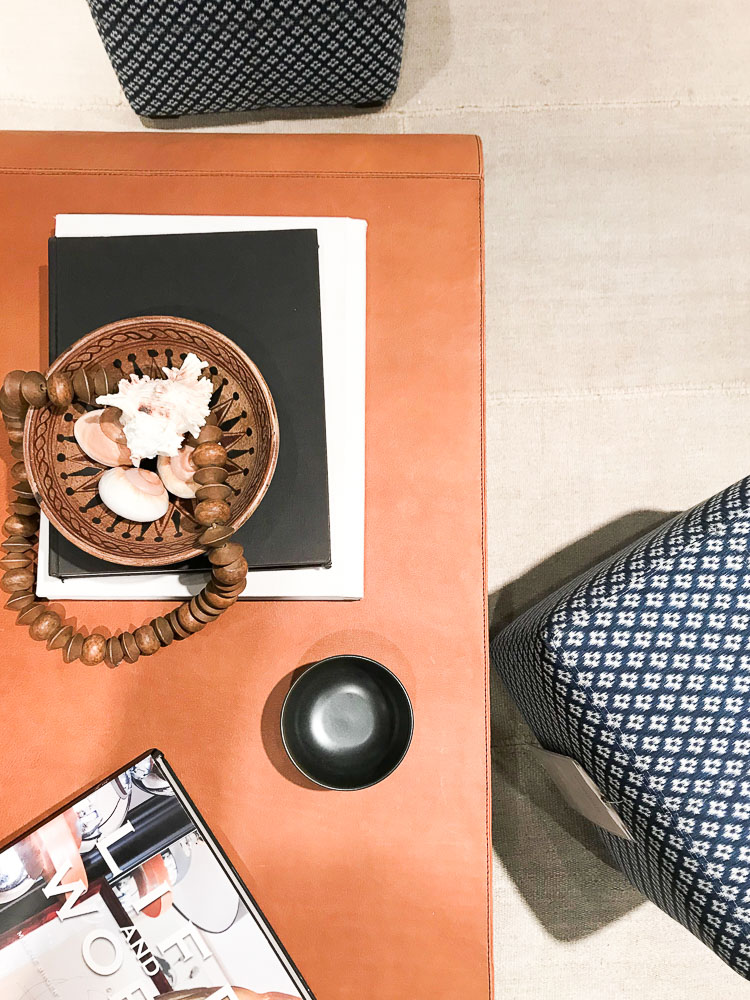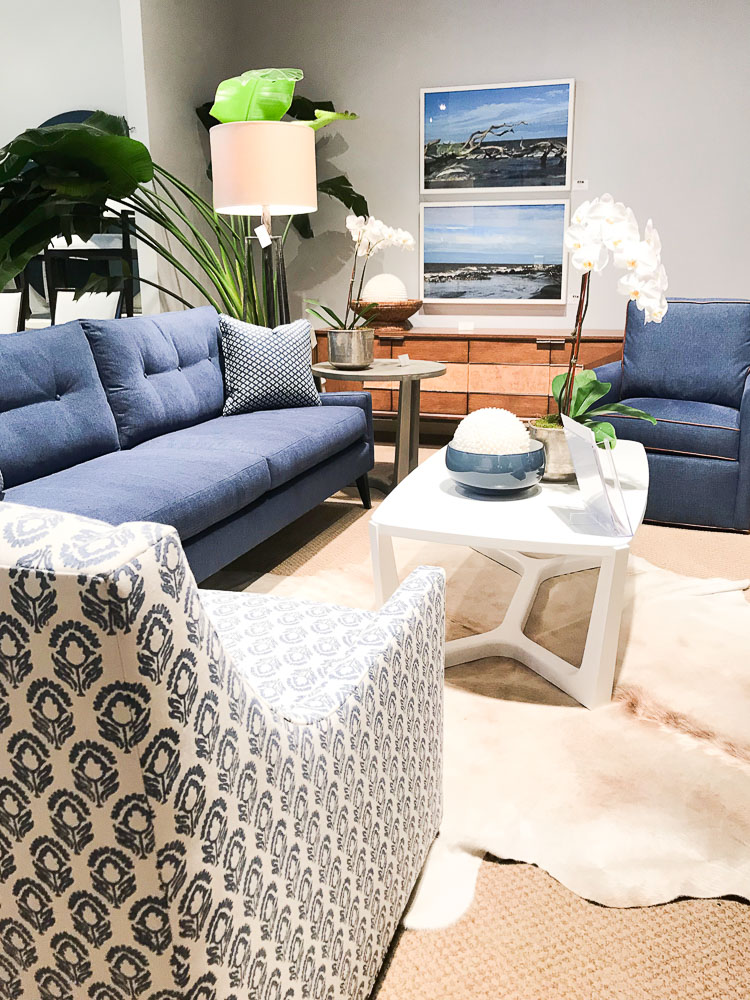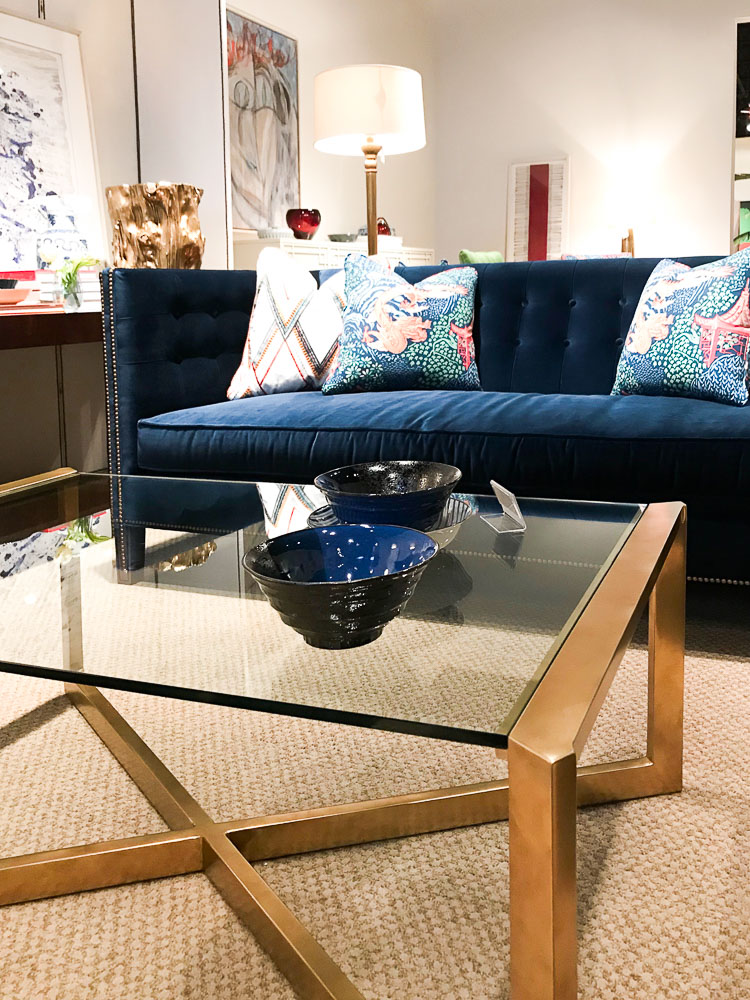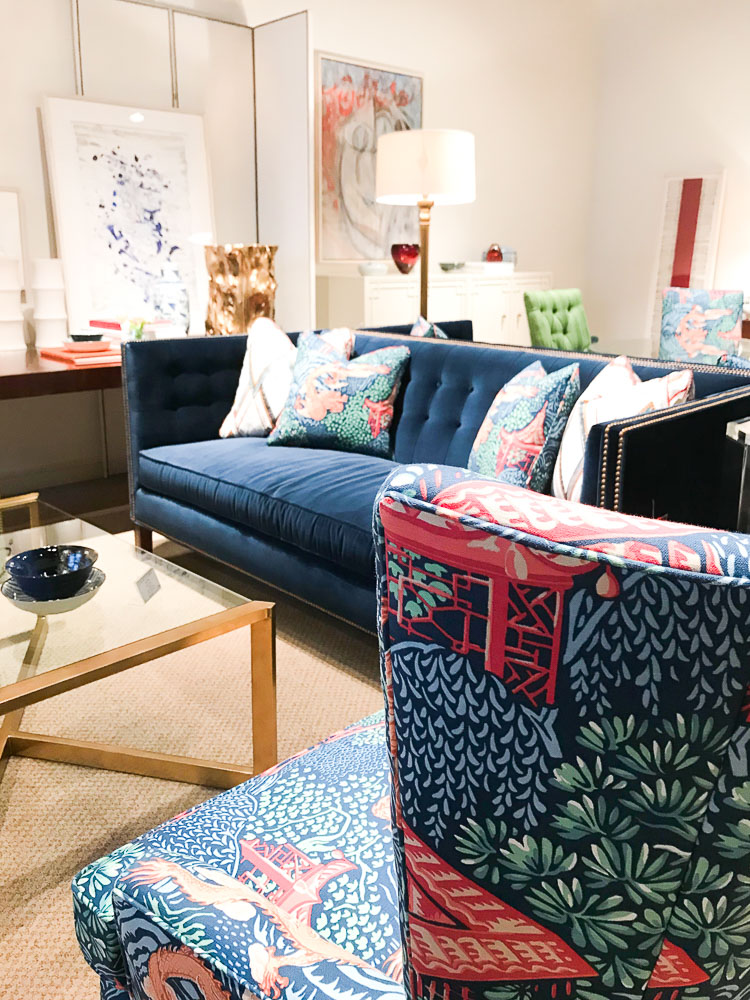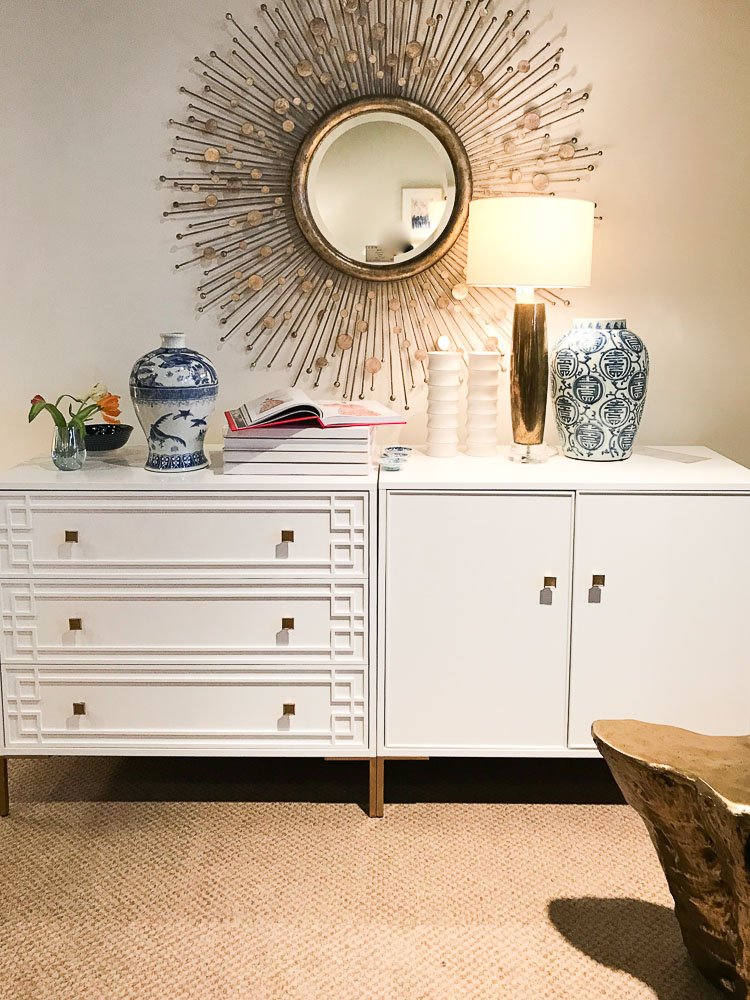 Tomlinson / Erwin Lambeth
After Century Furniture we crossed the street to visit Tomlinson. We were greeted by the ever-so kind Rod Lambeth, president of Tomlinson AND Barry Dixon! Truly an amazing moment. They have been crafting furniture for over 100 years in North Carolina, "one piece at a time."  With four furniture divisions under one roof, Tomlinson, Directional, Carter and Erwin Lambeth, in which they will make any custom piece. Give them a sketch and they can make it reality. Legendary designer, Barry Dixon, gave us a private tour of the showroom. It was inspirational to hear him speak, as he disclosed how his visions become reality. Sometimes you just never sleep, reminding us that when you love what you do it is all worth it. With an average of four hours of sleep a night, Barry Dixon works harder than any designer I know.
I love this picture of Barry Dixon, Sarah Walker from The Curated House and Tomlinson President Rod Lambeth, just chilling on their Remini Sectional, SO COMFY.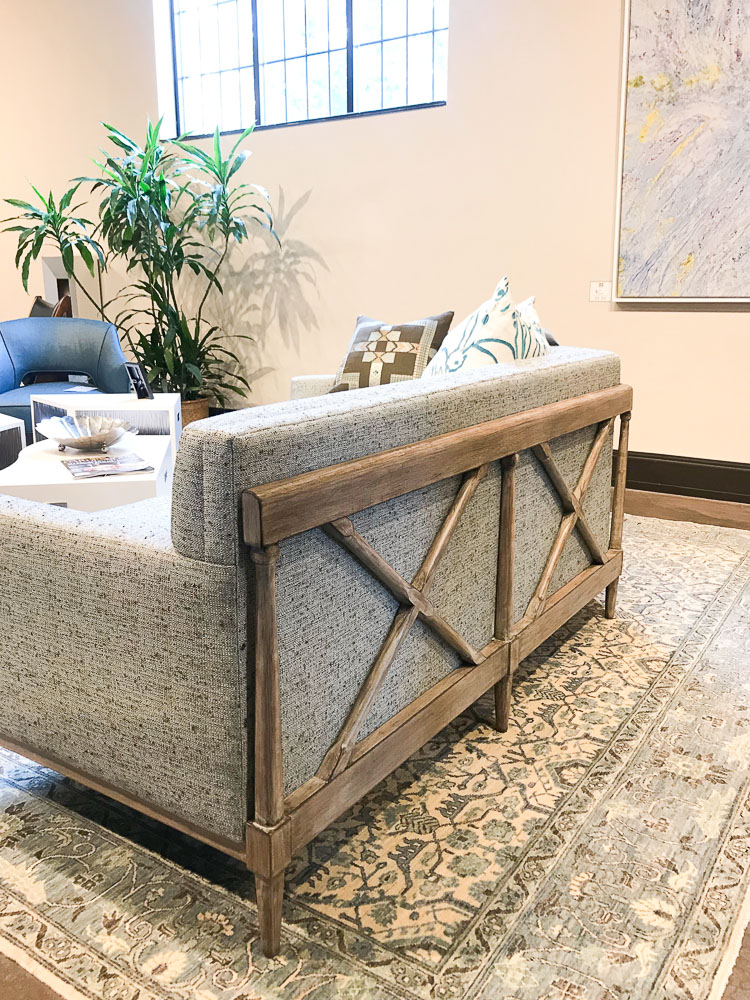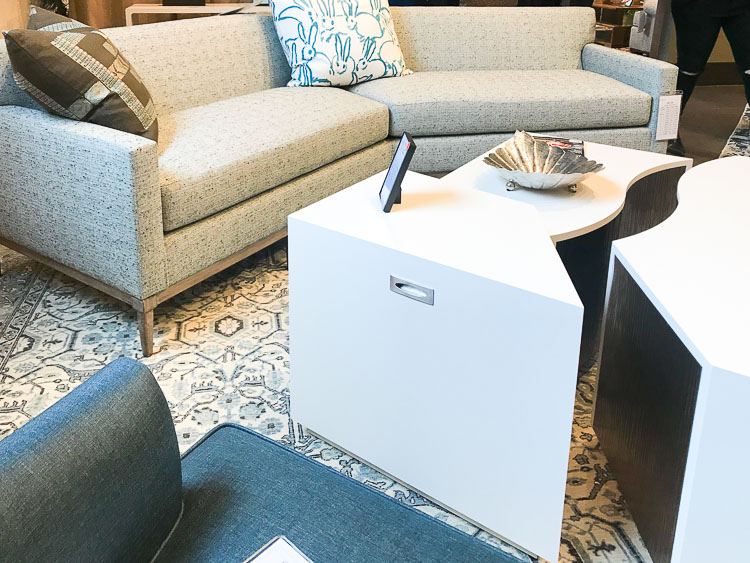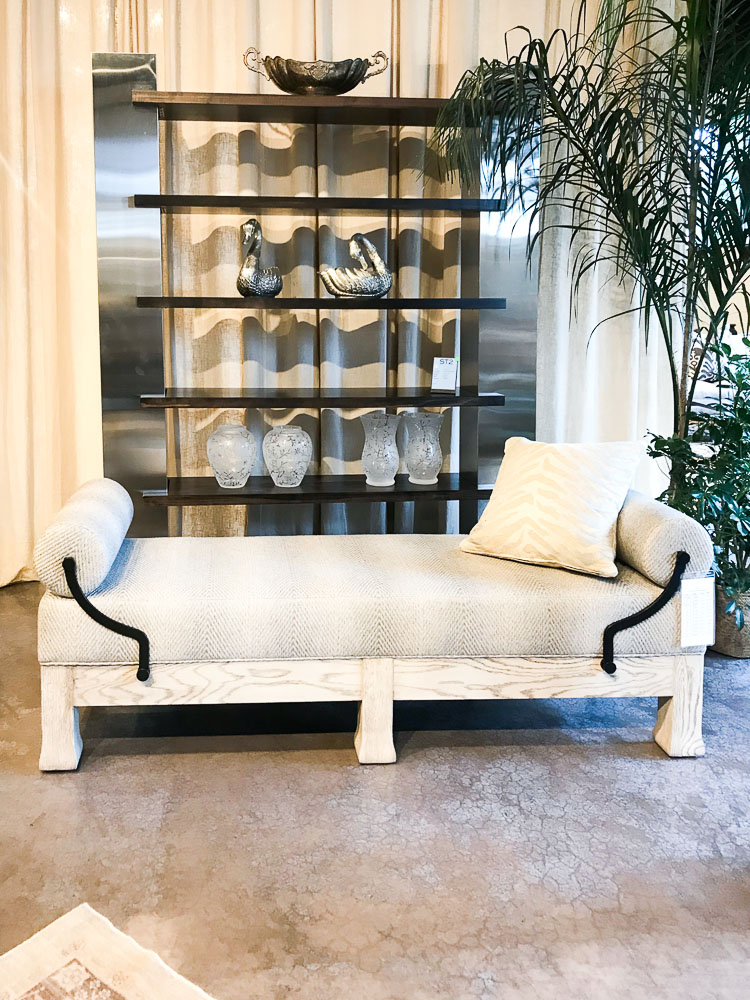 Highland House with Crypton
When you think you can't get more inspired with another piece of furniture, you walk into Highland House. Nathan Copeland, president of Highland House, greeted us as we walked into the most beautiful floral wall setting. He gave us an in-depth tour of their beautifully scaled and impeccably tailored upholstery. The mantra is "….'Keep it Pretty,' and it's their intention to be known as 'the thoughtful company,' who recognizes that the inside of a piece of furniture is as important as how it looks on the outside." The perfection for details and the classic pieces given new perspective were truly breathtaking.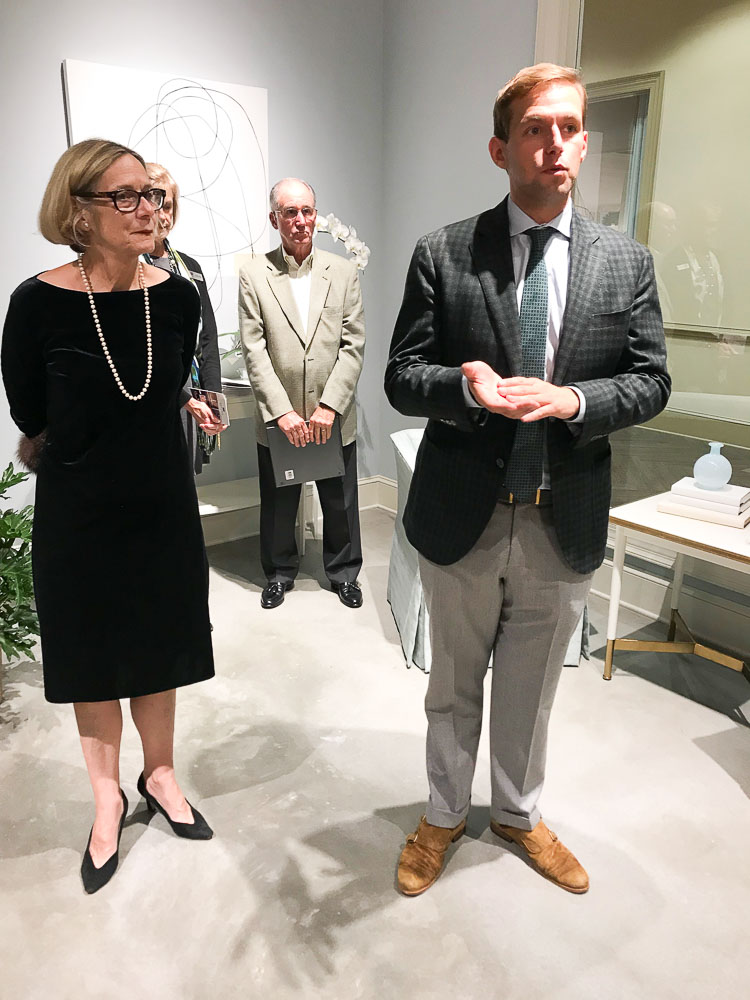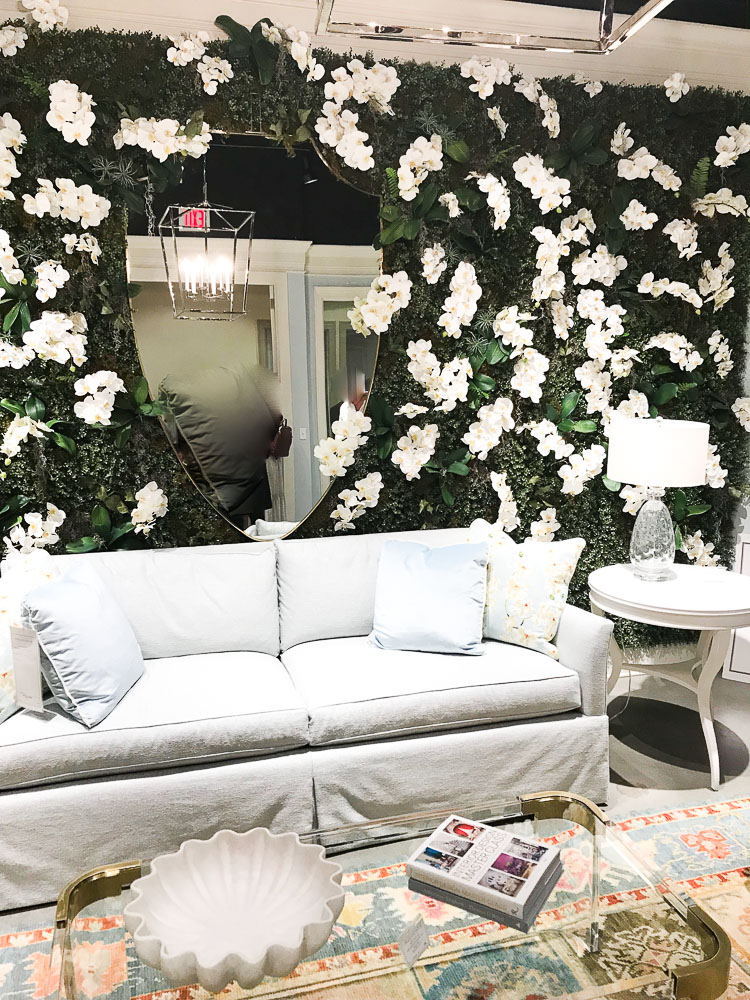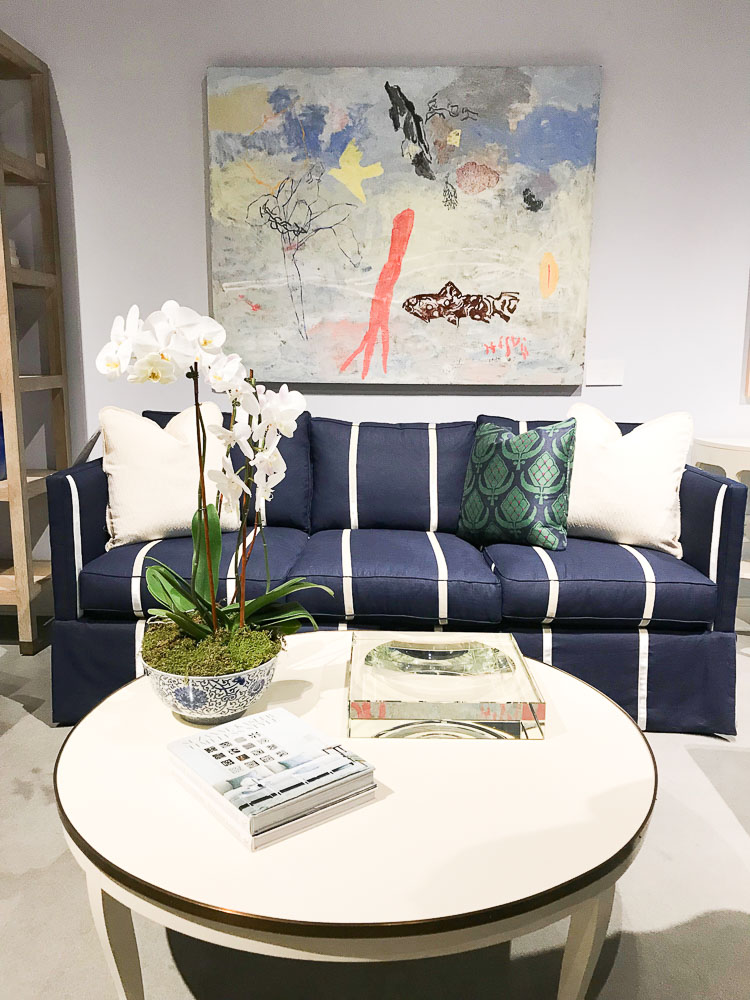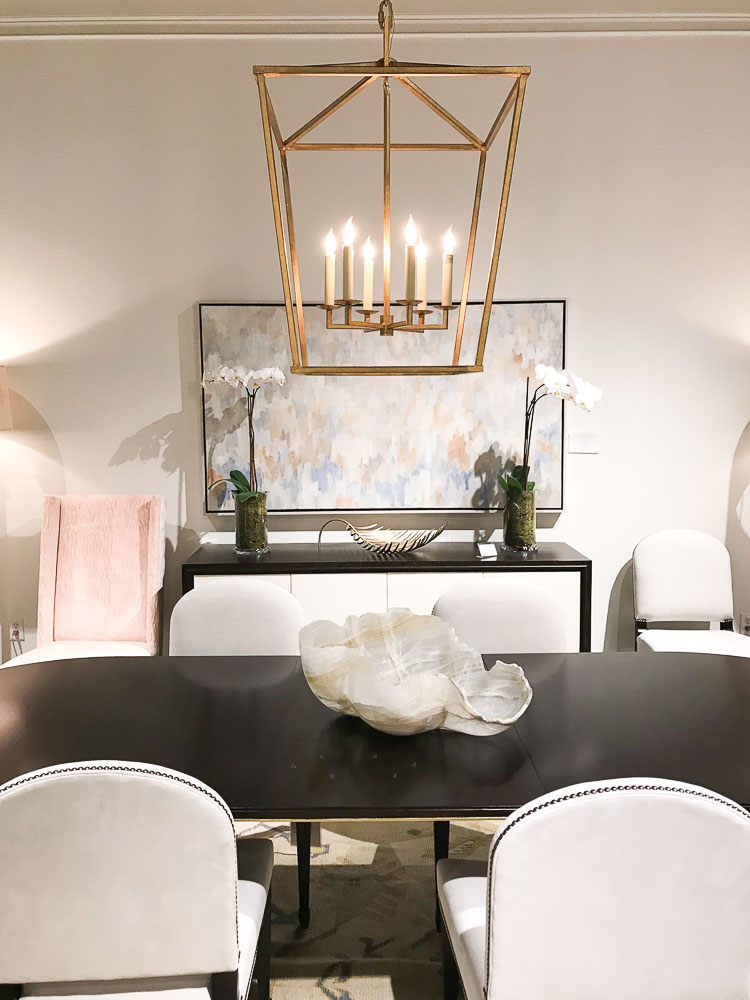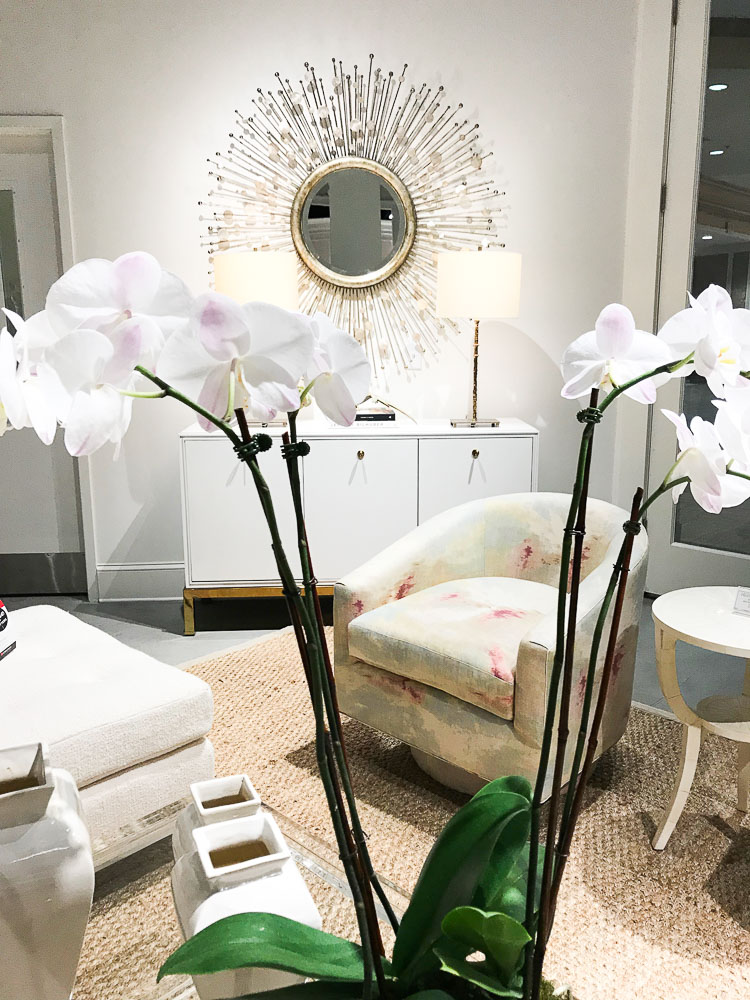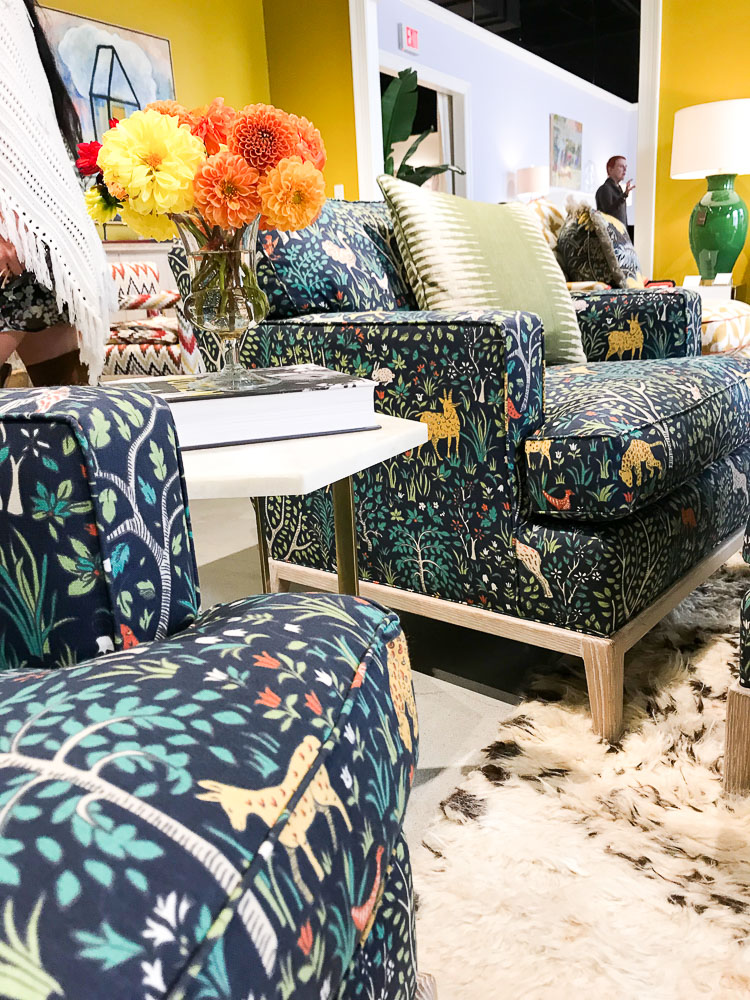 Lloyd Flanders
Lloyd Flanders is known for their premium outdoor furnishings with every piece hand crafted. Made in same facility since 1917 using strands woven into wicker fabric. We saw an amazing video that revealed the entire process. Truly an art form. Notice the "art" hanging above the furniture pieces. It appears to be a form of  macrame, but, they are actually the fibers used to create the wicker furniture.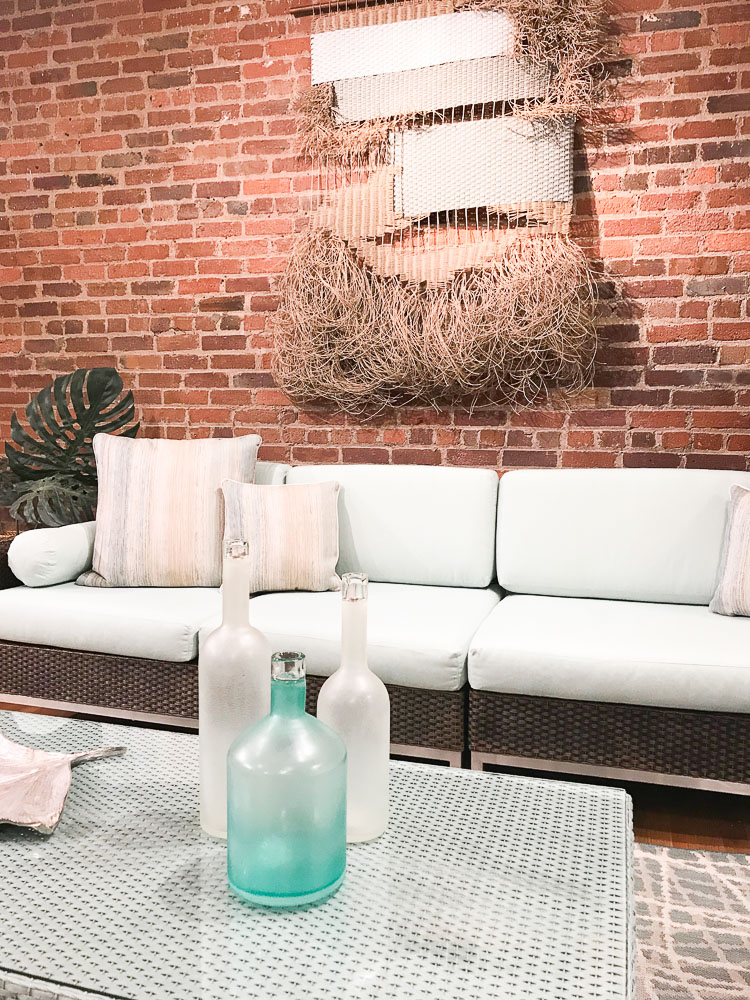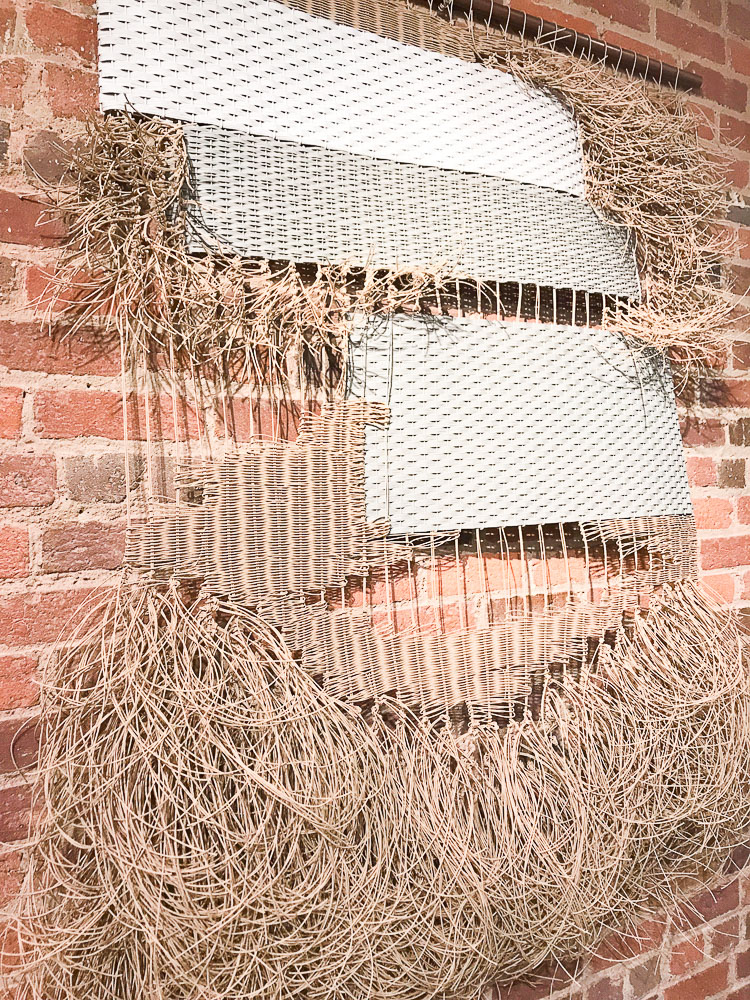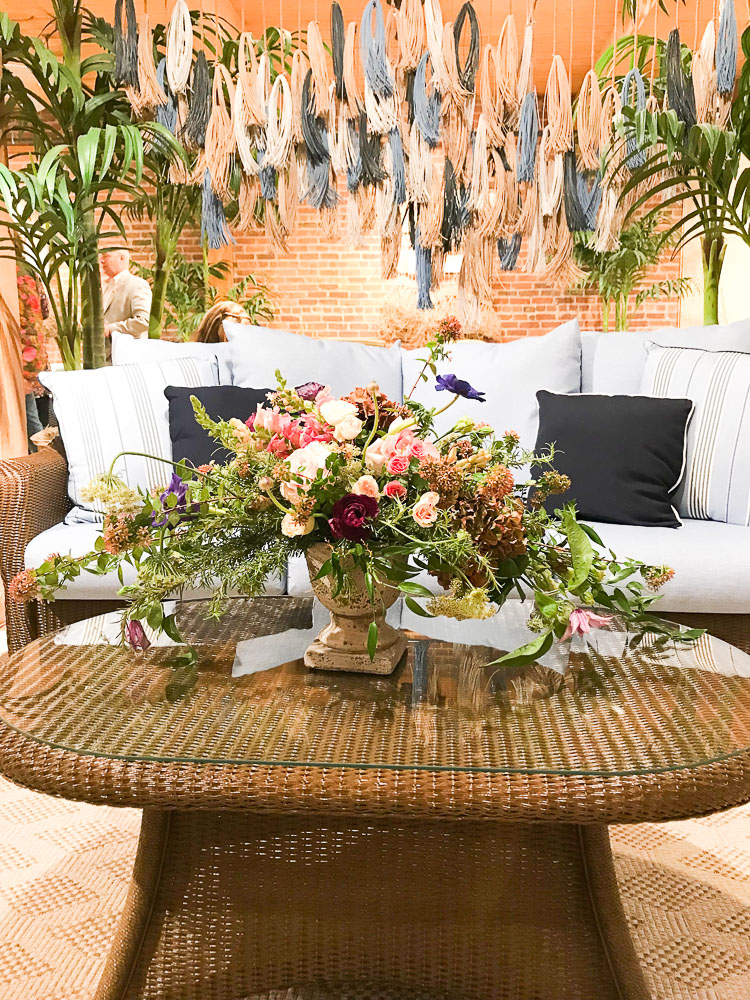 Younger with Crypton
Younger is a perfect name for this showroom. Creative Director, Meredith Younger Spell, has been at Younger, professionally, for five years. However, she grew up in the factory working there since the age of 14 under her dads vision. Meredith took over the company, founded by her father in 1989, after his passing last year. She is young, energetic and a visionary. All the furnishings are proudly crafted in Thomasville with designs created to be easy to live-in with no-fuss fabric options.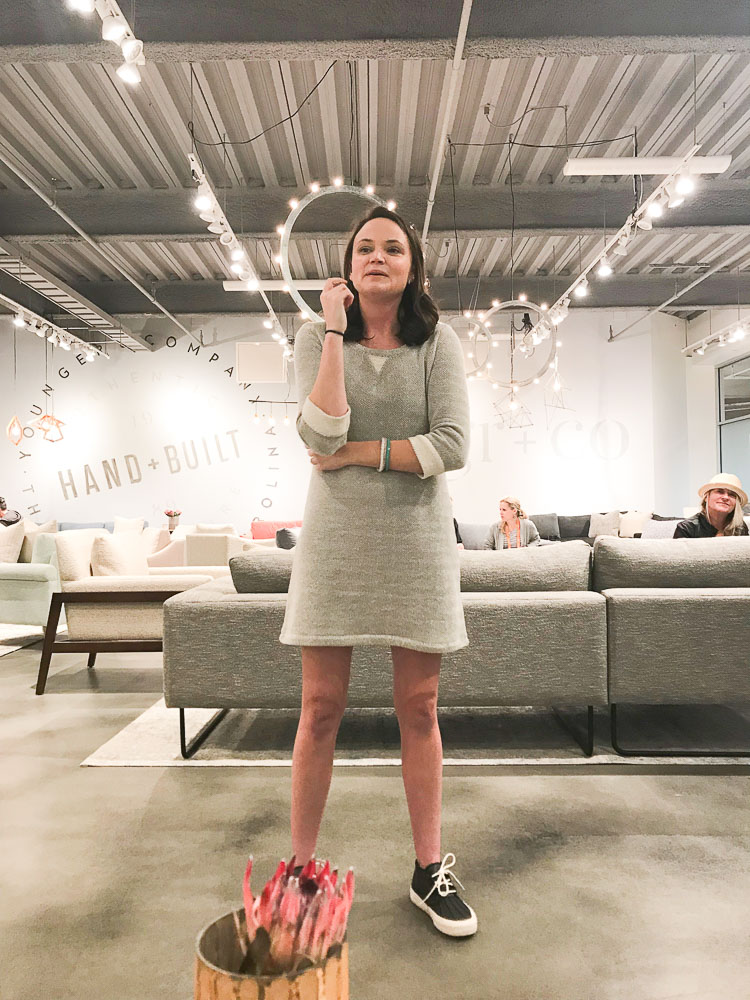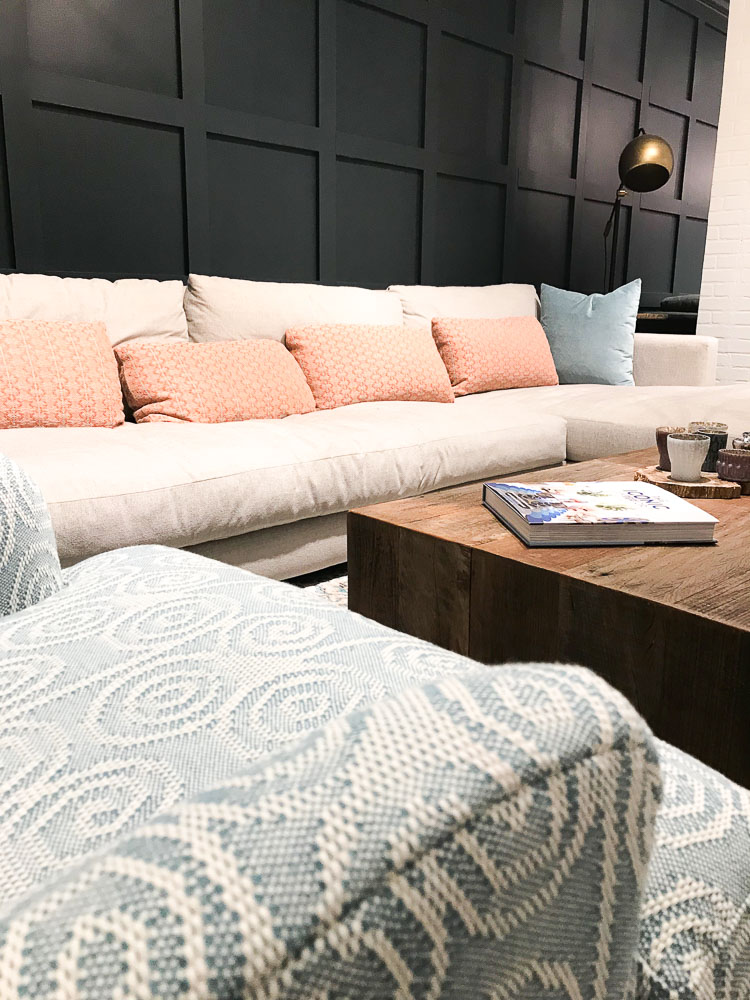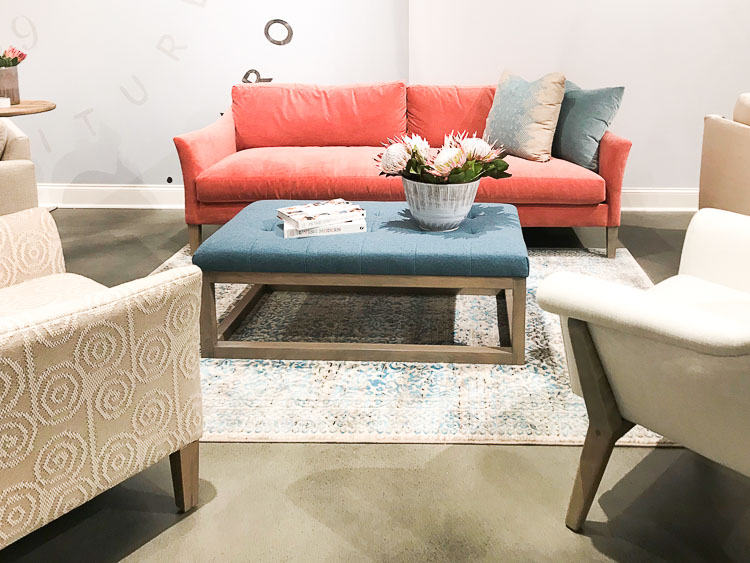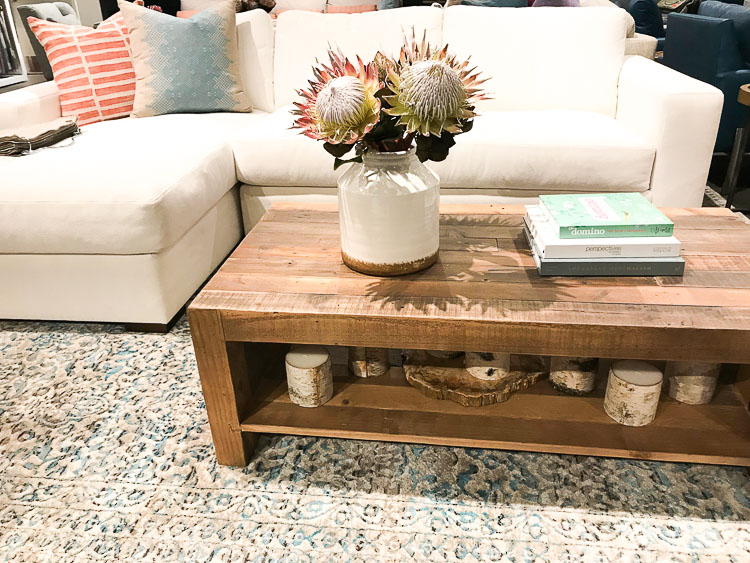 Green Apple
A Portuguese company, Green Apple, has international activity all over Europe, Russia and Asia. Dedicated to creating elegant and sophisticated pieces that truly emanate exclusivity. Oh, and if you are wondering where they got the name from, the creative founder was eating a green apple when she knew the brand name was right in front of her.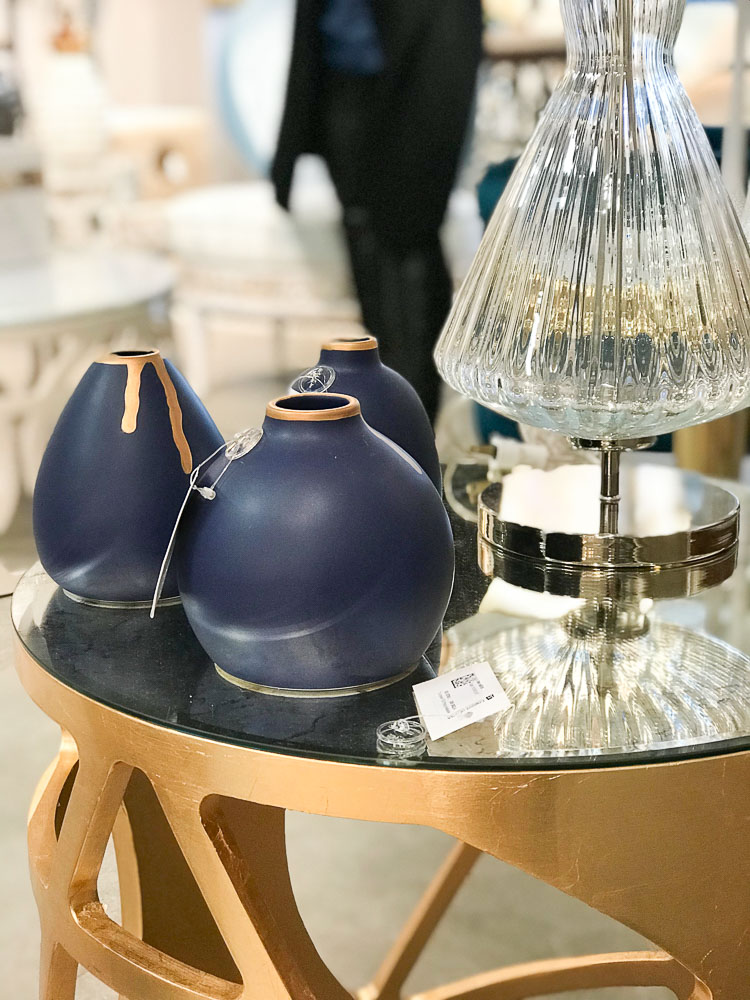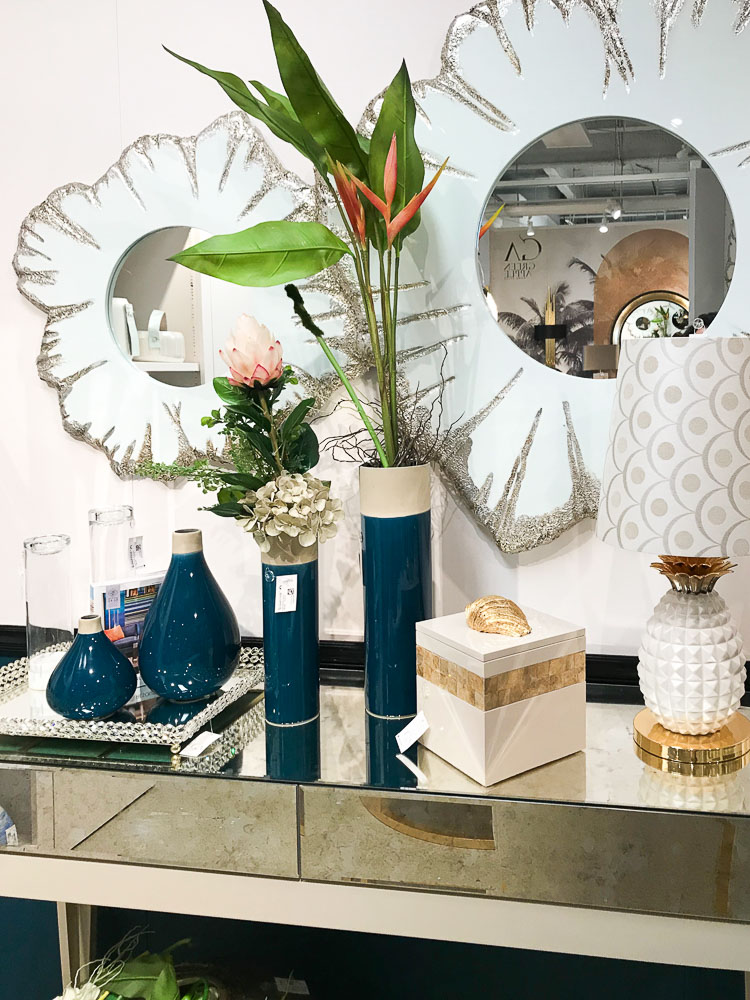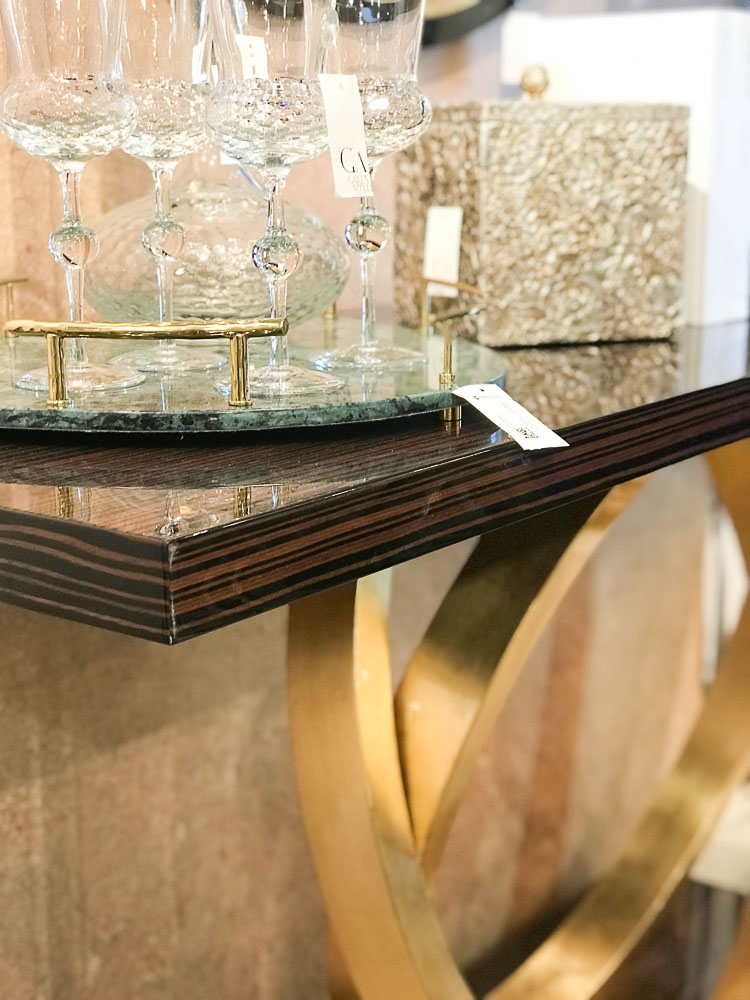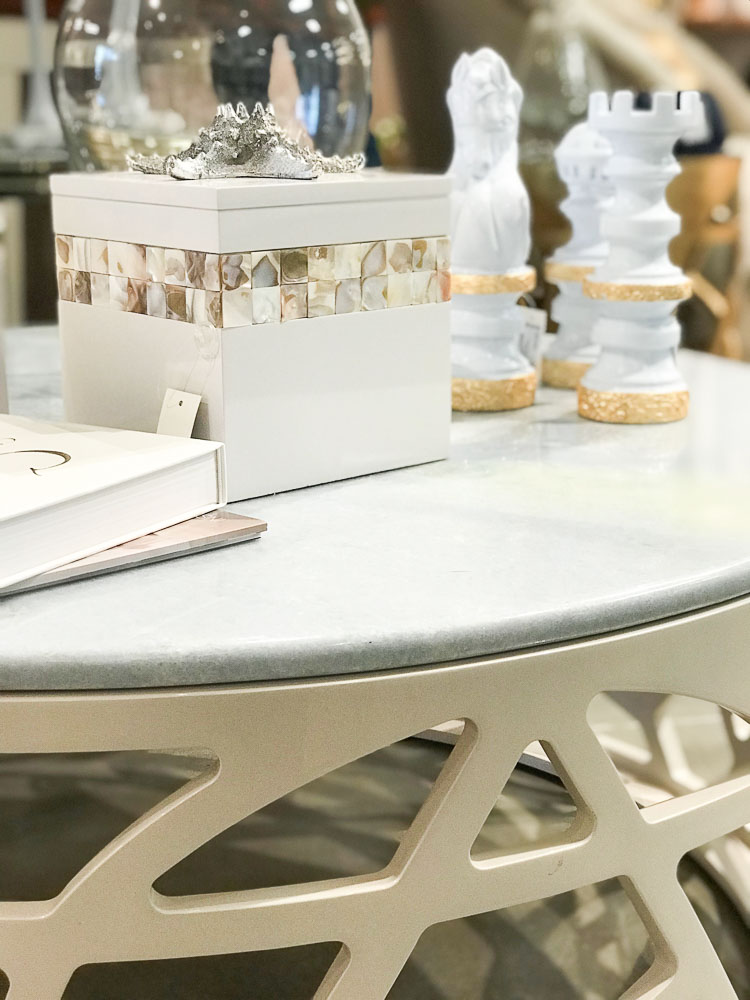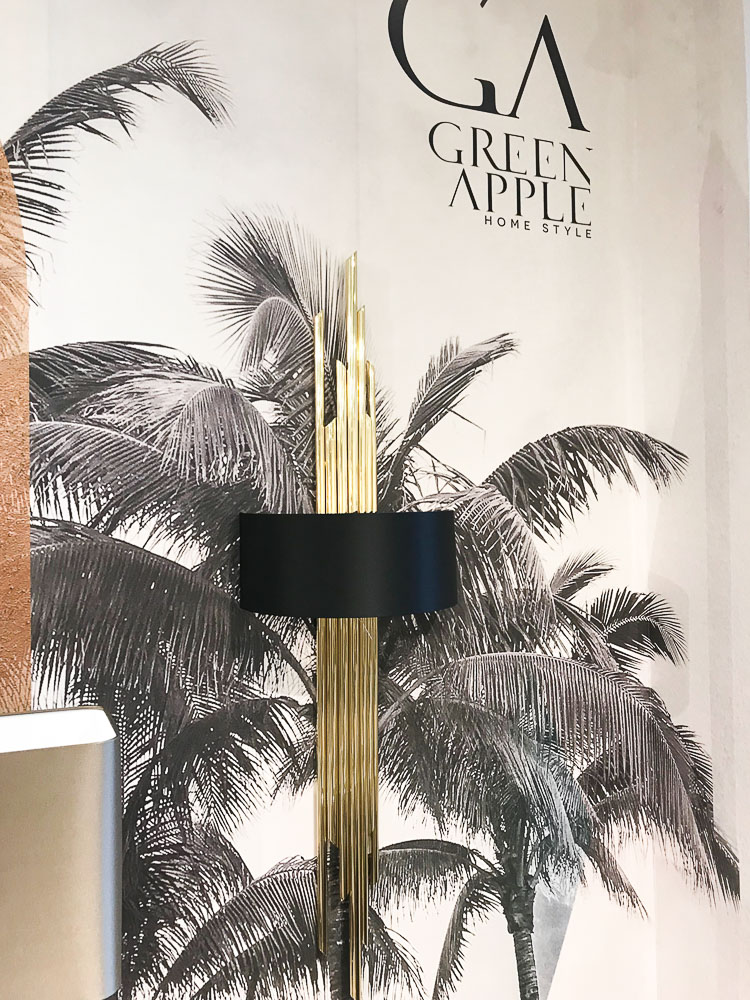 Bend Goods
Okay, can't lie, I LOVE Bend Goods, not saying it was my favorite, cause I can't pick a favorite, but I love the designs manufactured by this Los Angeles based company. Creative, playful, mid-century inspired sculptors designed by Michigan native, Gaurav Nanda. At Bend Goods, they were so kind to gift us their golden basket. Terrified of losing it I carried it all the way home as my one carryon luggage. Yup, I carried it on my lap all the back home to Chicago.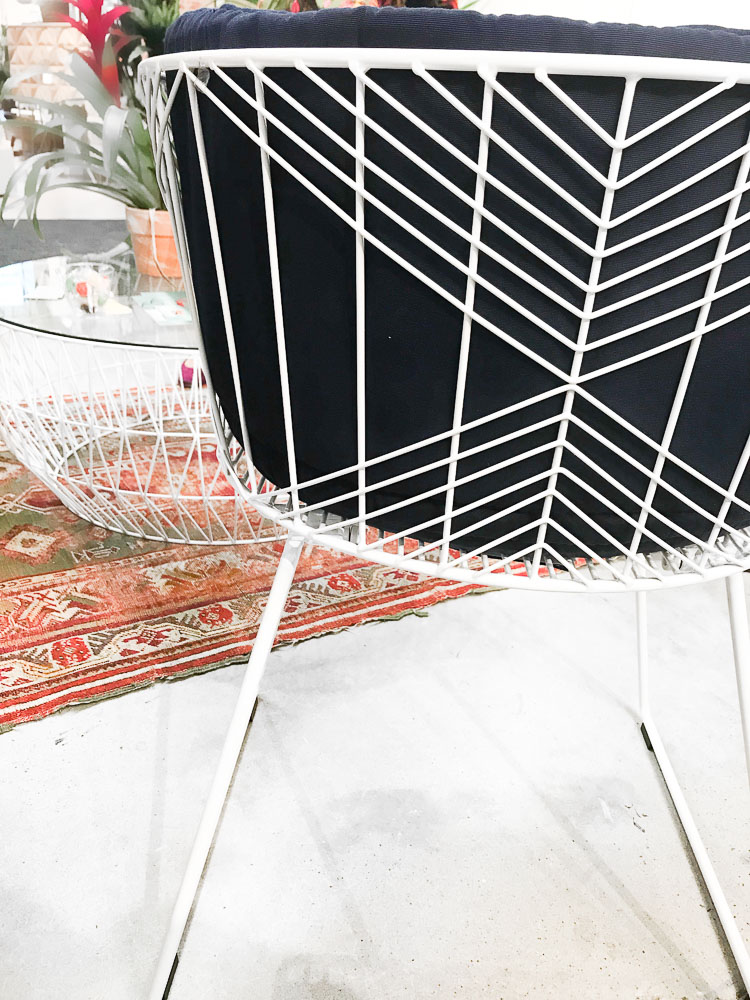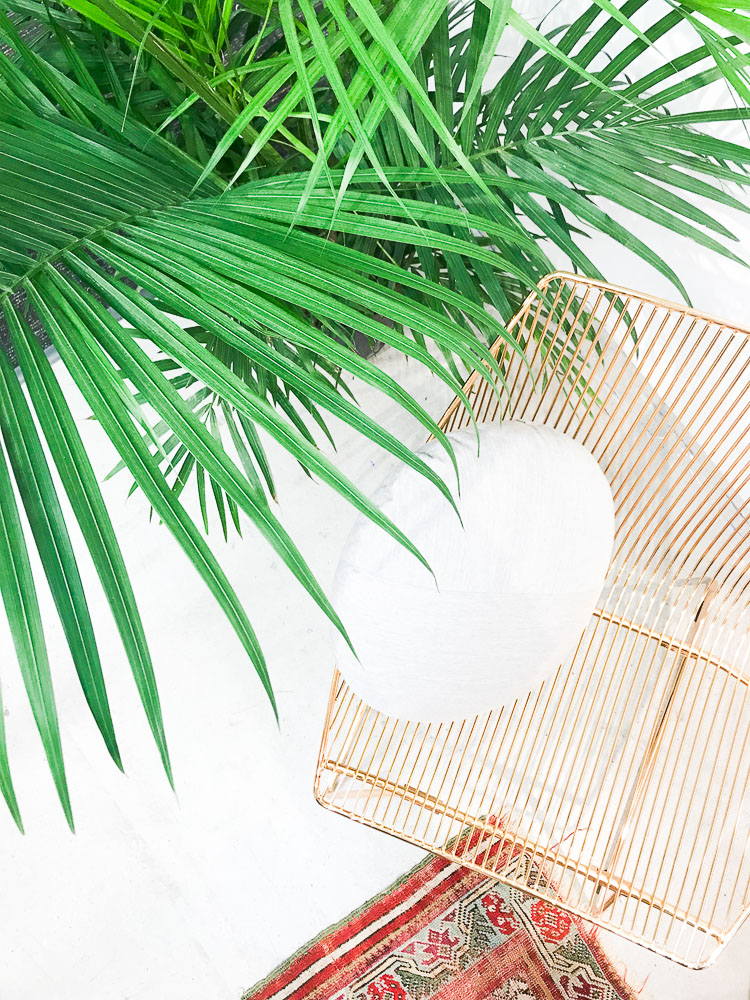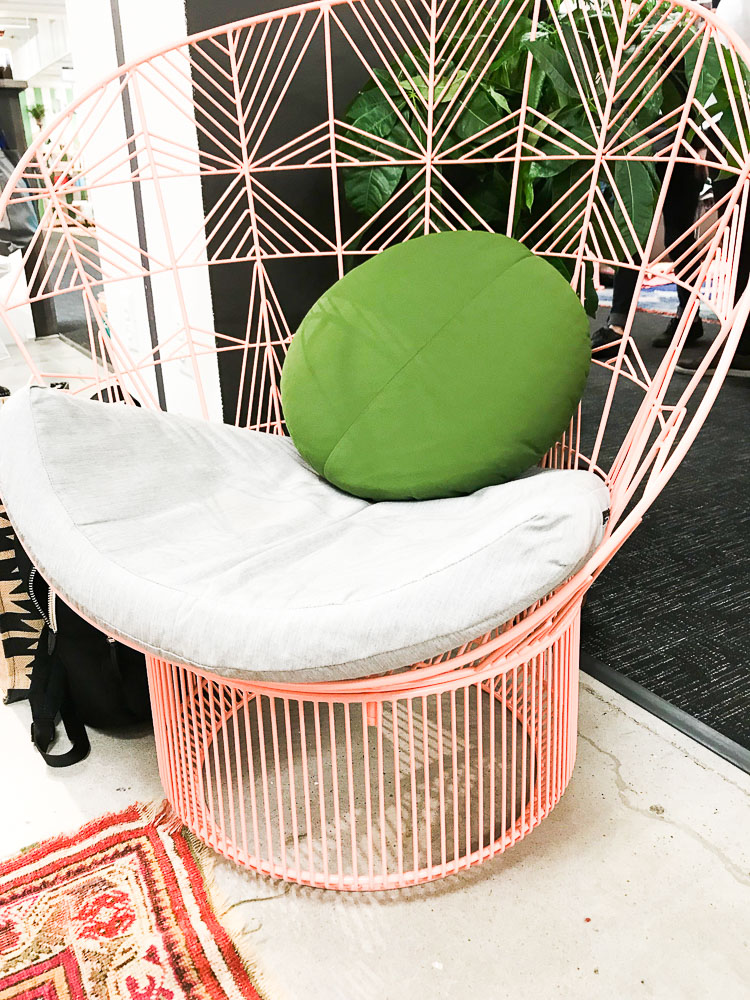 ModShop
Mod Shop is truly a mix of my style and my alter ego's style. I just loved this showroom, it has touches of what I love, brass and vintage, mixing in eclectic looks for a relaxed but sophisticated client. Owned by a husband and wife duo (with four kids I should add) I can appreciate their partnership and entrepreneurial spirit. And they say it best, a true mix organic and industrial modern pieces, urban loft styles, clean lined European design, to transitional Hollywood Regency glamour and 60's Mod. Just about everything I love and aspire to have.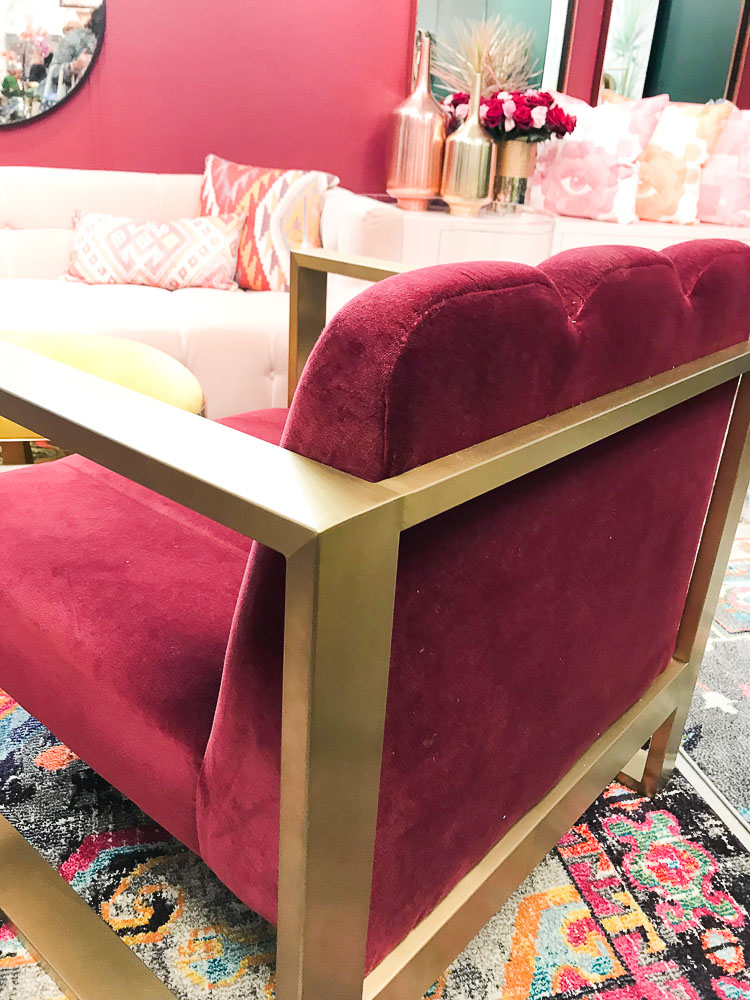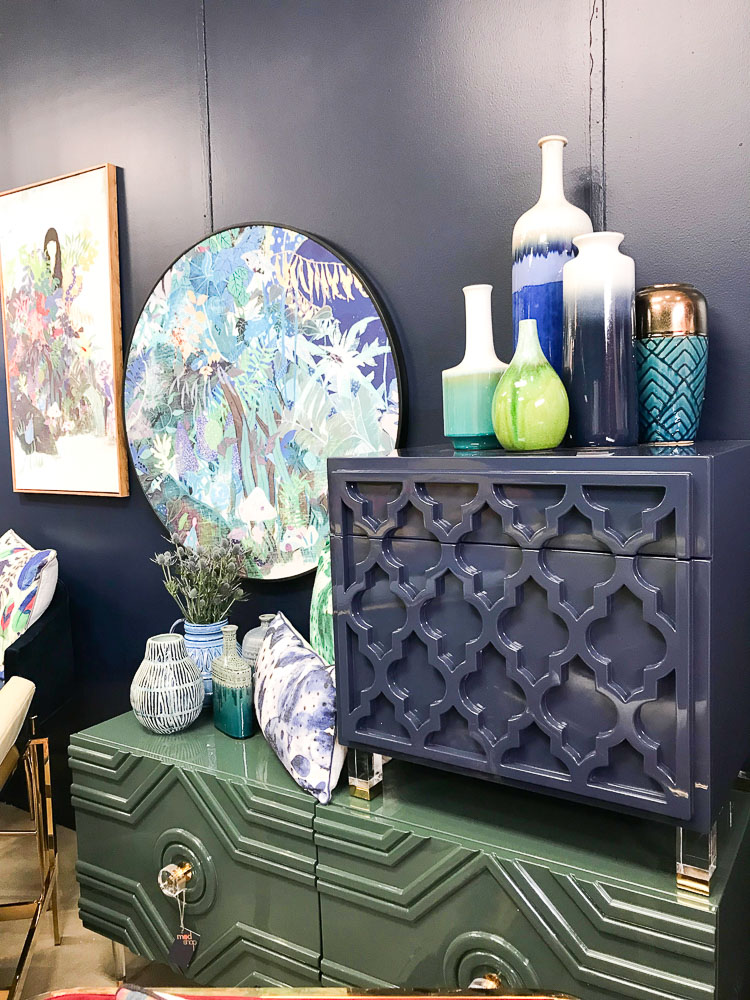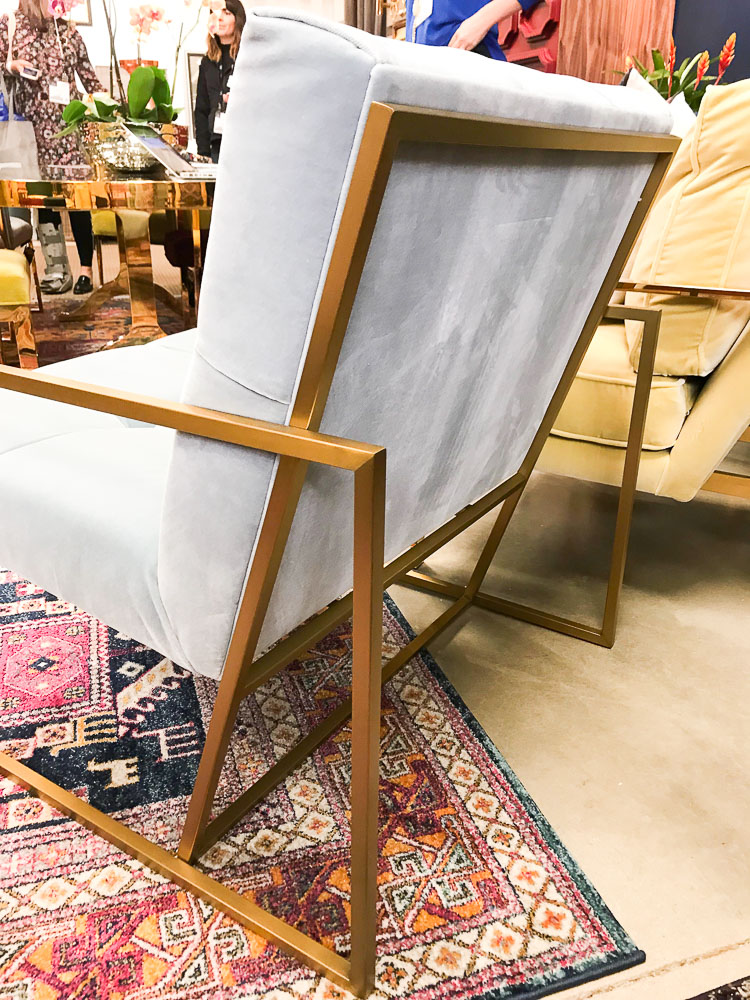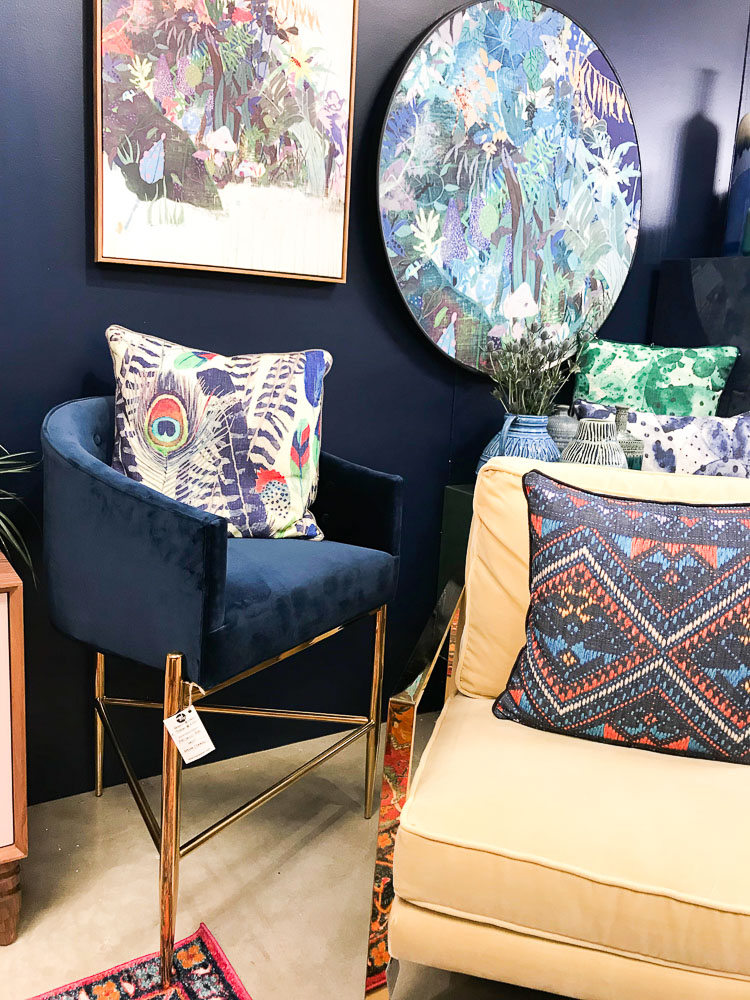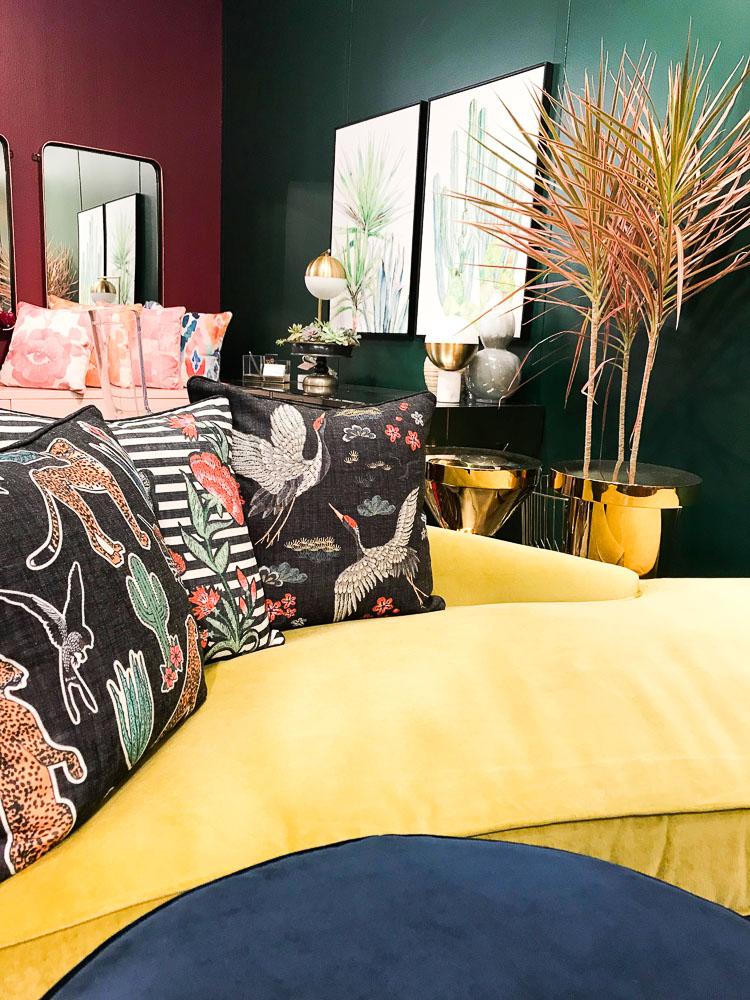 Phylum Design
Phylum Design was a perfect ending to day two. Chris Dunker, the artist, creates designs of the natural world that engage, enrich, and inform. Learning about his process and the mediums he uses made me re-tour his showroom, understanding what it takes to produce a piece is simply incredible.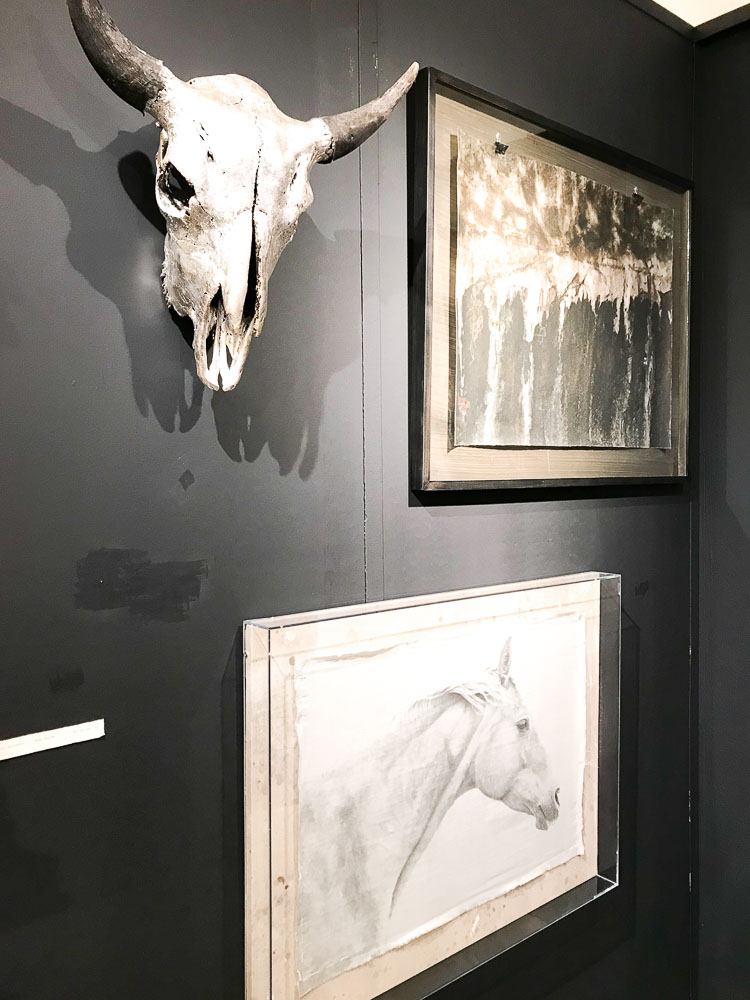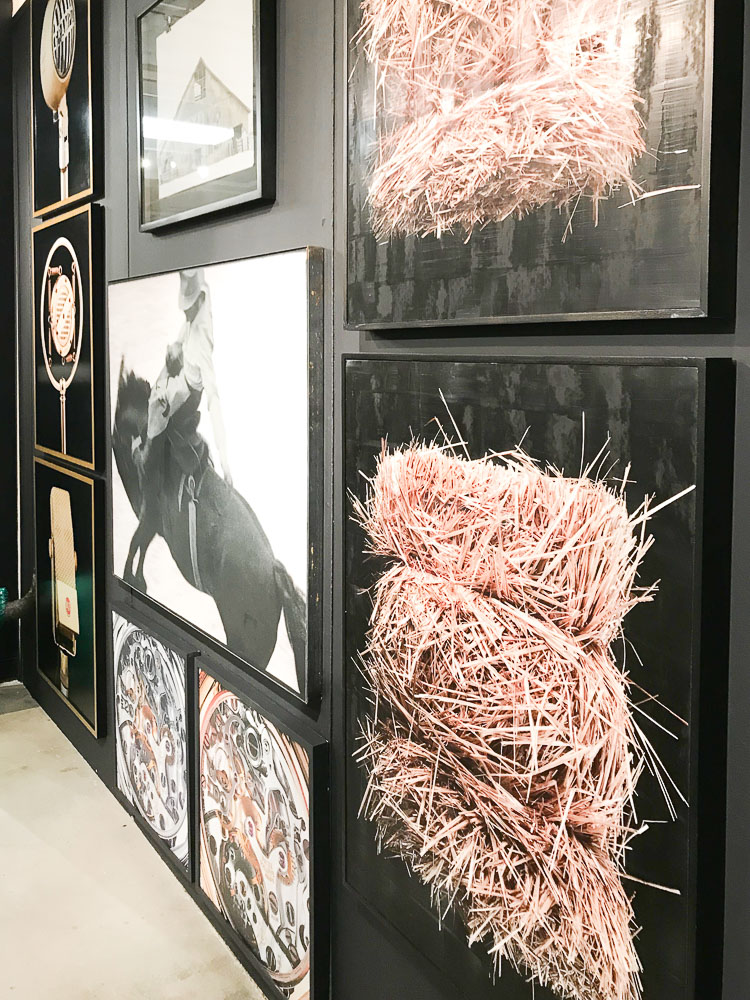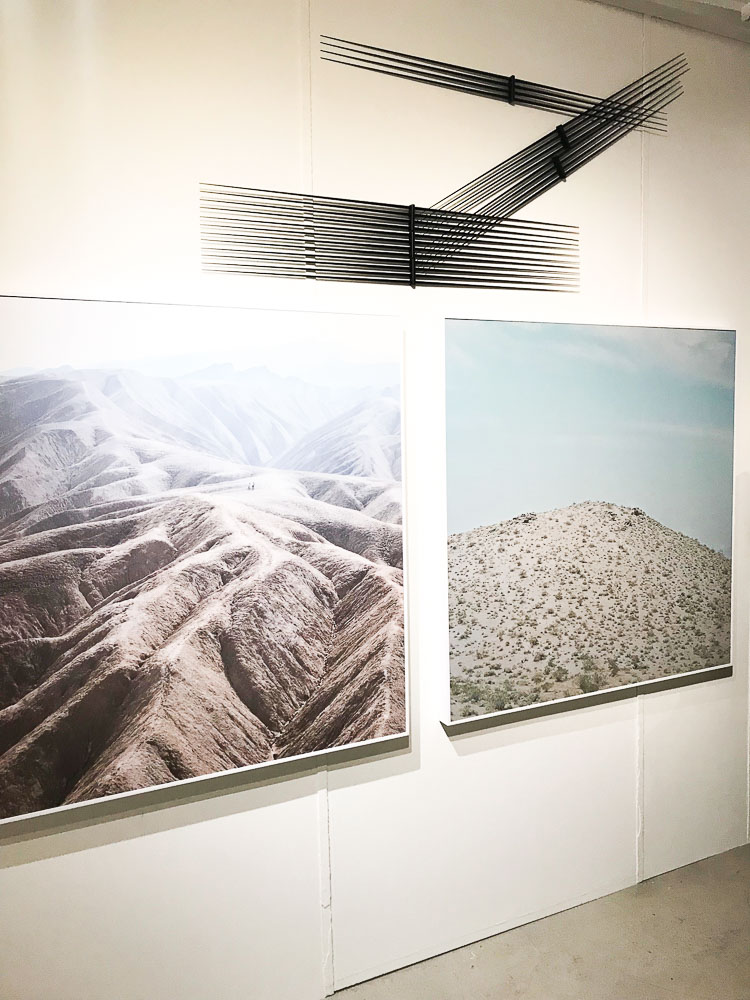 Pin for later