My BFF recently tagged a photo of me on her instagram calling me the "tablescape queen," and I just about melted with the title. I never really thought about it before, but setting the table for holidays or dinner parties is my favorite part about hosting. Recently, I co-hosted a ladies brunch to honor our friends birthday. We surprised her with all her closest friends in my backyard for a girlie brunch. Styling my first ladies summer brunch was a dream come true cause I had decided to bring out all my vintage pieces. So, excited to share with you all how to style a vintage inspired tablescape for your next ladies brunch.
Now, I usually start a couple weeks in advance, planning the theme. Then, somehow, the day of, I start throwing it together. The funny part is, is that there really isn't a step by step plan when I start a tablescape with. I just kind of see it coming together organically. I kind of see it as I go, things go in, things come out and then finally I take a step back, analyze from every chair until I feel it is complete. Why every chair? Well, I want each guest to have an equally pretty view. Okay, so I made sure to take note of what makes the tablescape complete so I could share my tips with you all.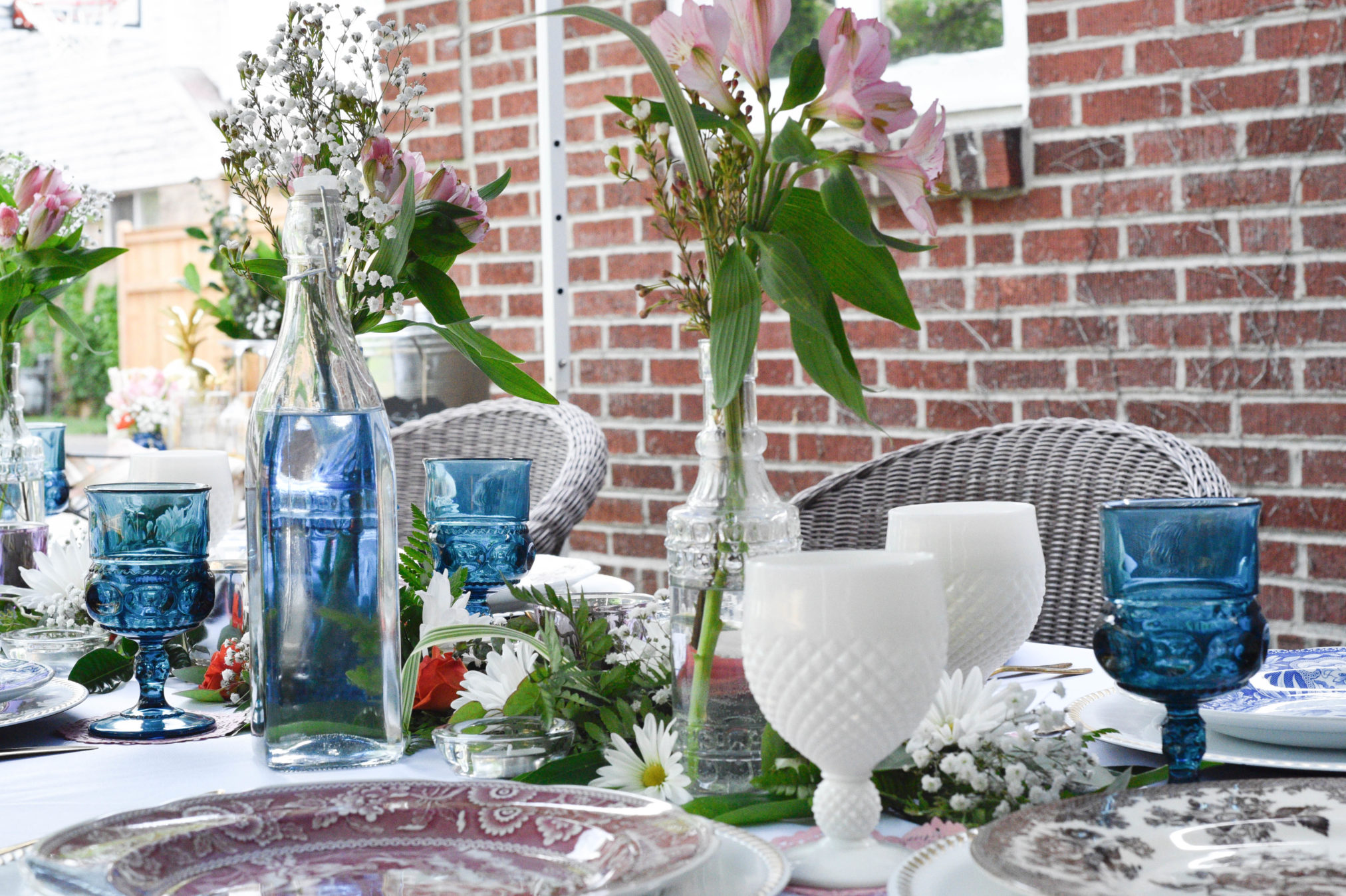 How To Style A Vintage Inspired Tablescape
Use Any and All of Your Vintage Collections
I have been collecting random vintage dinnerware for years from estate sales or ebay. I don't have a full set of anything but I have common color or styles of like items. For instance, I love blue indiana glass, so if I see one I grab it. I also love white milk glasses (I only have 4 so far). My all time collection is 16 vintage english dinner plates of various colors and designs. I use them all the time, even on Thanksgiving. My latest great find was on ebay. A 68 piece set of vintage Dirilyte Dirigold goldware, here is an example set for sale on etsy. Well, I scored the 68 piece set for under $50. Simply by consistently checking ebay! You cannot even buy one set of gold flatware under $30 in the stores. Regardless, I didn't want a new set, I wanted the original inspiration. They arrived on my doorstep with all the original paperwork/manuals from 1946, explaining how to host the perfect dinner party. There was even penciled in notes, from the original owner, crossing off what pieces she had and what she was missing.
Awe shucks, I break into water works just thinking of the stories these forks could speak about the amazing dinner parties this hostess once had. Here they are when they arrived beautifully packaged with a note from the original owners daughter telling me to "enjoy them."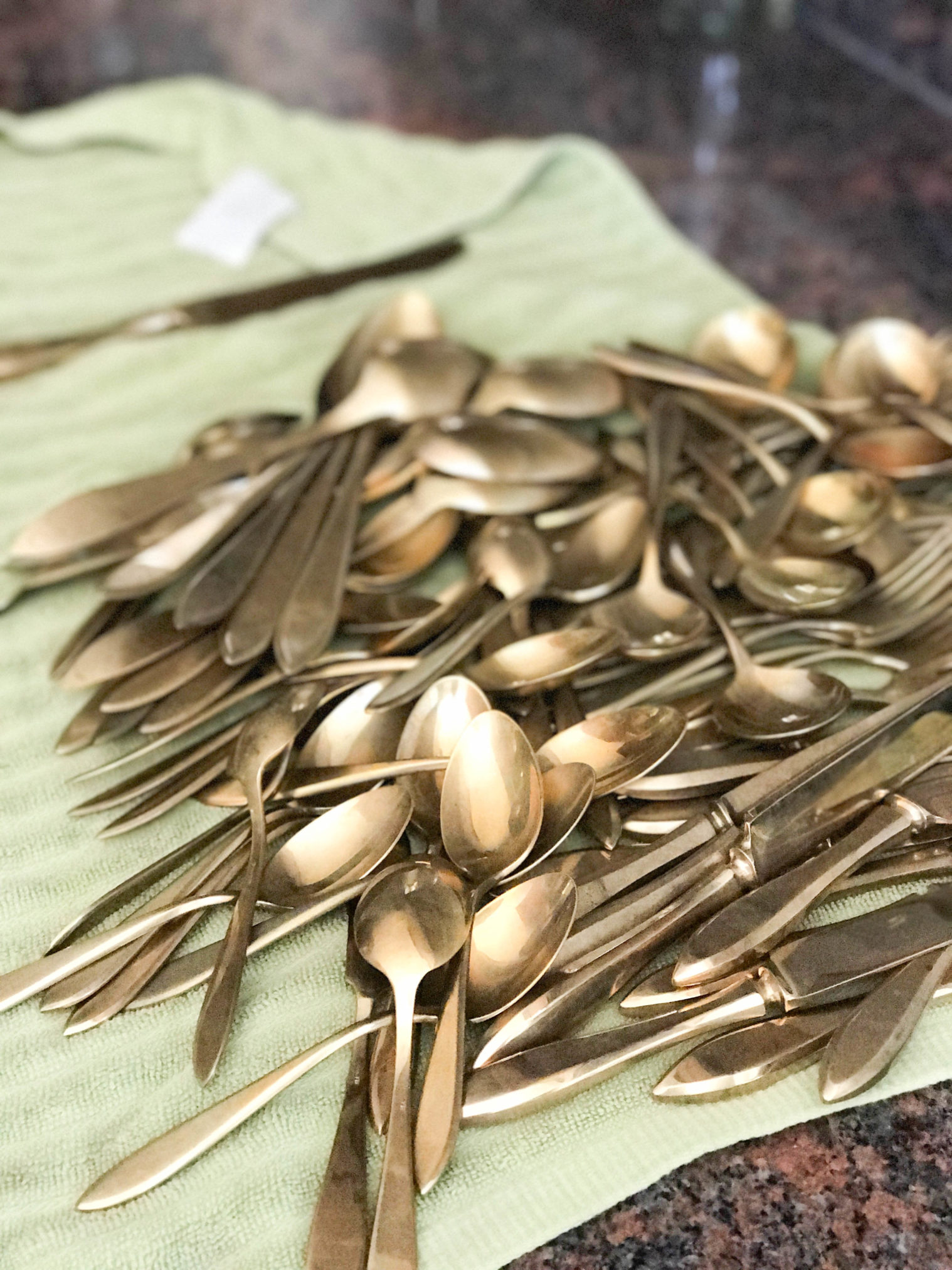 Add Simple Greenery As Your Natural Element
The best way to create a vintage tablescape is to have a lot of flat greens laid across the table. The best part is, is that they are much cheaper than flowers! I grabbed everything left in the store the day prior. Now, what is more vintage than white daisies, a small bundle of those that I would use mixed in with a little baby breaths.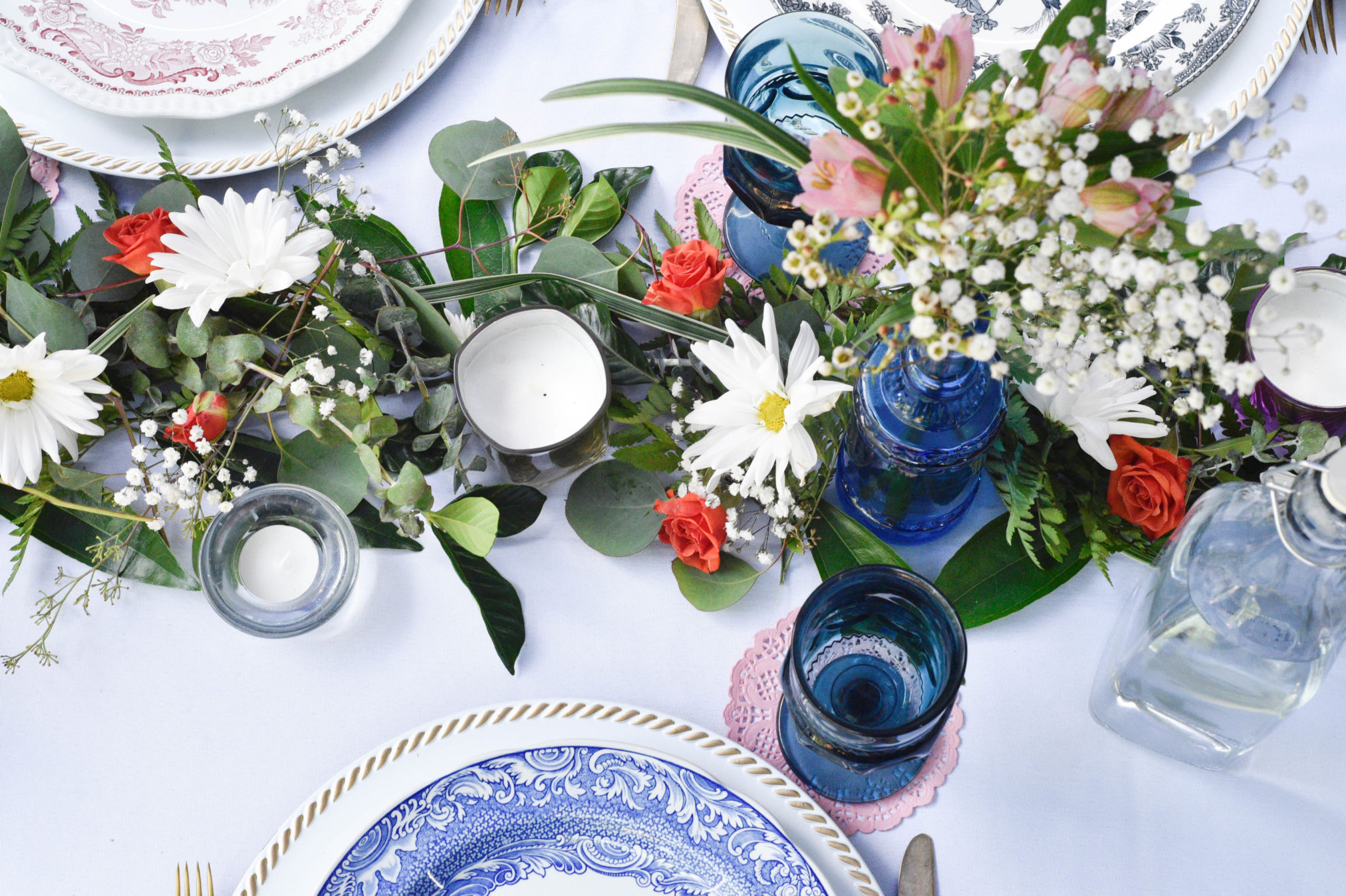 Create Height and More is Always Better
When laying down a lot of greens you still need to add height with either candlesticks or vases. I opted for vintage colored bottles from from etsy and filled them with a couple matching greens and florals from the tablescape. Also, I have noticed people are scared to crowd a table. They have the place setting and glassware. But, what takes a tablescape from "oh" to "ohhhhhh!" is the overabundance. People are coming to sit and enjoy their time, give them something enjoyable to view and the layers you add the better.