Thank you for Cost Plus World Market for Sponsoring this post. As always all opinions here are my own. 
It's that time of year where friends and family gather around the table and enjoy food, laughs, and create memories. Every year I spend the weeks leading up to Thanksgiving decorating my table scape. Some may wonder why I spend so much time. Well, it is truly the one dinner where no one is in a rush to get up. Everyone sits down, sometimes for hours. I want my family and friends to enjoy the setting. They always do say, the tablescape makes them feel special cause I make it look oh-so special for them to enjoy.
Each year I try to change it up a little, and not sure if you all have noticed, but I designed a vintage inspired tablescape earlier this summer. It is a gorgeous and simple trend, vintage eclectic meets boho chic, that is taking over the tablescape world. So, this Thanksgiving will be no different, I will create a vintage inspired tablescape. I am giving away my secrets on how I create a memorable Thanksgiving tablescape below but would love to hear your tips too.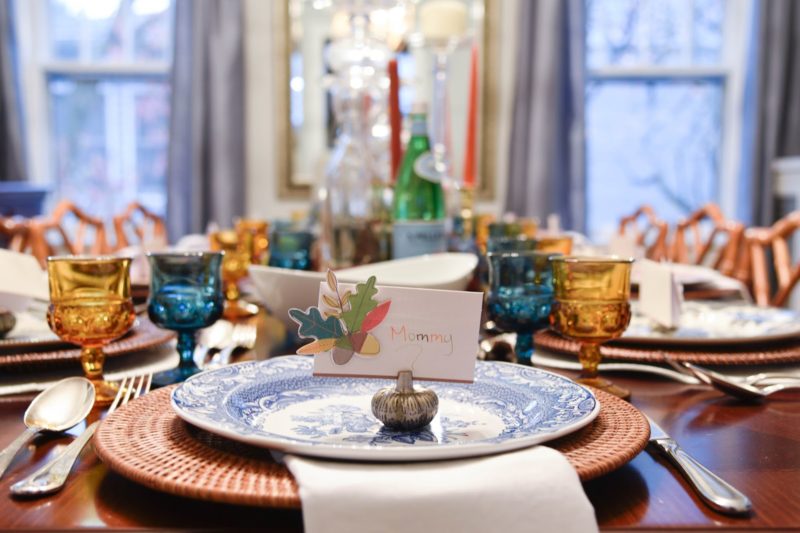 How To Create A Vintage Inspired Thanksgiving Tablescape
There are certain items that will make my Thanksgiving tablescape unique this year and you can find them at Cost Plus World Market. There are also certain tips to pulling it all together.
1. Less is NOT More
This is the biggest mistake I see. People don't add enough fluff. The more the better. Makes it feel finished. Use your buffet or sideboard to keep the extra food, use your table as the canvas to create a memorable Thanksgiving Tablescape.
2. Sit in Every Chair
When I think I am finished I sit at every chair and see what my guest will see. I want each of my guests to have a nice view of the tablescape and centerpiece. No bad angles here.
3. Mix It Up
Don't feel like you can't bring in articigial greens mixed in with real flowers. I do this all the time. Mix in pieces you already own with new items from CPWM. And, don't be scared to mix patterns, colors, and styles.
So first, we need candlelight, mixing high and low. I love the gold taper candles in white candle holders, and mixing in white tapers in the gold holder. At the same time mixing in a pop of blue volitive and placing them in the terrariums throughout the tablescape.

Gold Metal Taper Candleholder // Brass Geo Terrarium // Metallic Gold Taper Candles // Brazilian Orchid Votive Candles
Next, the Thanksgiving Dinnerware. I love using the wood baroque chargers and topping them off with the organic white italian dinner plates, love it! Then mixing in hints of gold flatware. Perfection.

White Italian Organic Dinnerware // Wood Baroque Chargers // Gold Wave Flatware Collection // Pressed Glass Goblets
Now, you gotta add the fillers to complete your Thanksgiving Entertaining, the finishing touches, from artificial to real florals and greens, serving platters and personal touches.

Faux Eucalyptus Stems // White Ceramic Pumpkin // Windup Turkey Crackers // Be Thankful Place Cards
NOW, I GOT A TREAT FOR YOU – 30% OFF
Okay, so see something you like? GUESS WHAT?  I got you covered with our Cost Plus World Market's Friends and Family Event! Here are the deets:
You can use it in stores or online 4 Days ONLY! Friday, October 6th through Monday, October 9th I KNOW, 30% off.
Basically you will save an EXTRA 30% on almost everything (except food & beverages)
Plus, save an EXTRA 10% on food and beverages (includes wine, beer and spirits)!
Shop in-store or online at worldmarket.com
Click here to get your coupon: www.worldmarket.com/category/code/ff-social-media.do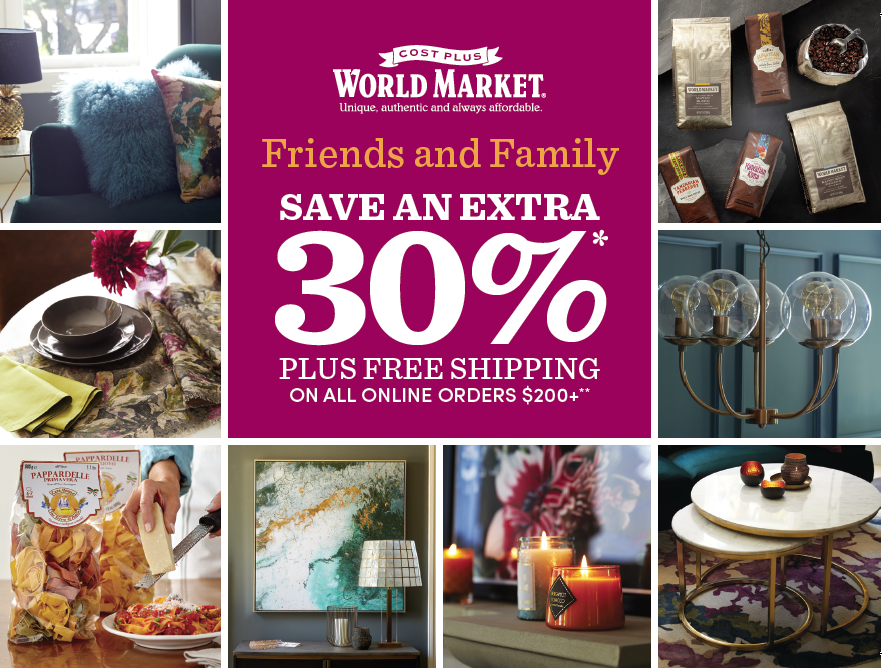 Pin for later and don't forget, you can find all of this at your local store. If you are near me, I love my Evanston and Northbrook locations, maybe I will see you there! Cost Plus Near You