Recently had a client that needed to help decorating a porch. There were a few obstacles to consider and I thought this would be a good post to start sharing more of my design client project and process' with you all. The only reason I have not, is time. I use to share a lot more of my projects cause I had the time. But as my client base has grown, and time spent sourcing for them, I can't blog about it. But the last week, I have spent some time re-evaluating aspects of my life, time spent in certain areas, and what I need to change to make it work. With that little personal vent out of the way, lets get this thang started. Here are steps I took to furnish and decorate a porch.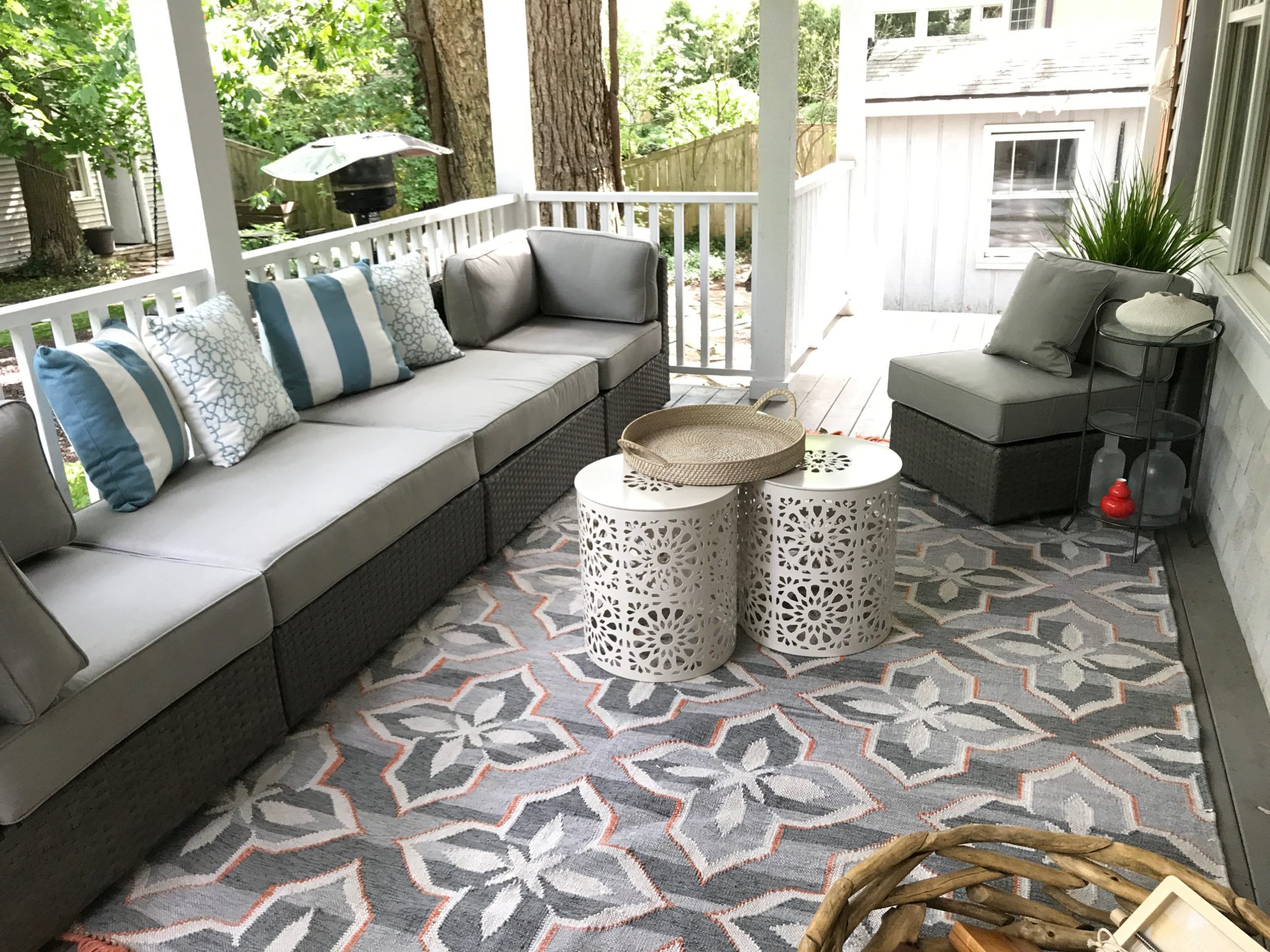 Decorating A Porch
1. Measure 3 or more times
When working in my own home or a clients, I always measure and re-measure, and re-re-measure. All my initial notes and drawings are kept in my Miquelrius journals. I love how they look on my bookshelf, they fit in any tote or purse, and they last forever. My first one was actually purchased when I was in college, has my notes from my first home with my husband. So, now I just use them for all my clients.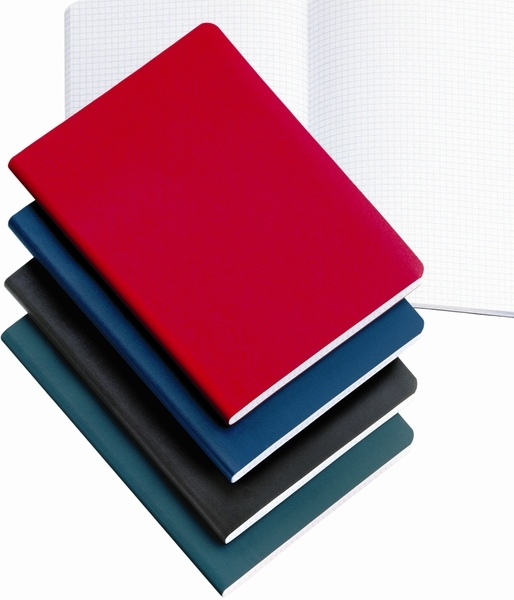 My initial porch measurements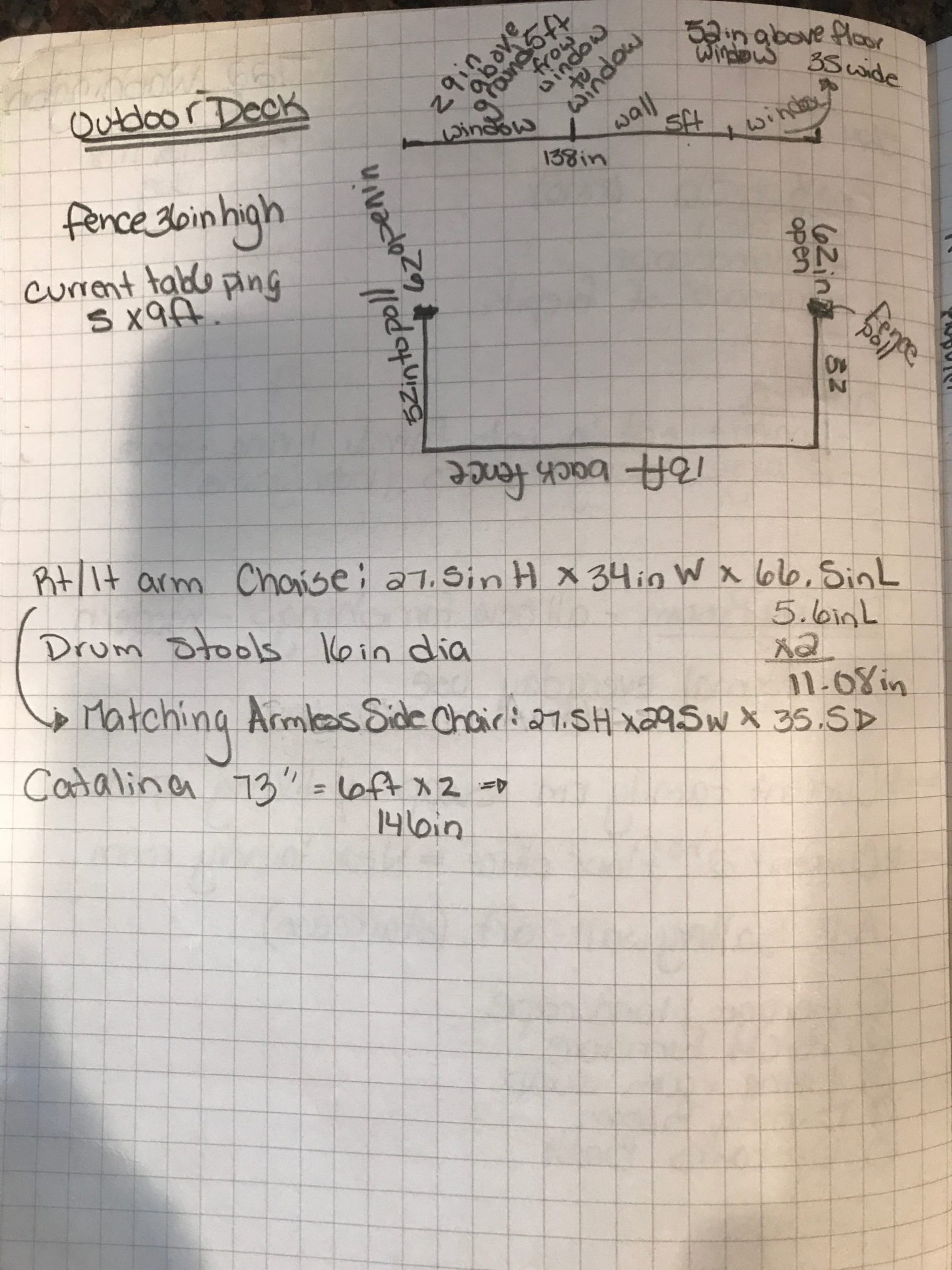 2. Transfer my pencil and paper to a digital measurement
Once I have a digital board I can then fit in pieces and see what furnishings will actually work. For this space, the client did not want to block the view to the backyard. However, the ideal space to put a sofa would be along the railings, which would block the view to the yard. Then, literally, in the middle of the night, I wake up staring at the ceiling and it comes to me, combine to chaises! Two chaises used as a long sofa would create an opening in the middle, the entire view to the backyard is not blocked.
Funny thing, I tell my clients I DO lose a lot of sleep coming up with ideas in the middle of the night. Sadly, it is when it hits me most times. BUT, when you love what you do, 3:00am work sessions aren't bad.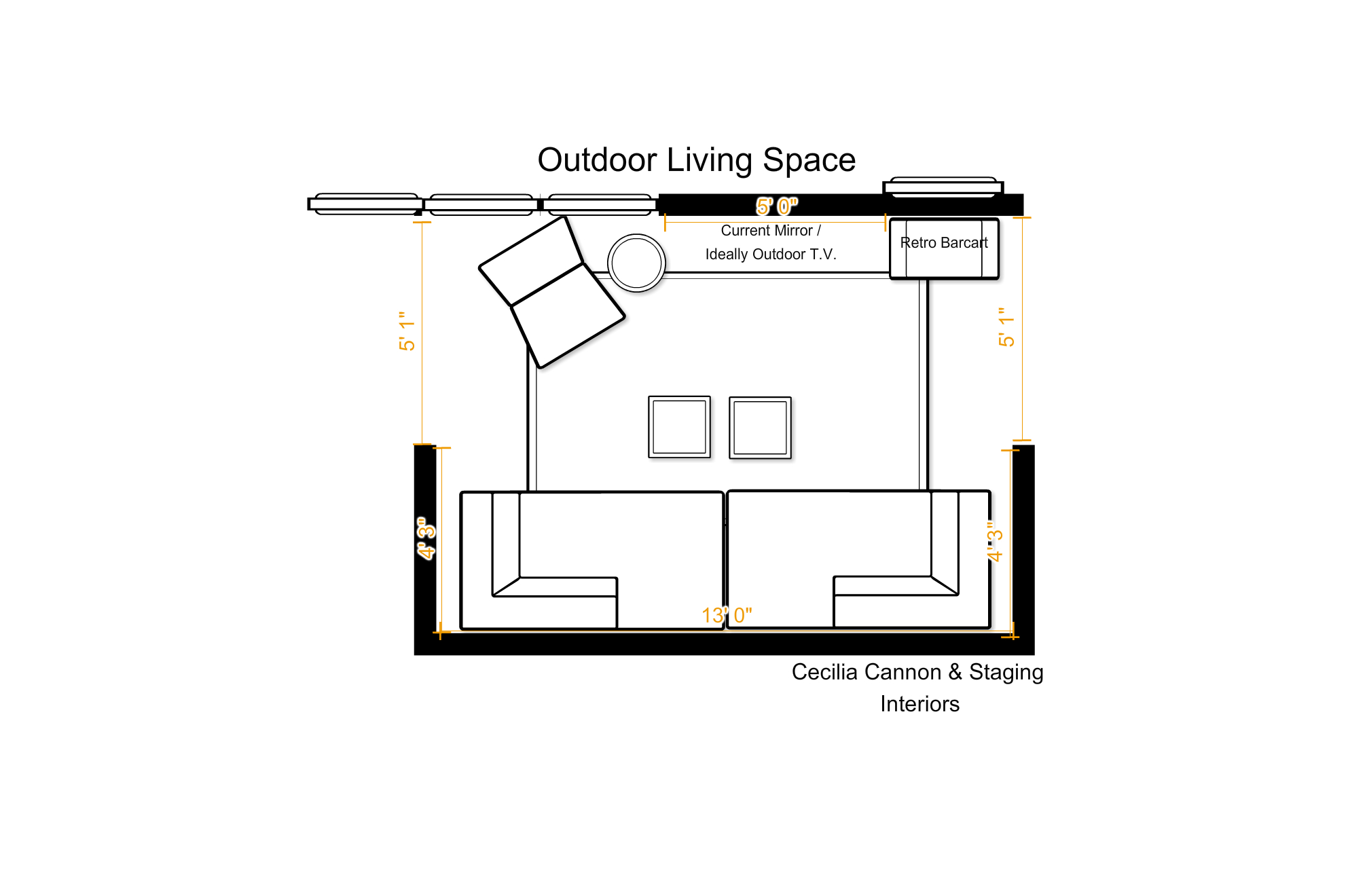 3. Source, aka, SHOP
So this is the fun part, searching for pieces that will actually work in the space. I came up with this double chaise idea not even knowing if I could find these pieces. And well, of course I find them, and it would work perfectly. BUT, guess what, it would take almost 2 months (6-8 weeks) for delivery and my client wanted to enjoy them now, this summer. Of course! I wanted them for her faster too.
Here is the initial concept board. I wanted to try to push the clients comfort with a little color and more modern style, I had in my initial consult notes that they wanted to try to head more in the modern direction, for that reason I created a more bold modern look….but,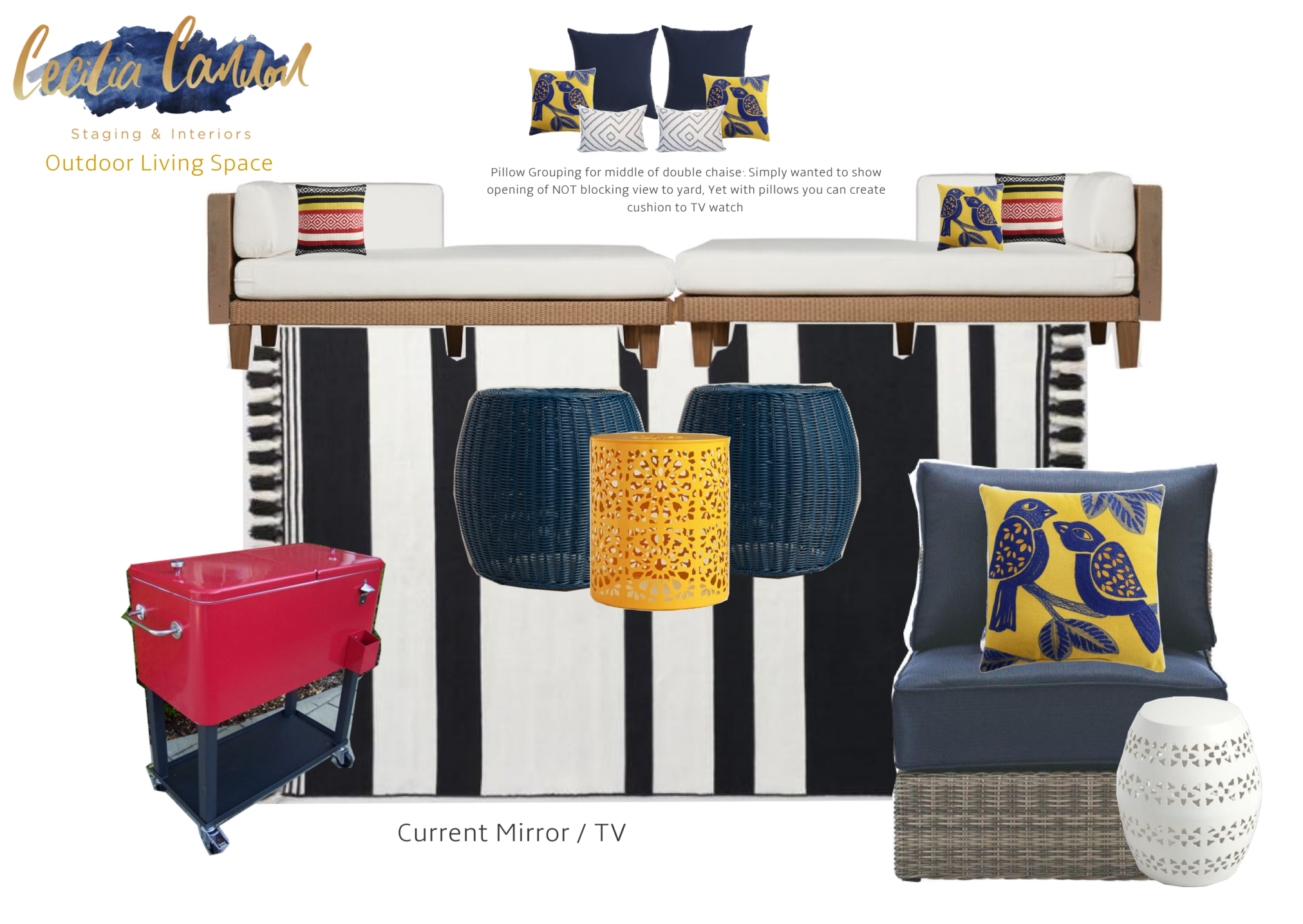 Once I showed the concept board to them, they loved the layout, idea, and large pieces, but after more discussion, we went more traditional look, to stay in tune with the exterior of the home. Modern not so much, but still perfect.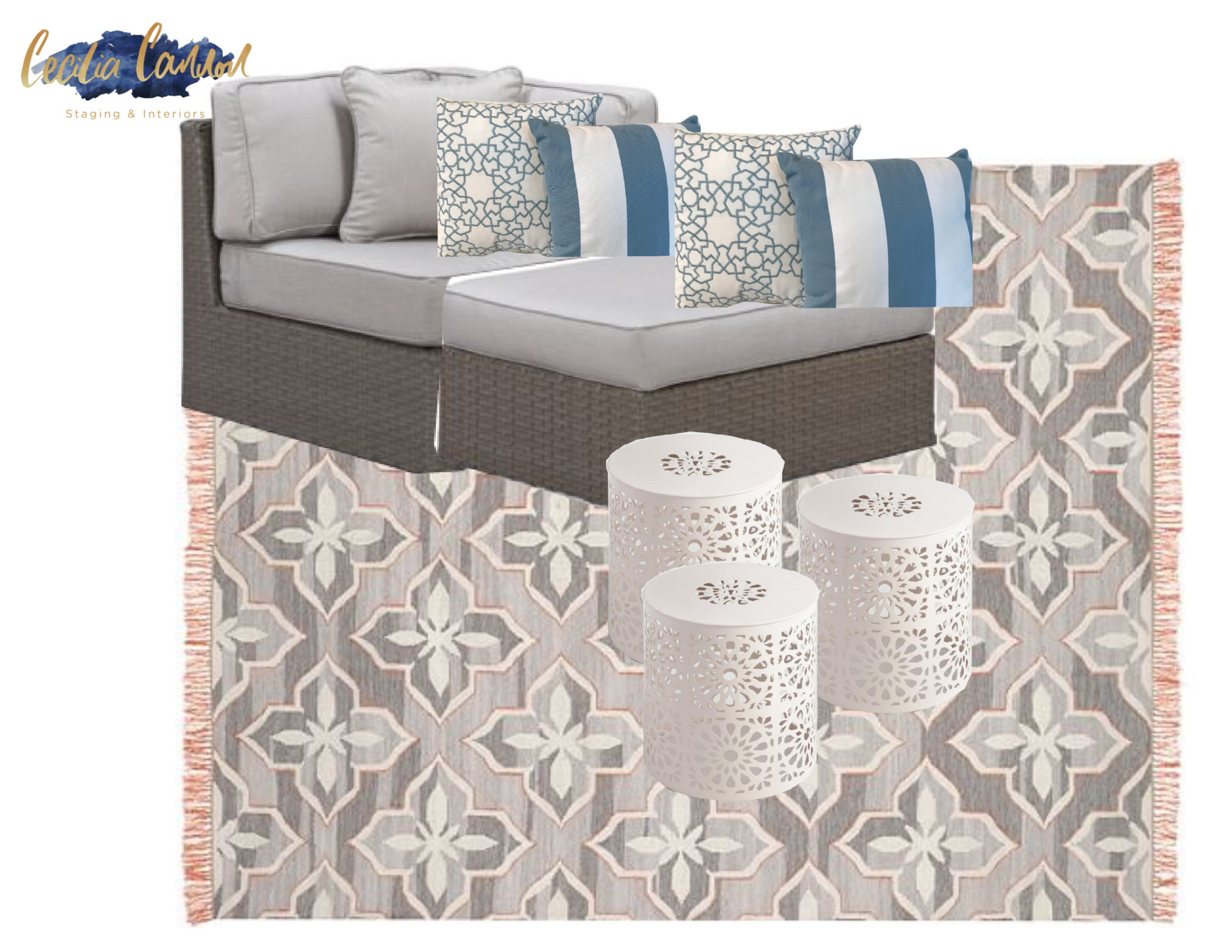 4. Purchase
Shopping. Love this. Store to store to store, searching for the right pillows, rugs, and accent pieces. Usually takes a couple days. The chaises would not be delivered for months, so I called my safety back up, Macy's. All my other places needed 6-8 weeks. I needed it in stock and delivered the next day. Now, I know you might be surprised about Macy's, but they do have a some decent pieces and their customer service surpasses most retailers.
I was on the phone with a customer service rep for almost 45 minutes, while figuring out pricing, pieces, and calling my client on the other line. The issue was combining pieces to make the right configuration and still get the best prices, WHICH we DID!
Here is the sectional, but it is not the configuration we wanted. We used this from Macy's, but I actually purchased 2 corner units and 2 chaises, and combined them to form the modern sectional.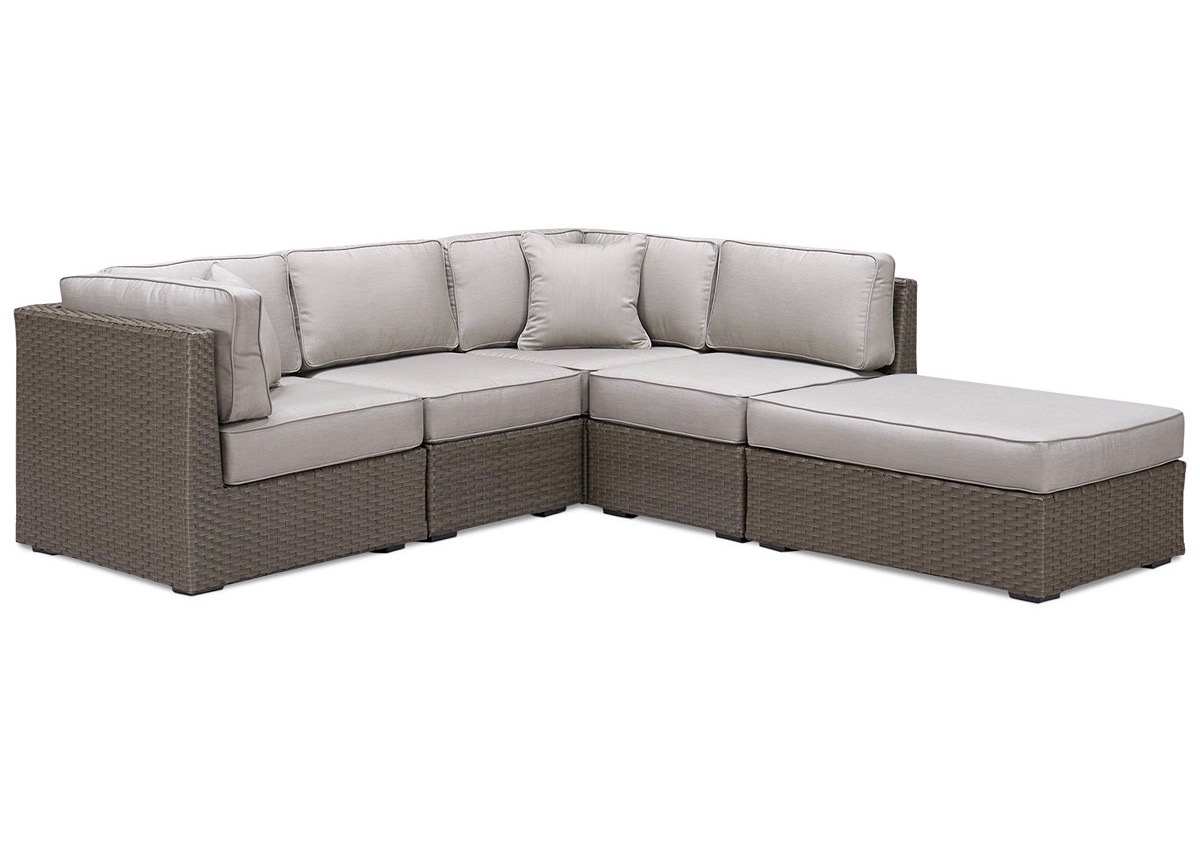 5. Install Day
I love install days and I love when I can do it all in one setting. In other words, when pieces are installed as they arrive (not in one day), clients begin to doubt the look because they cannot see it all come together. I can, they can't. So, many times, I will have everything delivered to me, I will pick up everything, and hold on to it until install day. Then, get it installed in a few hours so the client only sees the completion and not the process.
THE BEFORE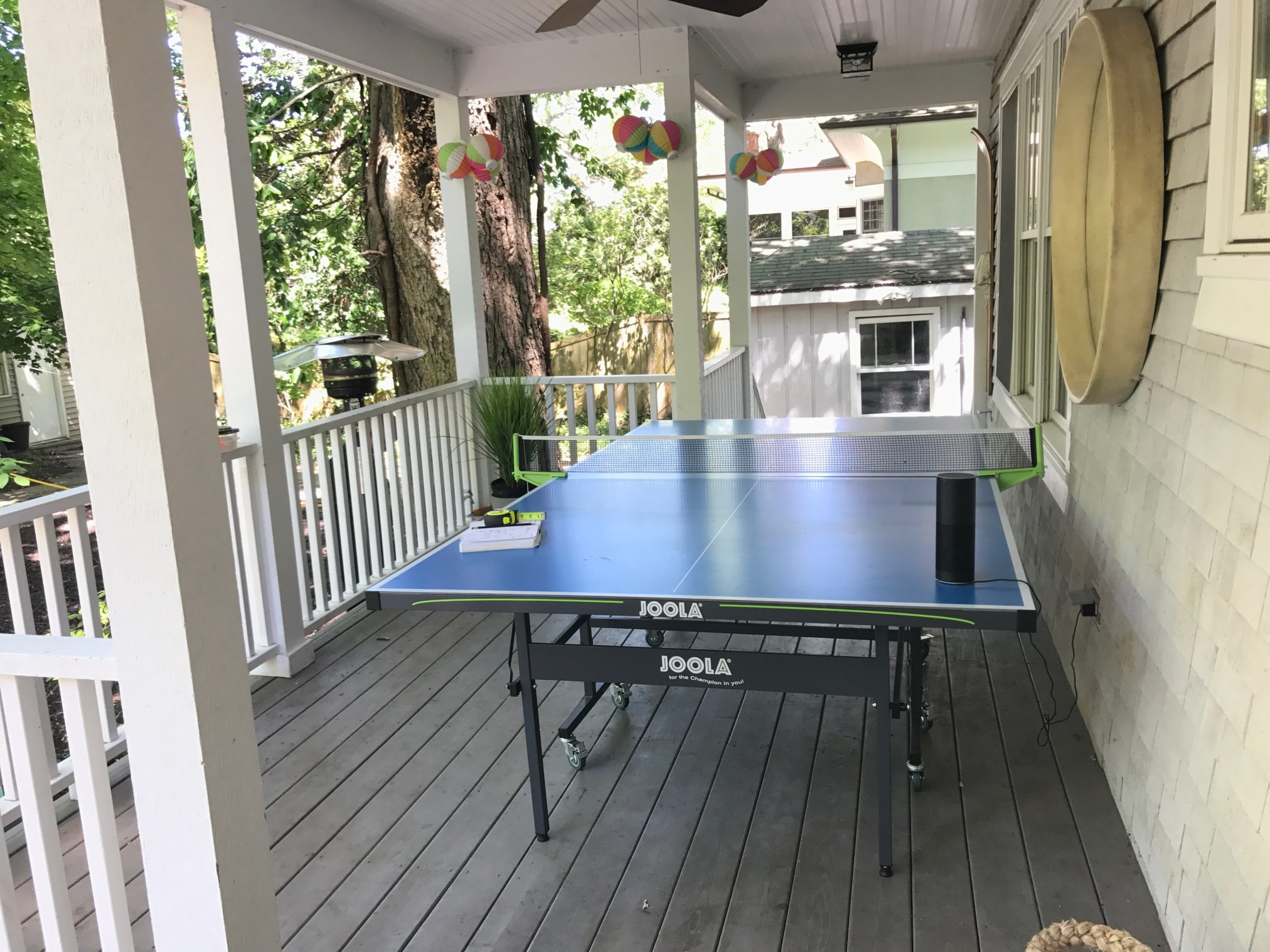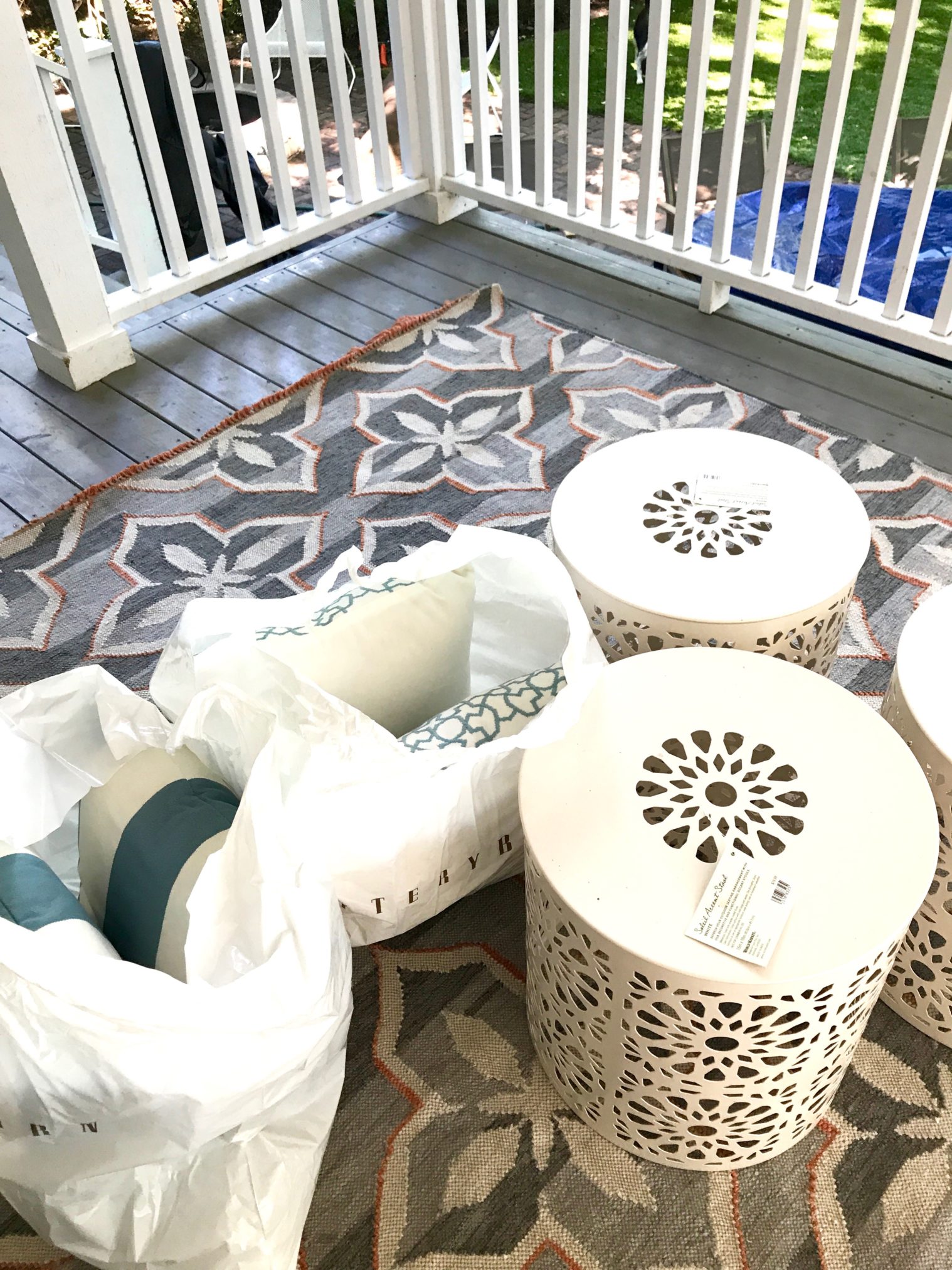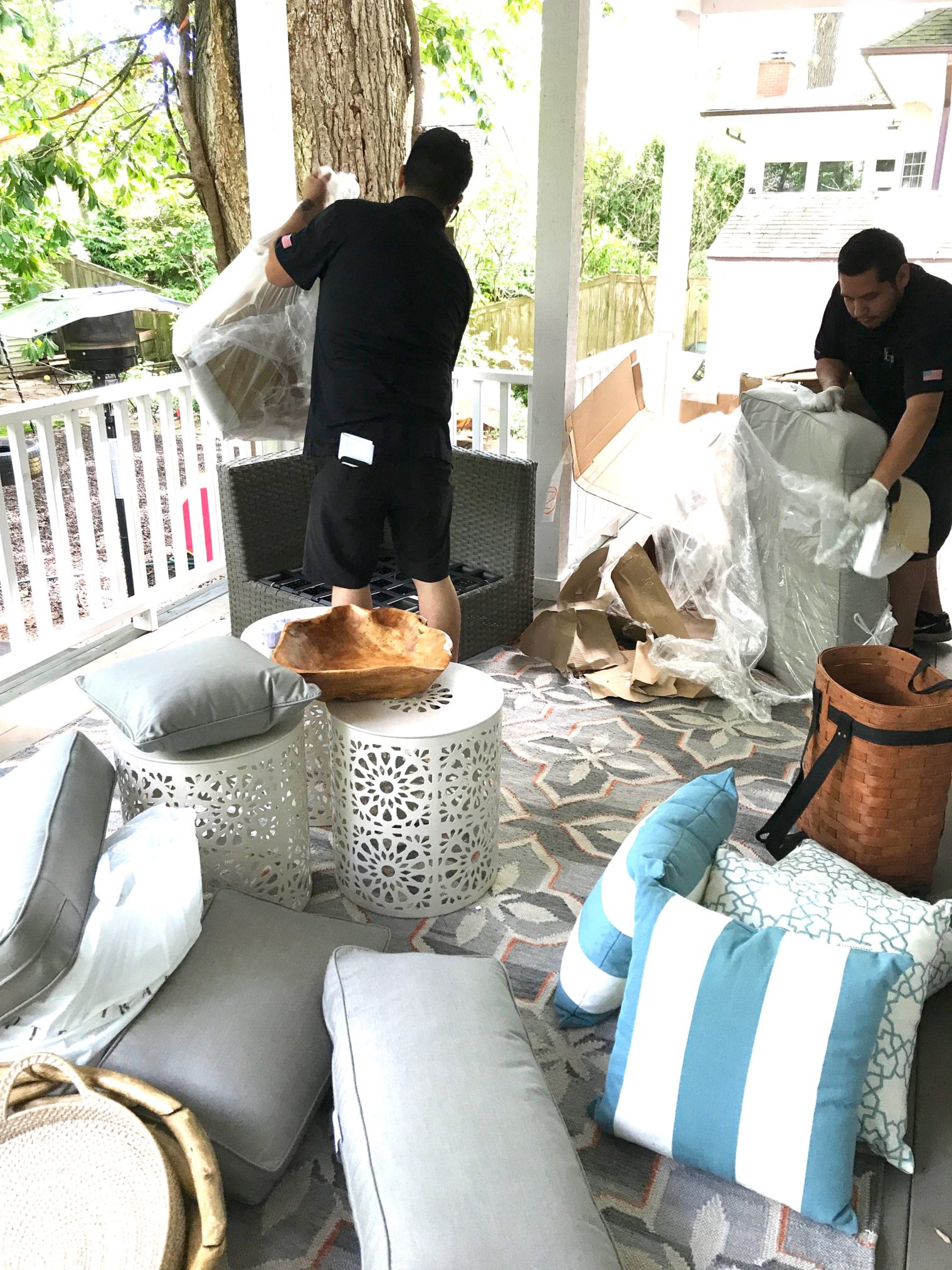 IF YOU FOLLOW ME ON INSTAGRAM YOU WOULD HAVE SEEN THIS SHOT ON INSTALL DAY JUNE 20TH, (JUST SAYING, follow me)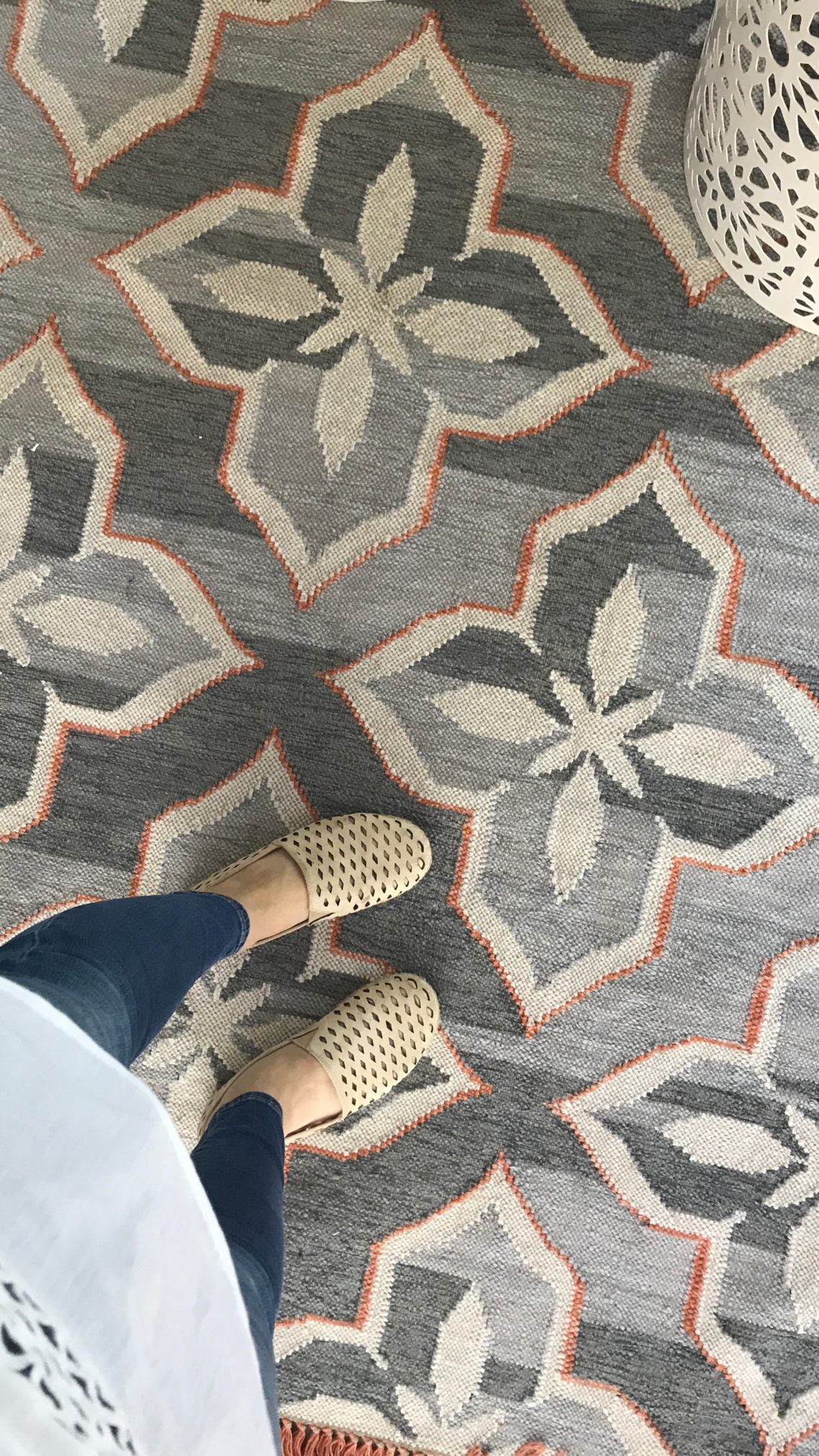 THE AFTER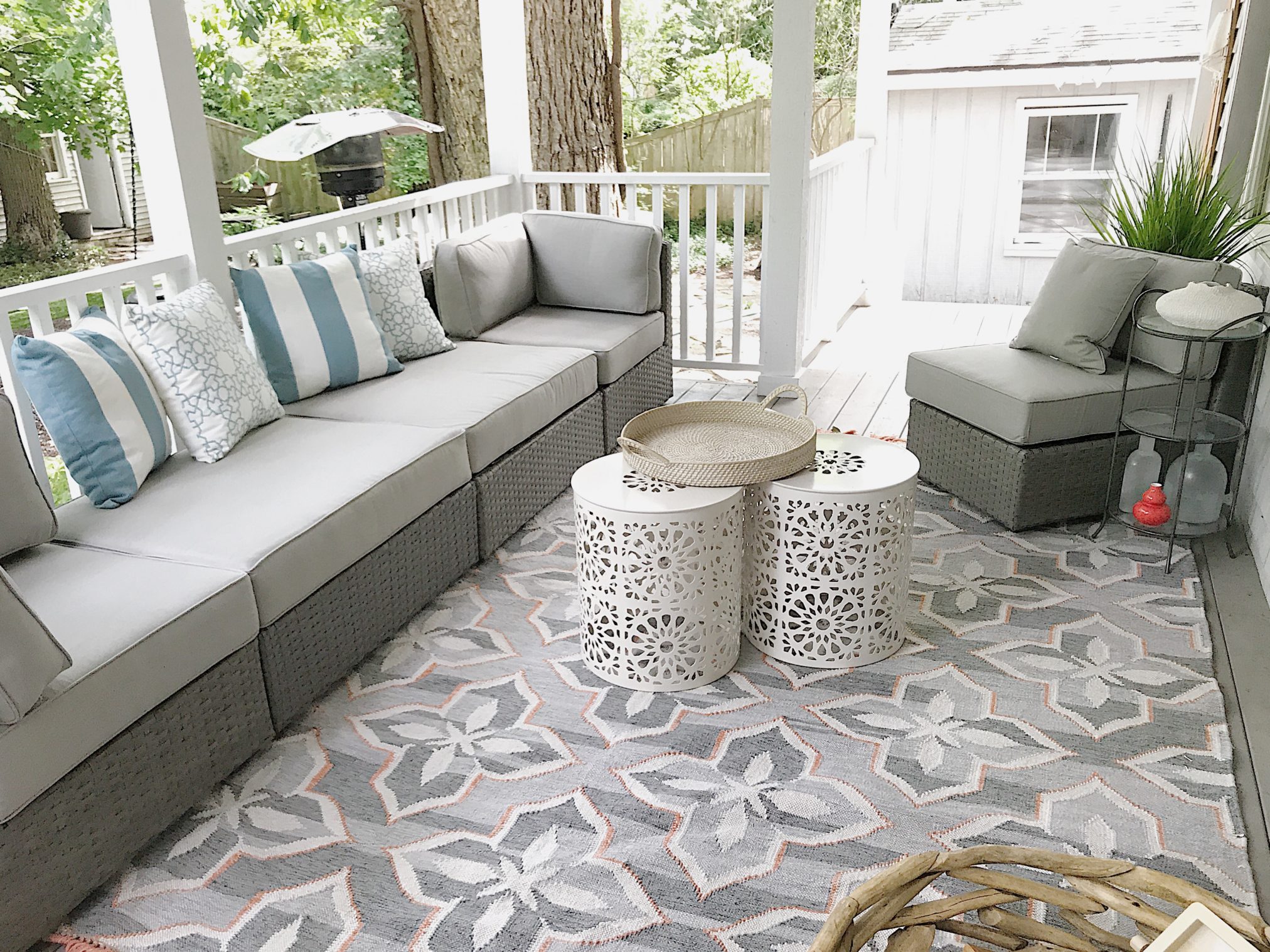 SHOP THIS LOOK

Shop the look above or Pin For Later