If you follow me on any social media or just from my blog, you know I love bar carts. I have written about them numerous times. I love how versatile they can be. You don't have to use it as a bar cart for drinks, you can use them as end tables by a sofa, or even nightstands. But, lets be honest, the best way to style your bar cart is for a PARTAAAY! There are a few ways to get the perfect bar cart look and I am sharing all of them on one of my favorite carts, Wayfairs Trula Bar Cart.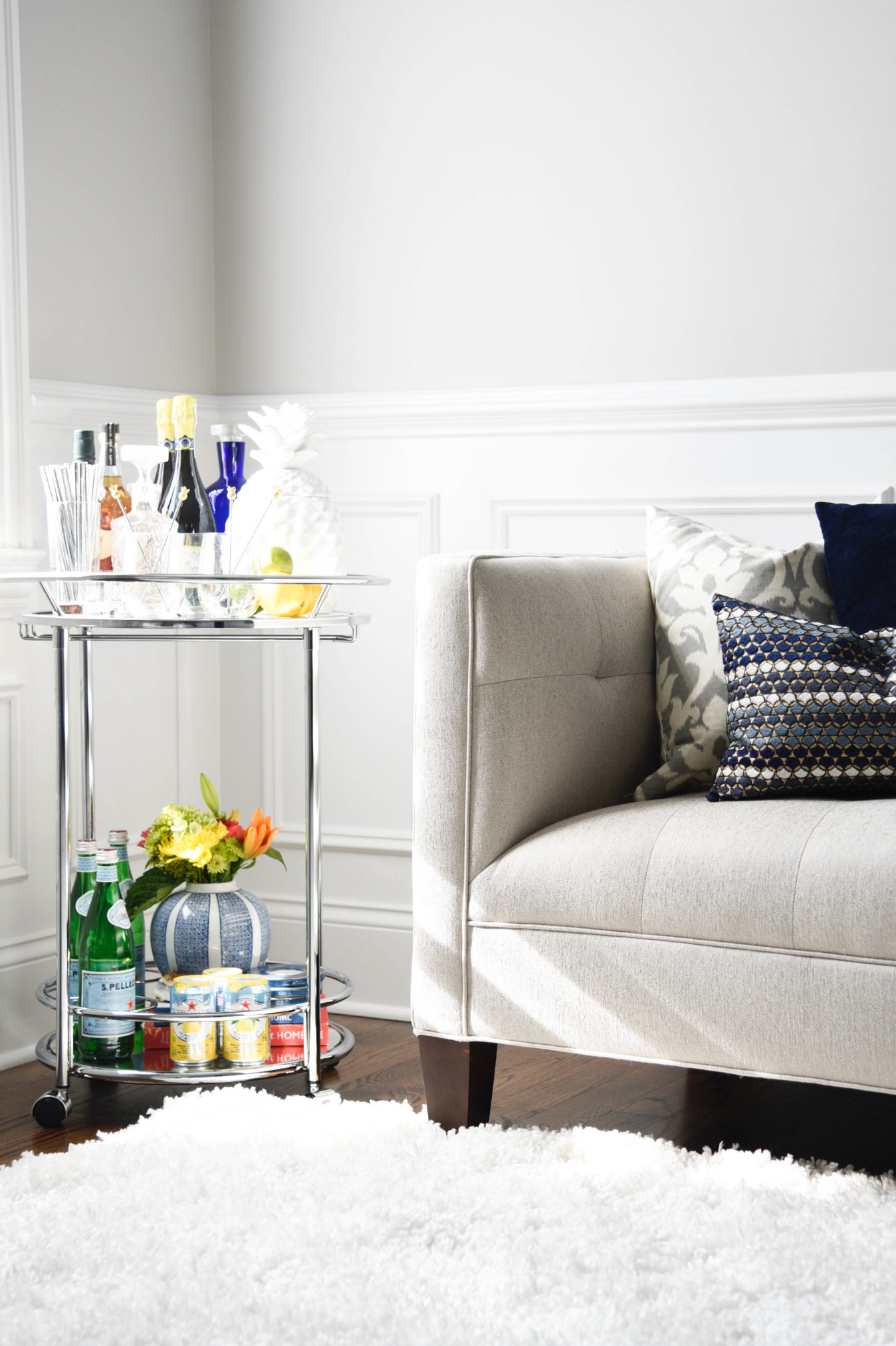 How To Style The Perfect Bar Cart For Any Party
So, maybe you don't have a large enough space or want to bring a bar cart into into a space in the how home other than the dining room. Wayfairs Trula Bar Cart is the perfect size for a corner in your dining or living room. A gorgeous chrome finish with mirrored glass tops. It also has wheels, you can shimmy it anywhere, or remove the wheels and have it stationed. Either way, I knew it would be perfect for my clients new home.
We have been working on styling her new space and every house needs a bar cart. The living room is almost complete and placing a bar cart in the corner is the perfect spot to invite guest to use the formal living room we always forget about.
Which brings me to my biggest tip for your bart cart…
1. Place The Bar Cart in an Unused Space
Guests will always flock to the drinks. If you keep the bar cart in your great room / kitchen area, then you can expect that is where they will be. That is why when I host a party, or style a clients space, I will always place the bar cart in the room that guests tend to stay away from, the formal living room! Right, isn't it always the most unused space in a home during parties? My client was concerned that her living room wouldn't get used because of it's location (away from the great room). No worries, we added a large desk / console table to create  work space. During parties, she can place appetizers on the console and then drinks near-by on the bar cart.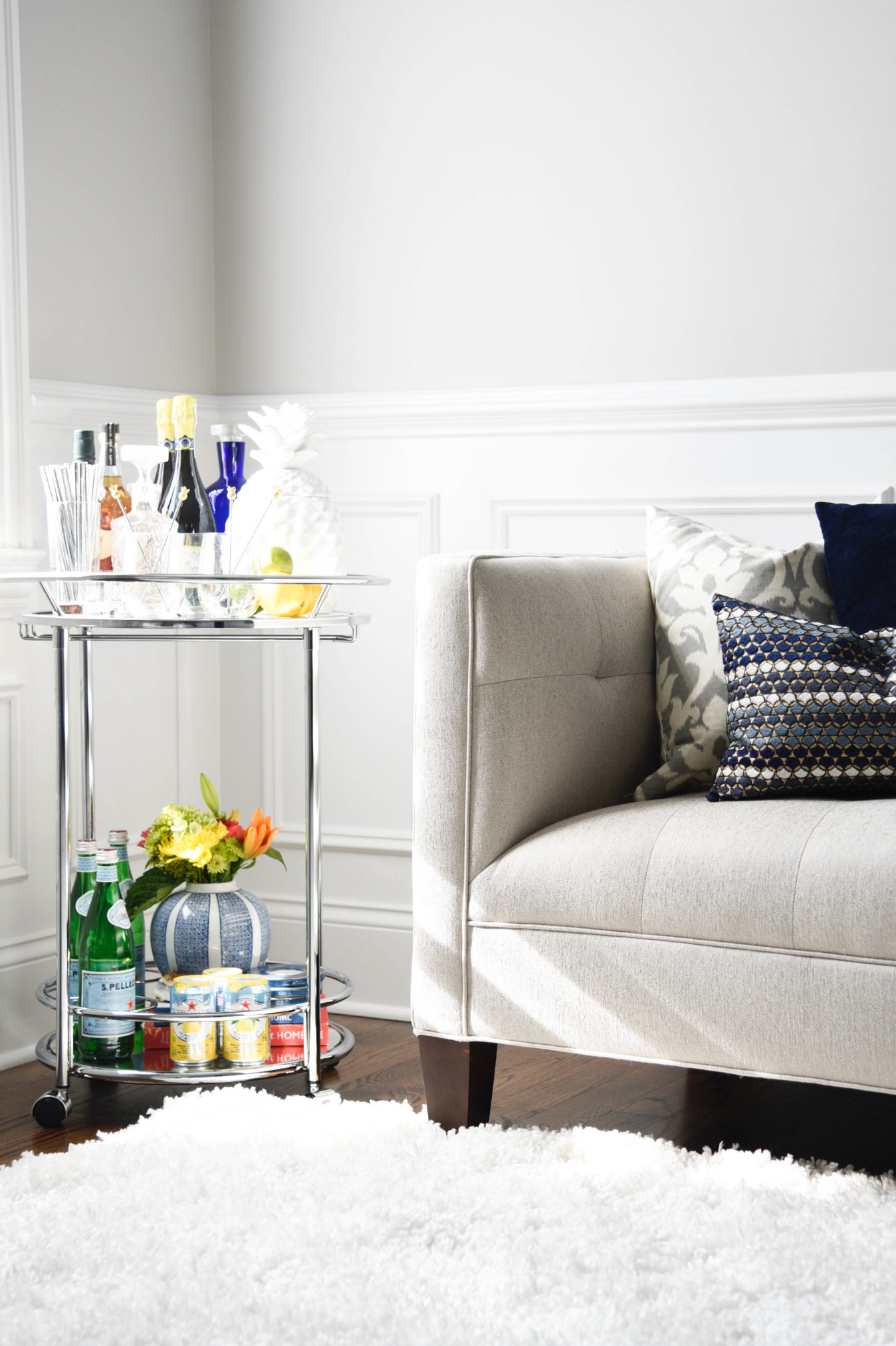 2. Add Your Drinks (Non-Alcoholic too)
I always place the non-alcoholic drinks on the lower shelf. We all know why, the cocktails will be wanted most.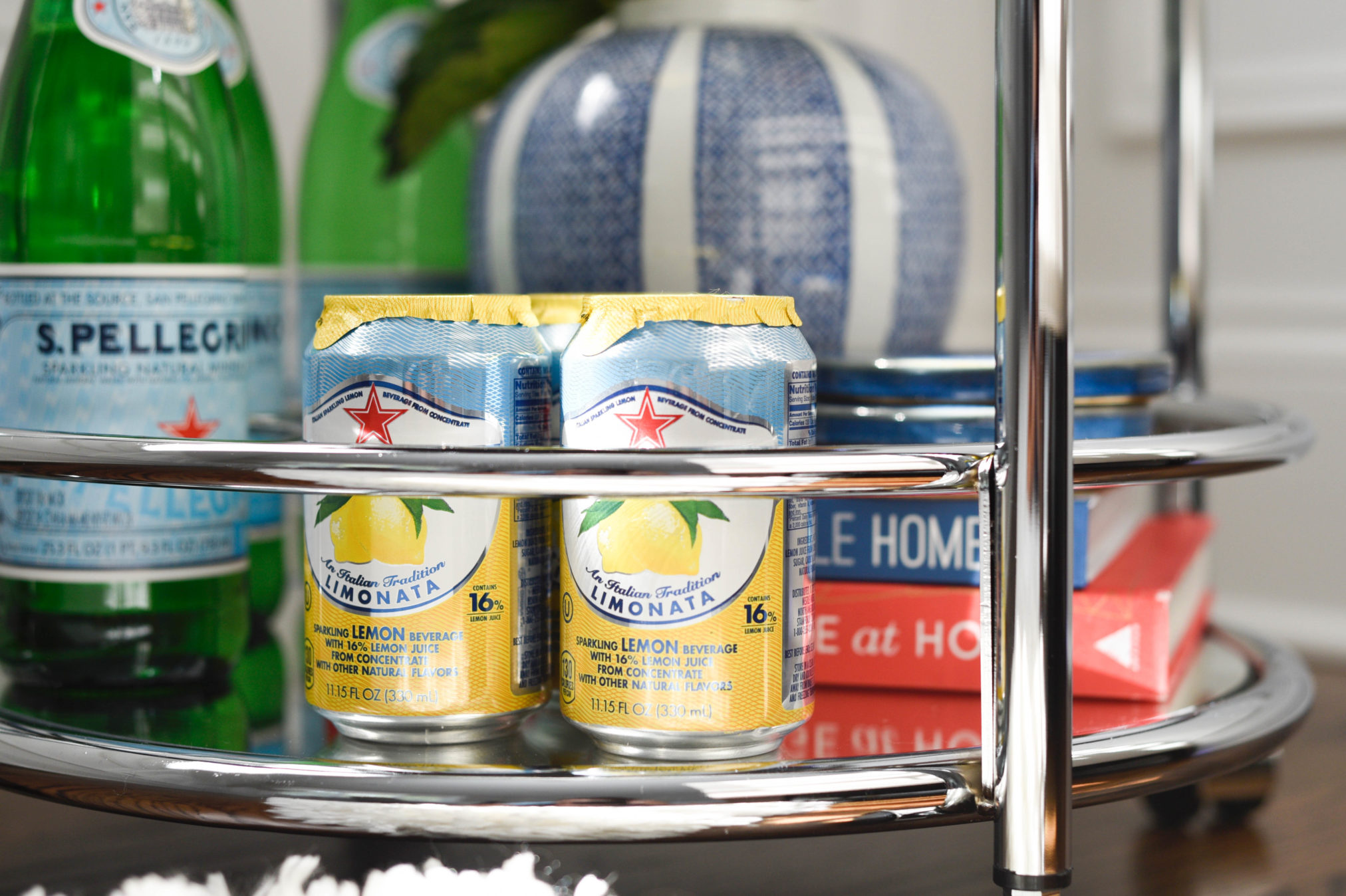 3. Layer In Your Organic Element
Always add something natural or organic, a plant or flowers.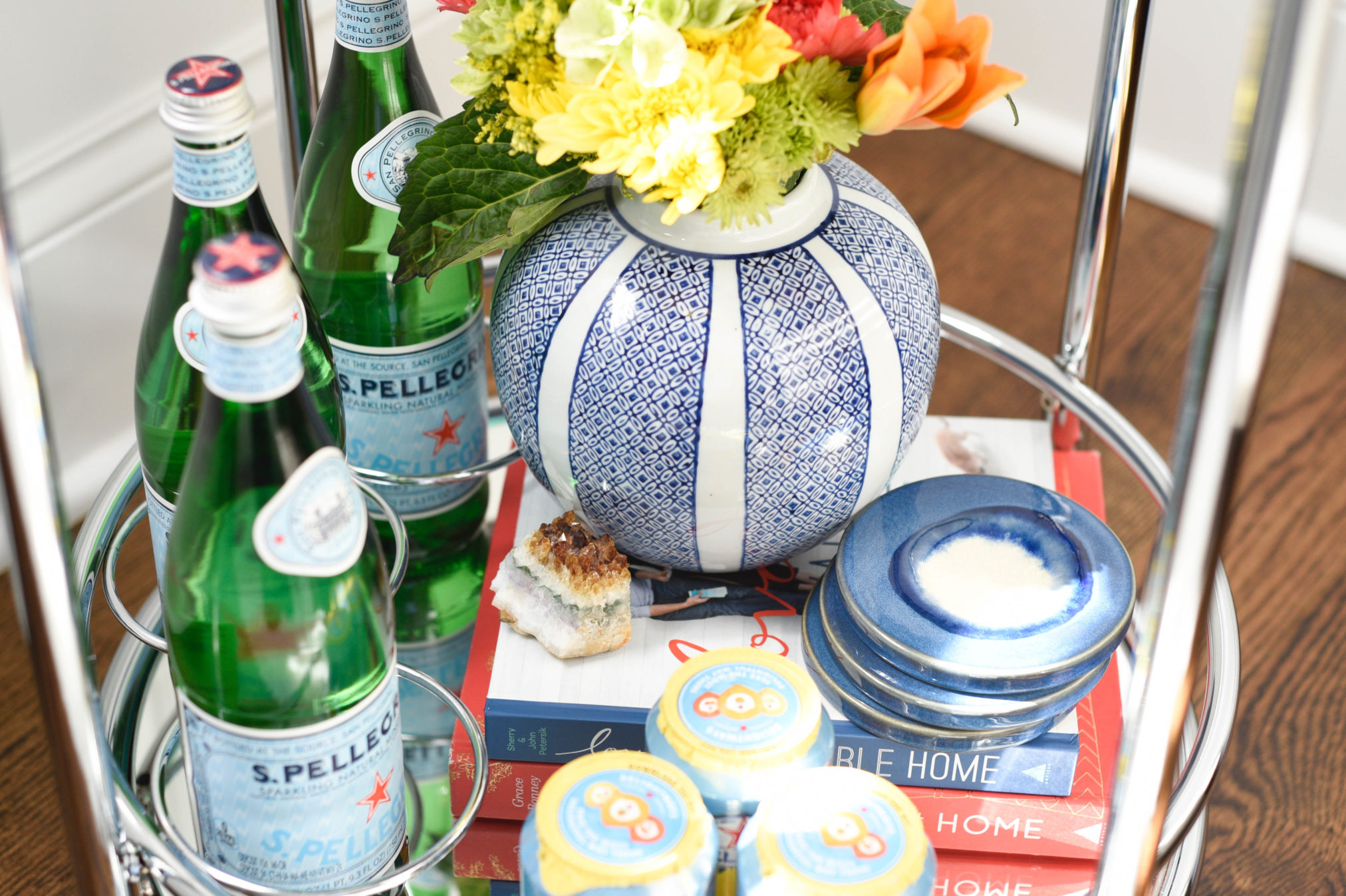 4. Add Bar Cart Essentials
From designer straws and napkins, to openers, coasters and your lemons and limes. Don't forget that you want your guest to feel at home and comfortable, to be able to pour their drink as they wish.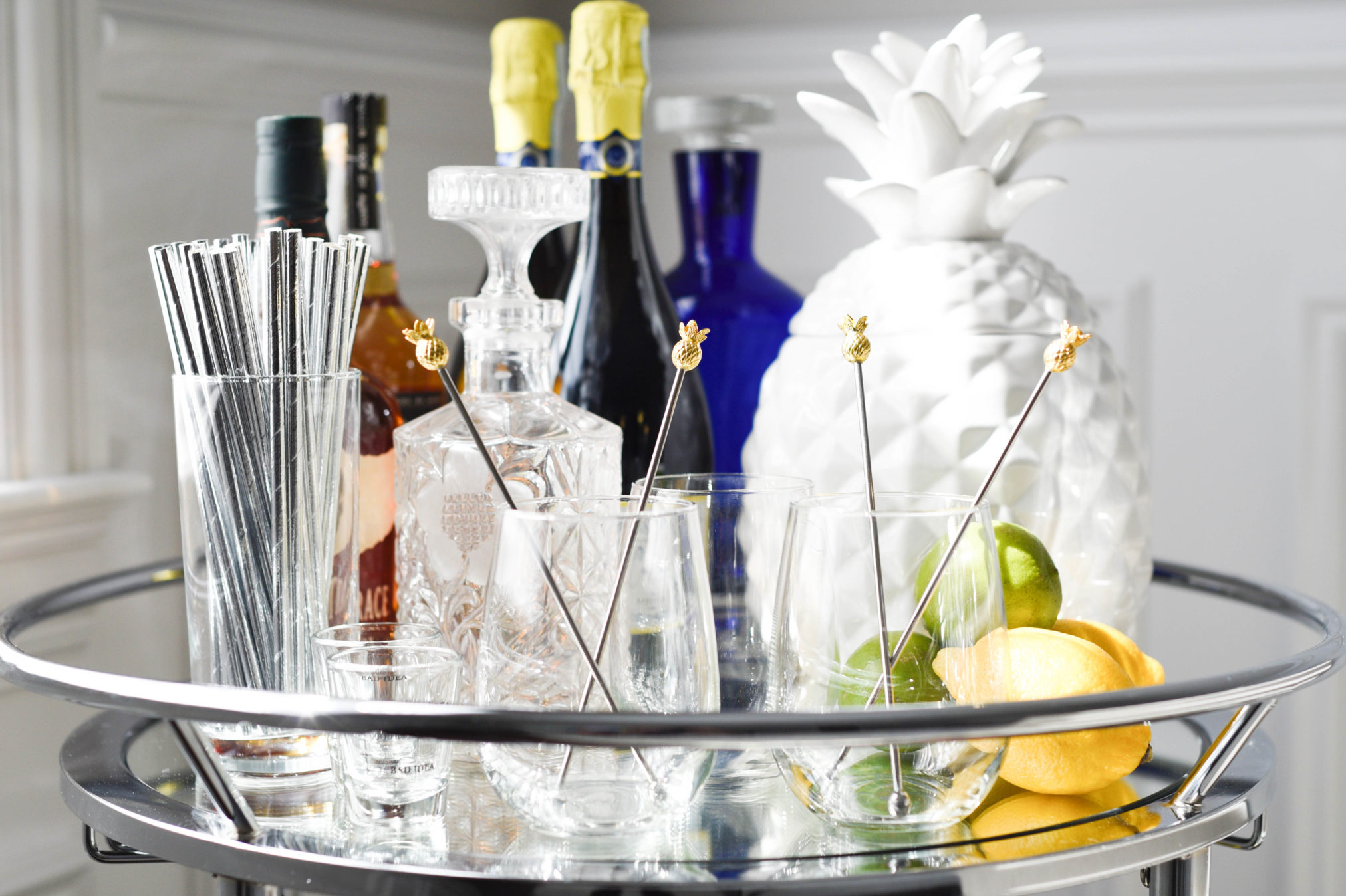 5. Mix In The Fun
Add personal touches, from books and tchotchke, to silly shot glasses, even use a pineapple cookie jar as an ice bucket to add height and texture.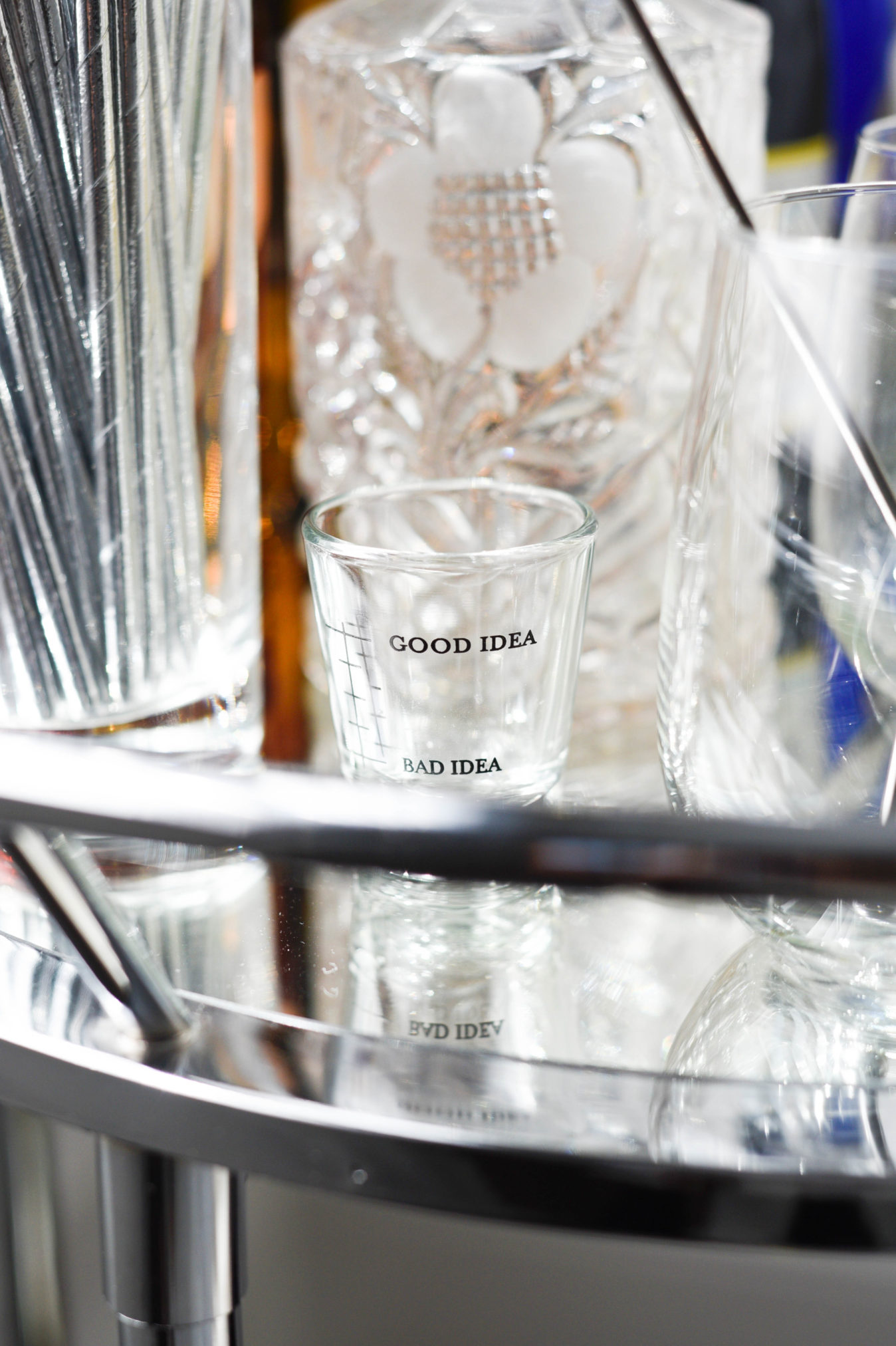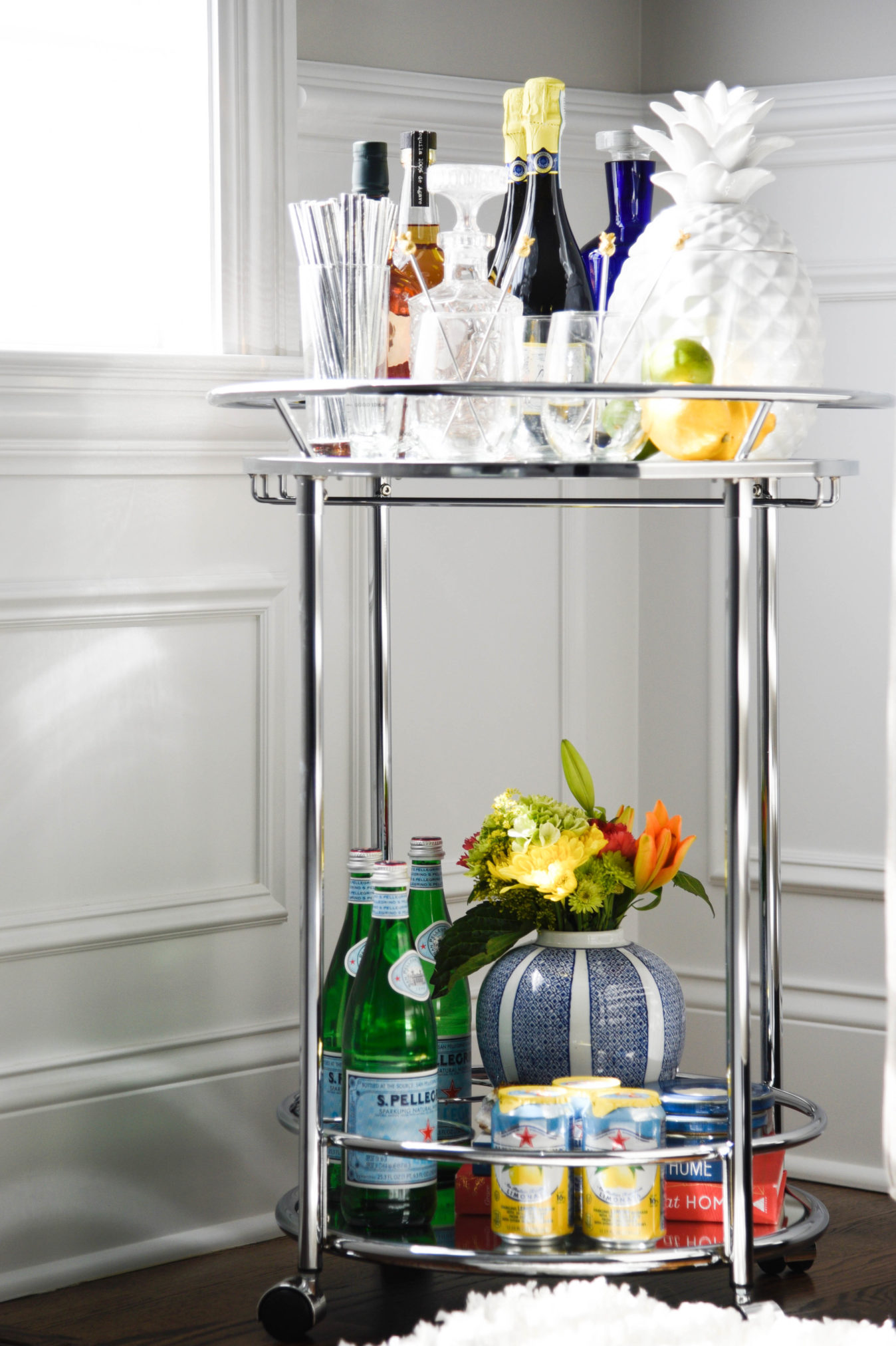 Now, most importantly!
When it comes to styling bar carts, just like coffee tables, more is always best. The whole "less is more" does NOT apply. Wanna shop the cart or grab your own Trula bar cart, just head on over to Wayfair or check out all of the bar carts Wayfair has to offer.