Last week I shared my Fall Home Tour and how I added pops of bold colors from blue to orange. I am excited how it all turned out, but I knew something was missing. Let's be real, what makes Fall oh-so special? Yes, everything PSL, but also, the scents of autumn. Right? It's like coming home. From pumpkin spice, to vanilla and cinnamon apple. So, I went back and decided that when decorating for Fall I needed to bring in all the senses and that included scented candles.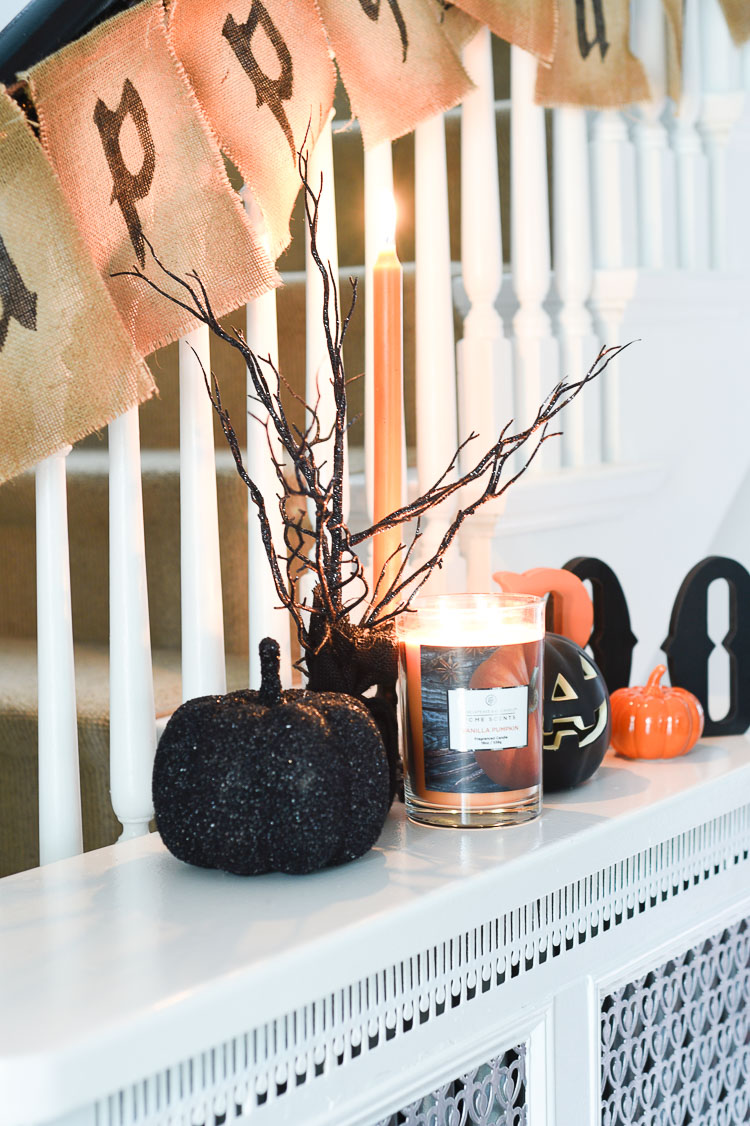 Decorating For Fall with Scented Candles
Now, you won't always find my home with scented candles, simply because I just don't always find what I like. But, when Chesapeake Bay Candle sent me Fall scented candles from their Home Scents collection I couldn't resist. Their Home Scents collection is a classic everyday candle assortment of fragrance favorites. You can find the perfect fragrance for any season and any room in your home. I love that they come in a clear jar and I LOVE LOVE LOVE that they are made in Maryland!
AND, that they are lead free cotton wicks, you know me, always paying attention to those details. Oh, and each jar candle has 80 hours of burn time. YUP, one candle will basically last me the entire season. Okay, so wanna know which scented candles I have.
1 – Pumpkin Spice
I know, that wasn't too hard to figure out. I mean, we cannot get enough pumpkin spice. Now, I have a sensitive nose so trust me when I say that this is just the perfect balance. It has creamy nuances of harvest pumpkin with ground cinnamon and spicy clove. I know! A MAZE ING.
I placed the Pumpkin Spice on our kitchen table. I have a tray that houses the seasonal decor and this was the perfect spot.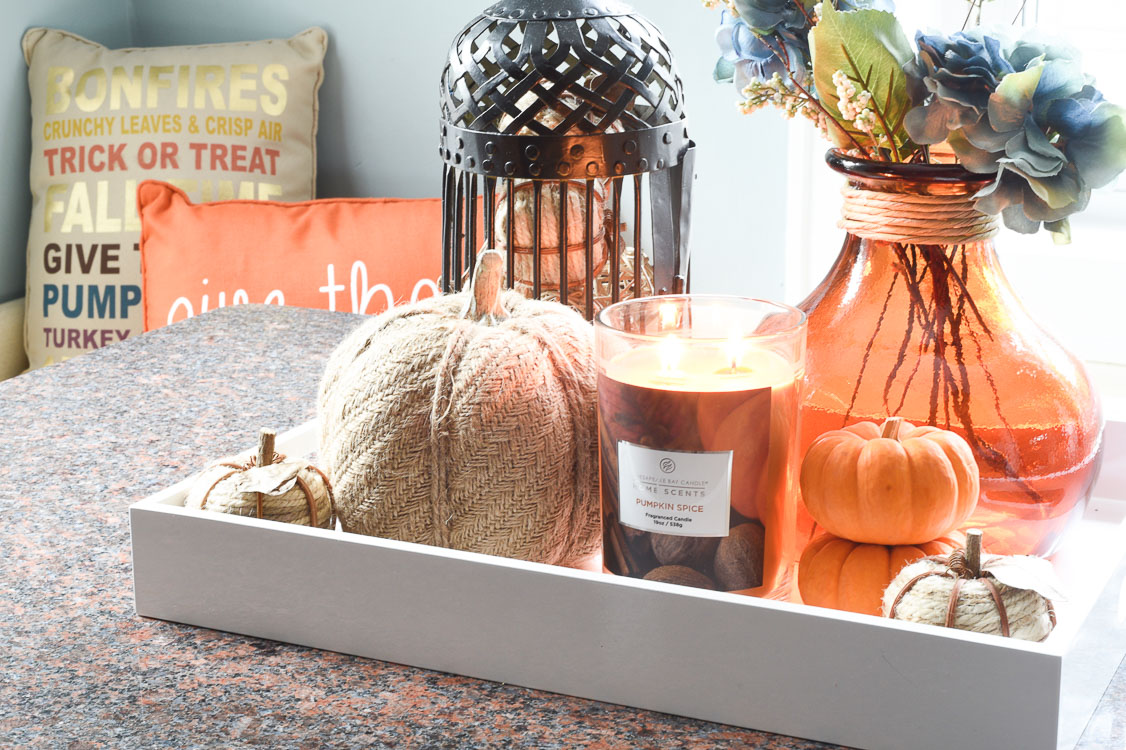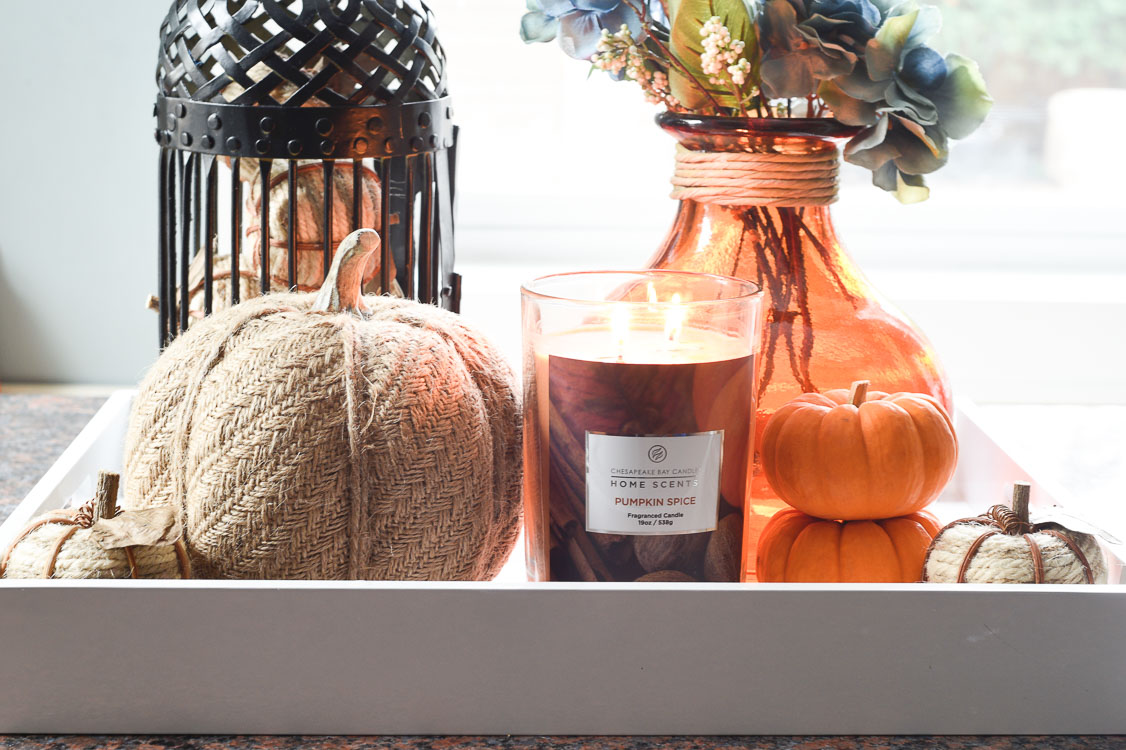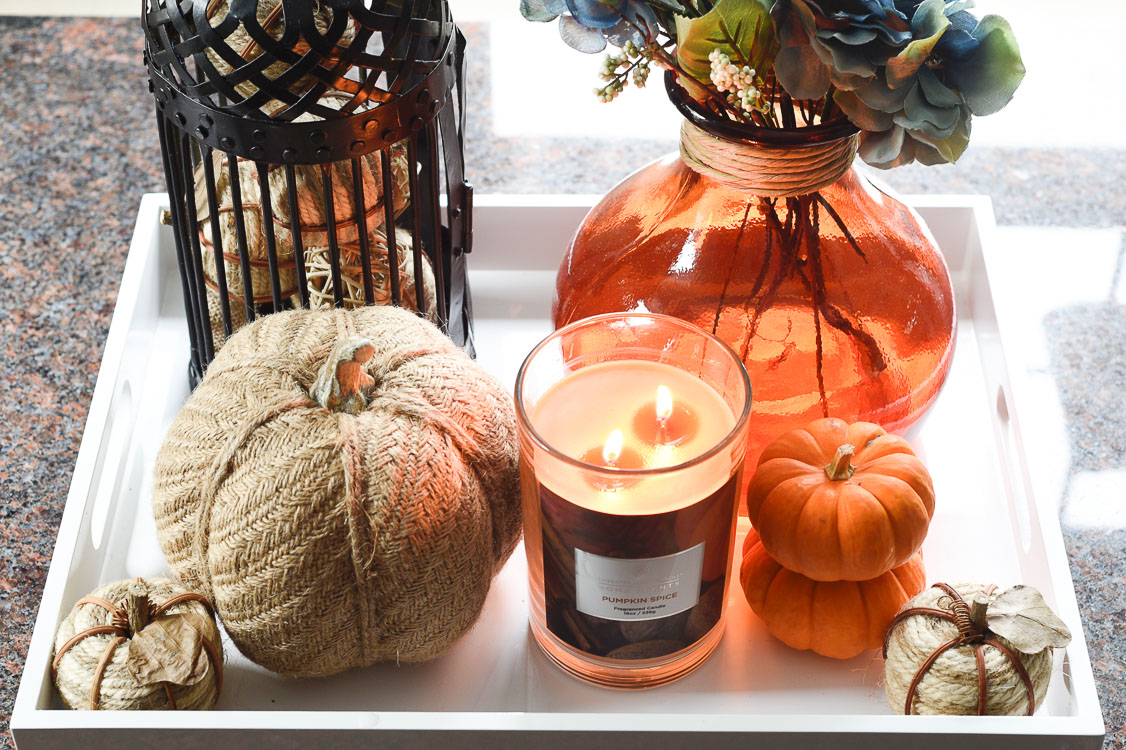 2 – Autumn Leaves
I always have the windows over my kitchen sink open. I love the fresh air and cool breeze while I am standing over the sink doing dishes (don't love the doing dishes part) or simply in the kitchen. The candle has notes of apple, crushed leaves, and crisp citrus, sandlewood and amber. That is why I thought, what better scent to have by the window but Autumn Leaves.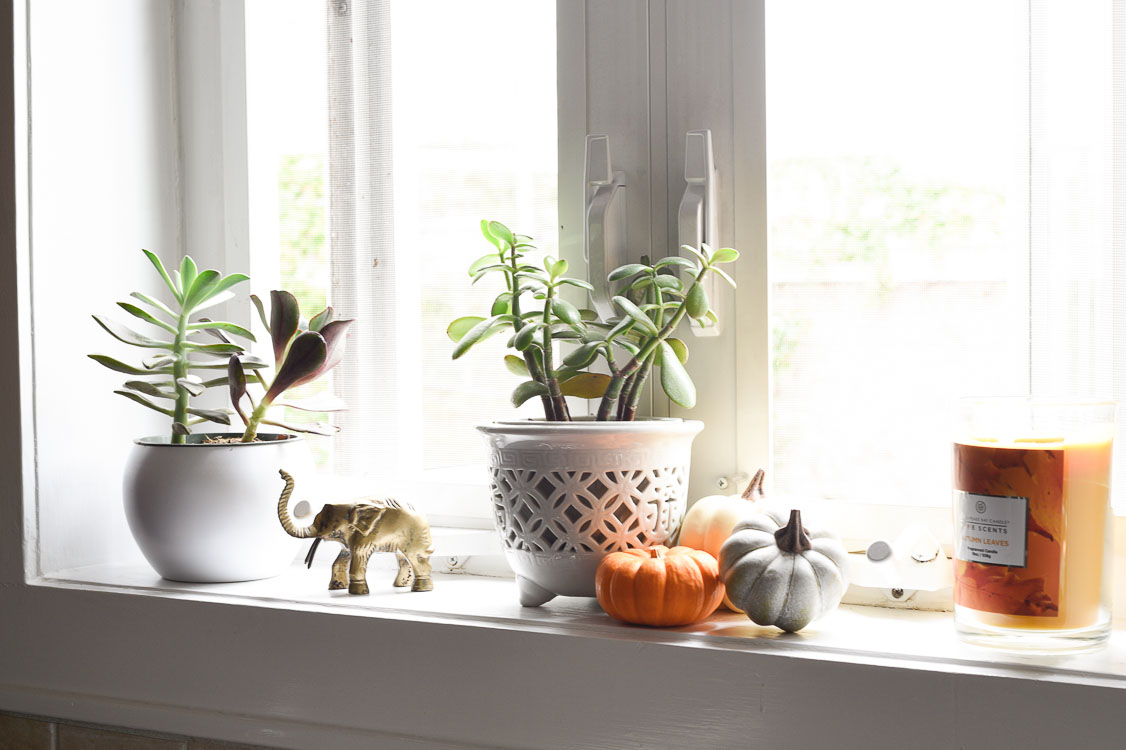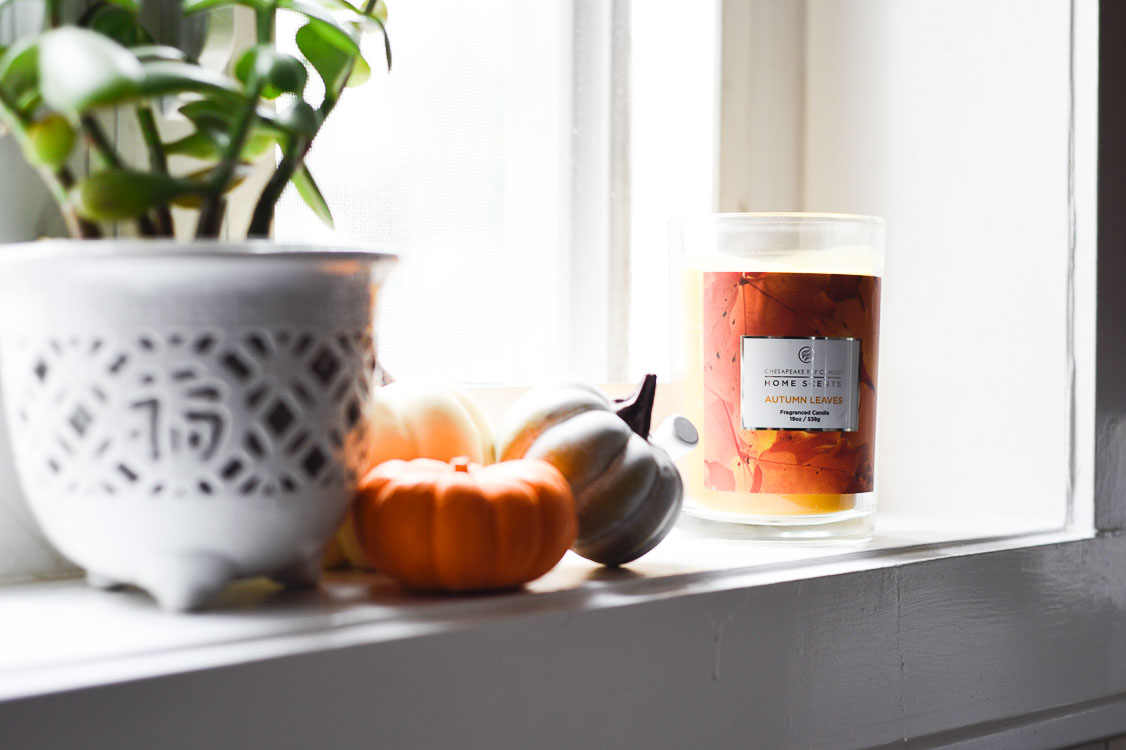 3 – Vanilla Pumpkin
Of course I had to place a candles by my entryway, obviously the second I open my front door I want my guest to feel the scent of Fall, at the same time, nothing to overwhelming. For that reason, I picked Vanilla Pumpkin for the entryway. It is truly decadent and delicious, like a sweet pumpkin pie dessert that has some caramelized pecans and maple brown sugar.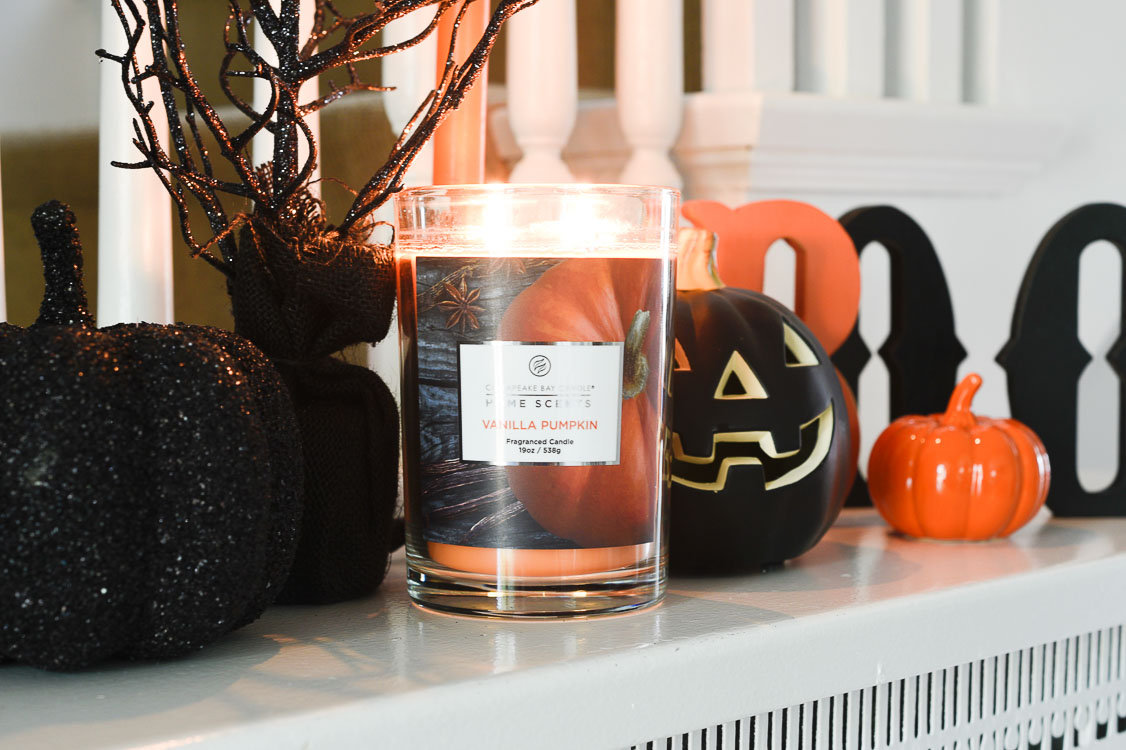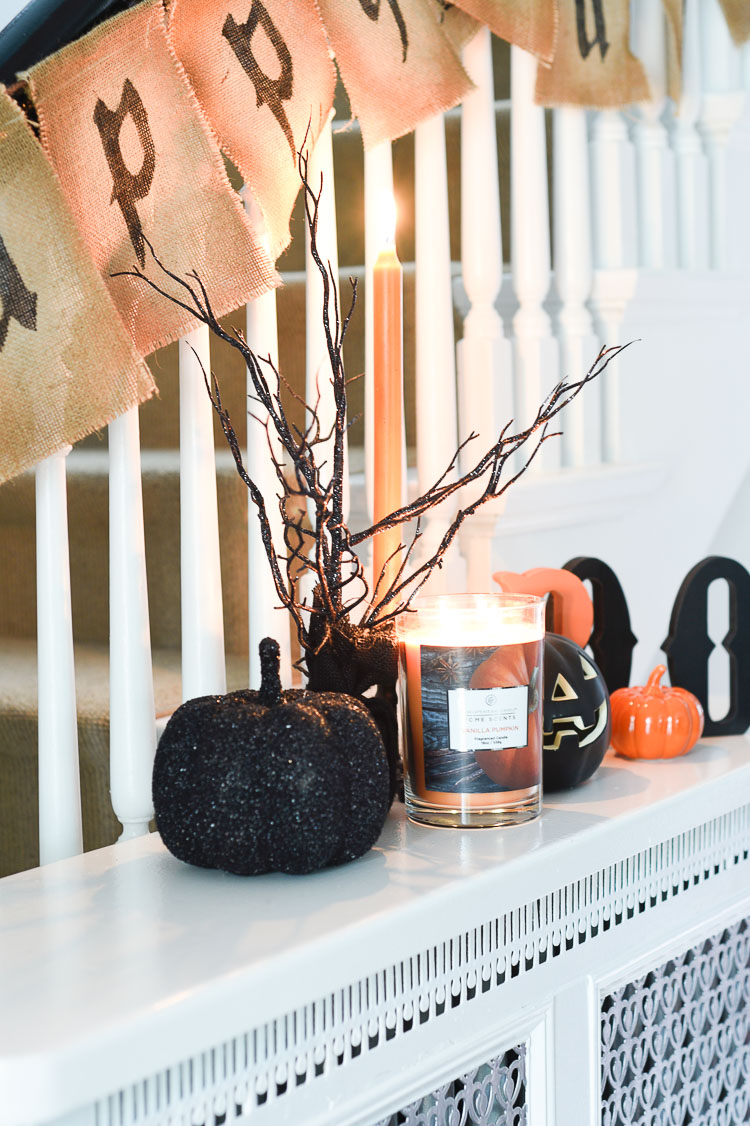 Now don't worry, I can't leave my coffee table feeling left out.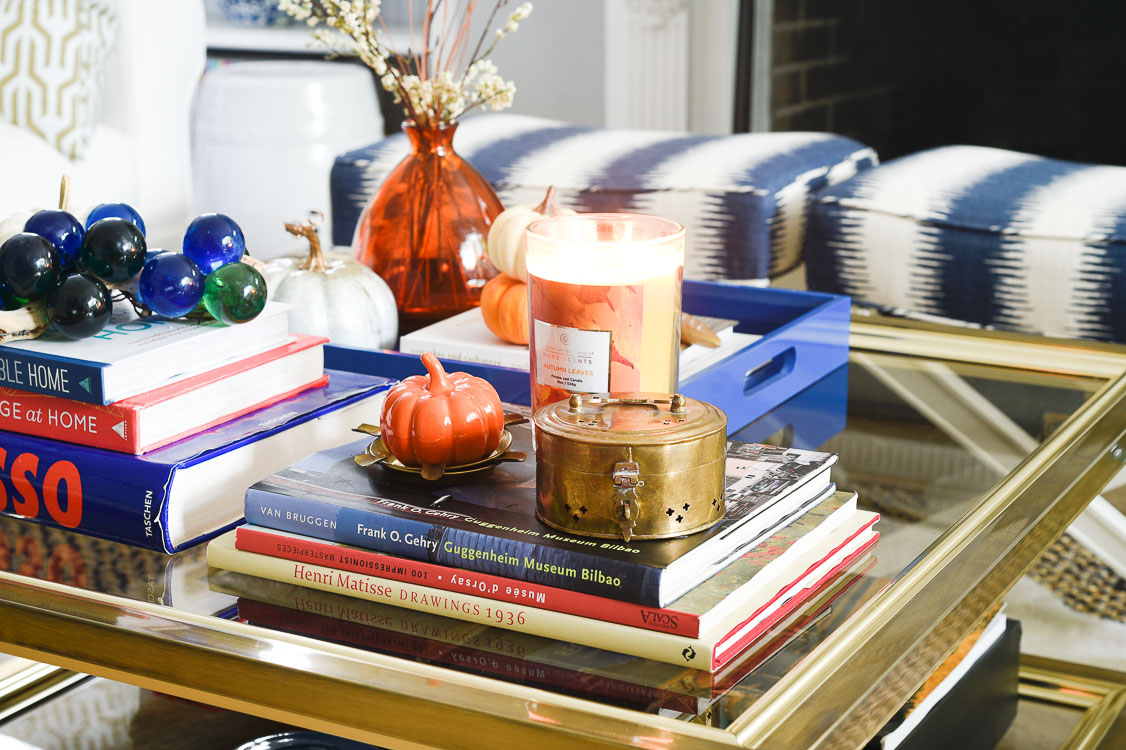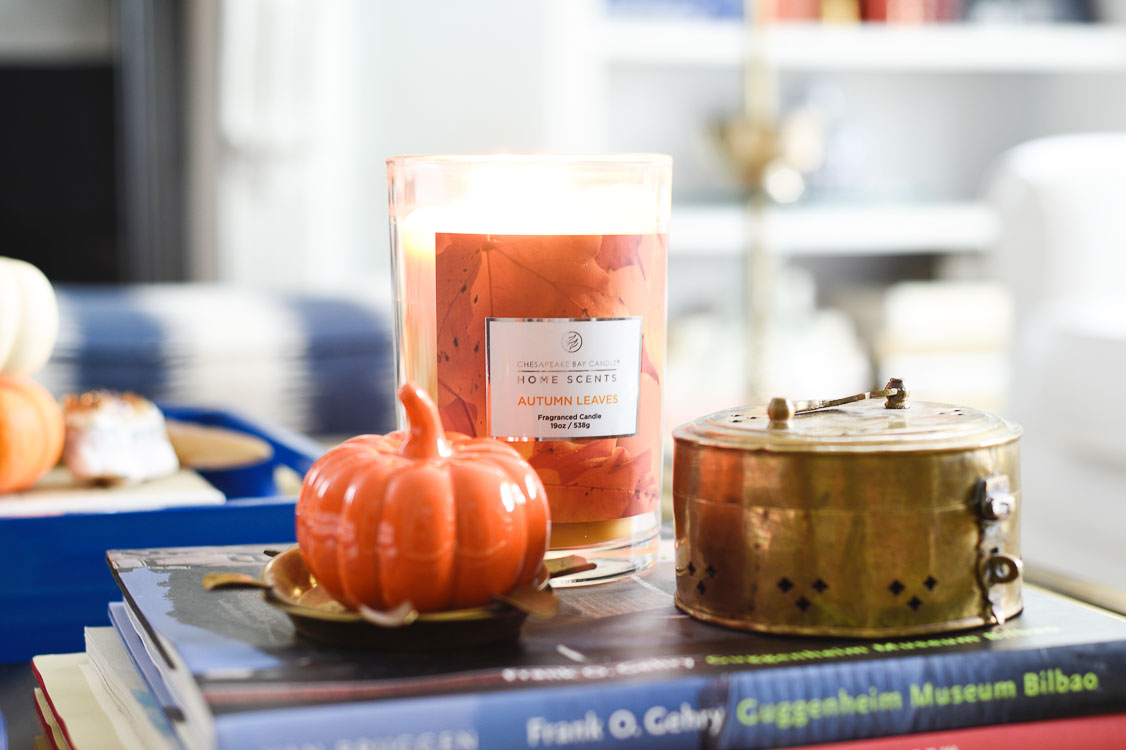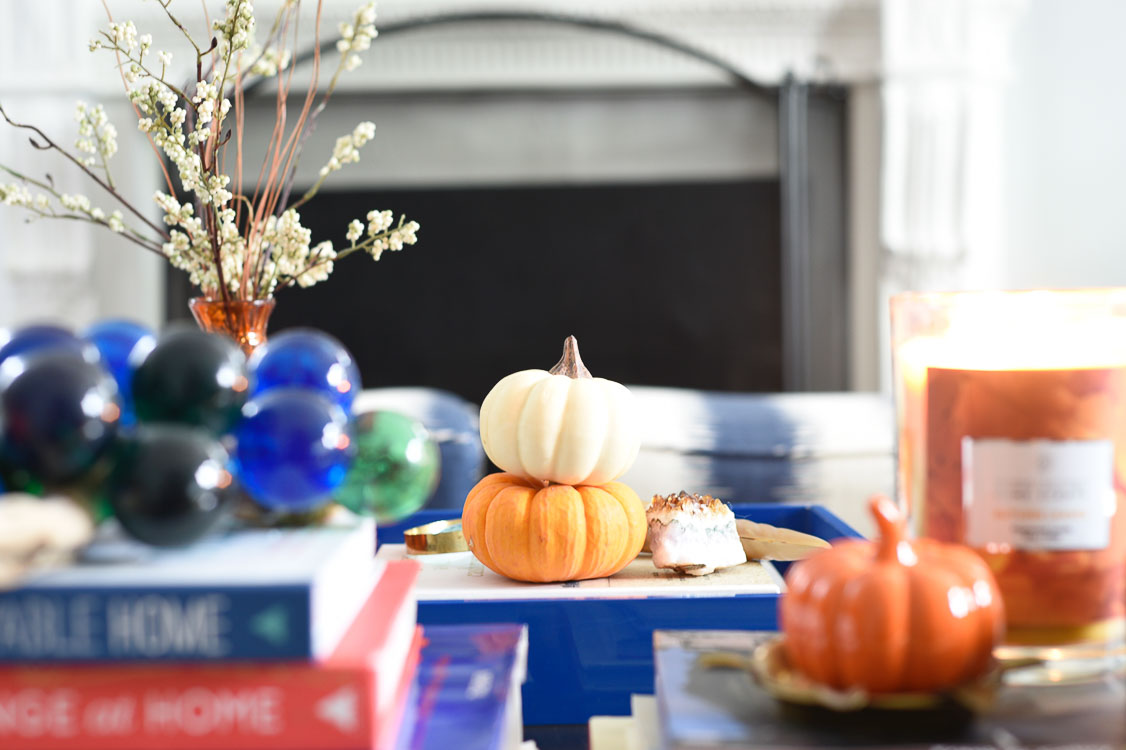 What would be your favorite candle scent for Fall? If you want to try something different you must check out my other favorite scent, like Pumpkin Coconut, perfect for my bar cart, it is a creamy coconut milk infused with cinnamon, clove, ginger and pumpkin puree. YUM!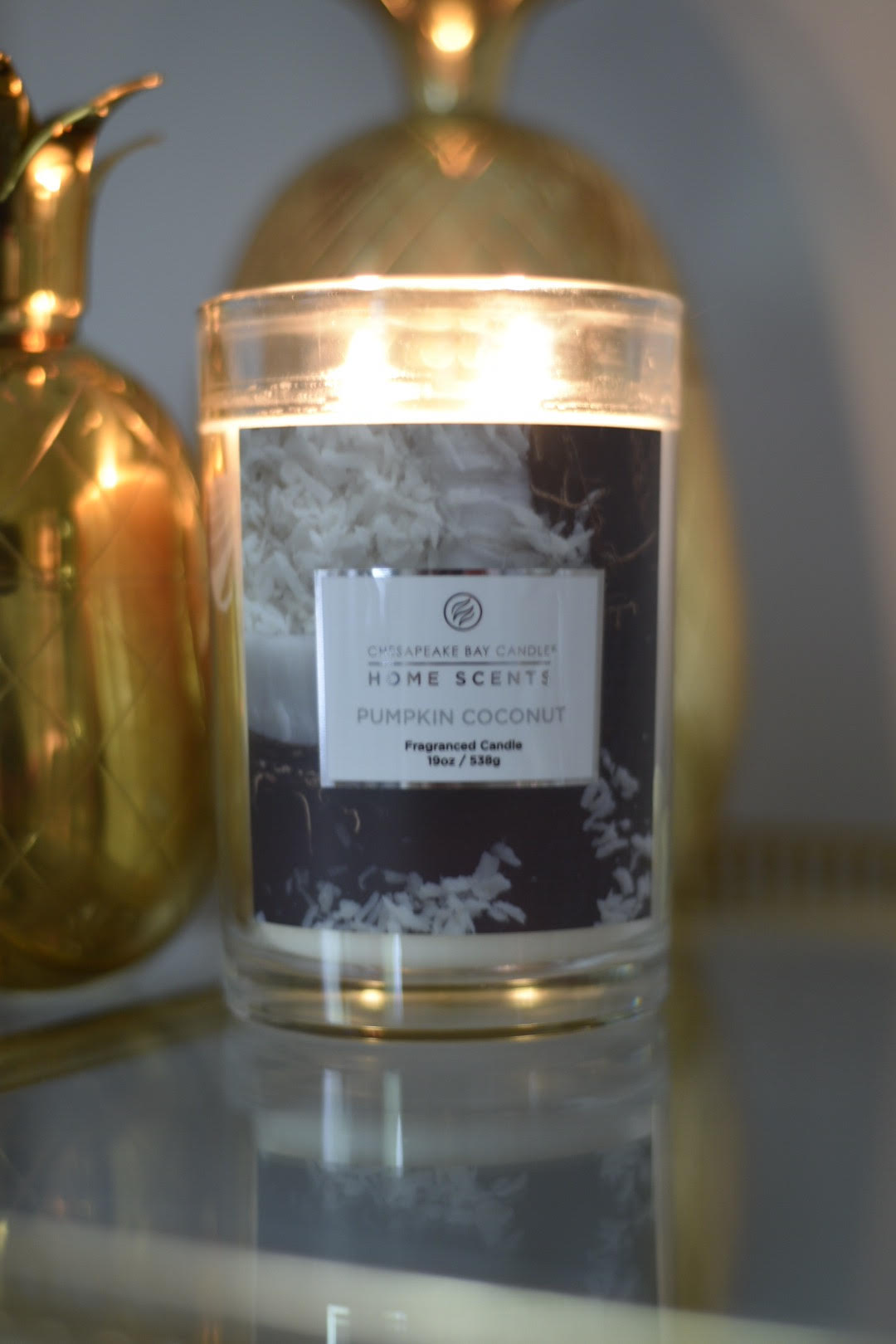 And finally, these two candles are perfect for the powder room and my husbands bathroom. I am sure you can guess which one is going in each.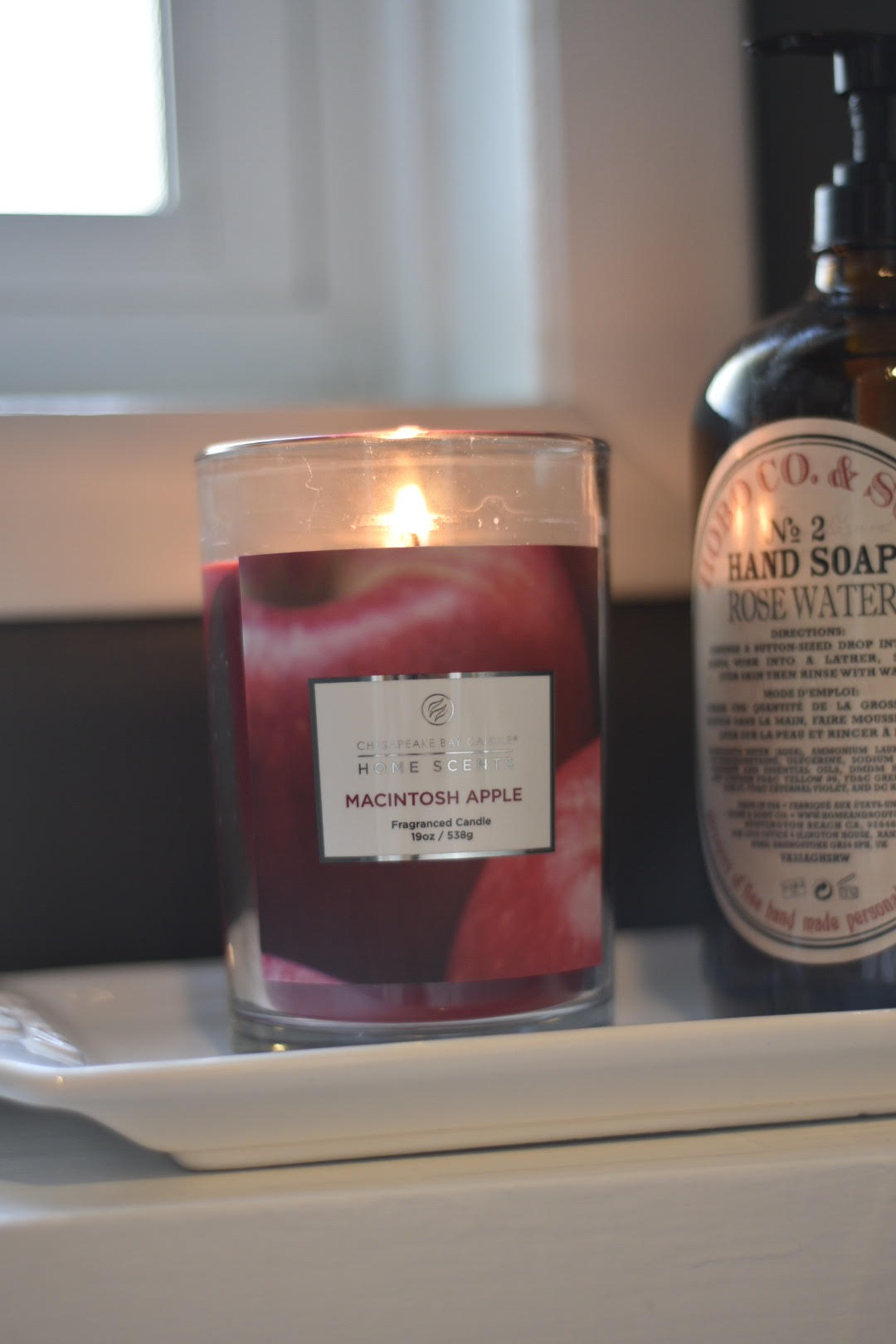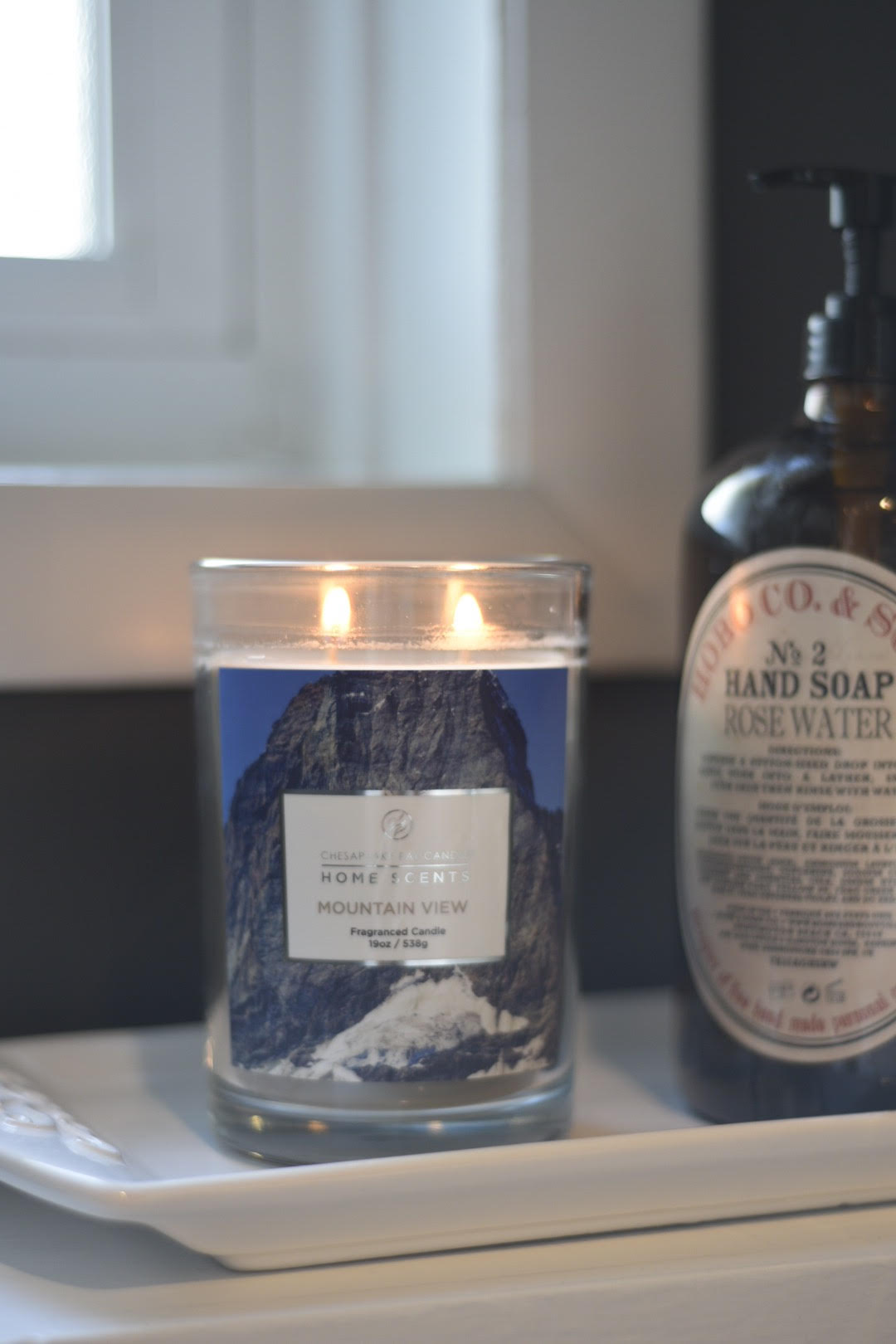 You probably figured out that Macintosh Apple will go in the powder room and I can definitely keep that in there year round. It is an iconic favorite, juicy red Macintosh Apple peel opens atop notes of jasmine, musk and cedar wood for the perfect fresh and outdoorsy accord.
YUP, definitely putting Mountain View in his bathroom. Can you imagine that smell of woodland mahogany and sun-warmed cedar as he leaves the washroom? Man oh man, my lumberjack.